These brookies are loaded with chocolate chips and crushed up Cadbury creme eggs!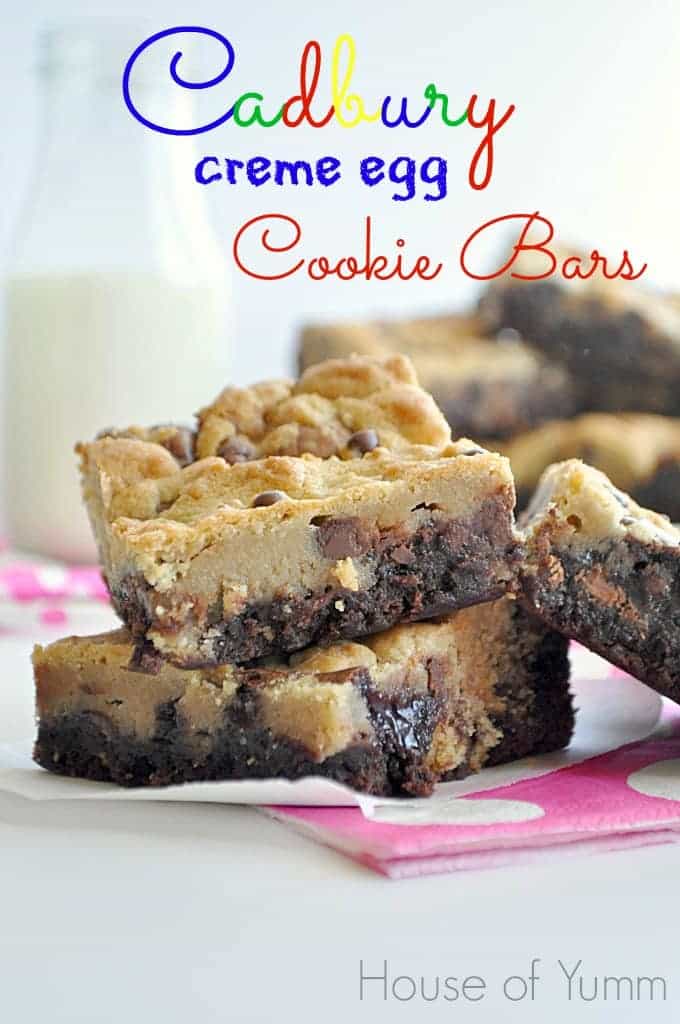 I just completely forgot what I was going to say. Do you see that CHOCOLATE!?! It's just ooozing out of those cookie bars. There is nothing that makes me happier than oozing chocolate. Well maybe eating the chocolate. And sprinkles make me happy. And…well I guess there are a lot of things that make me happy. But chocolate is up there.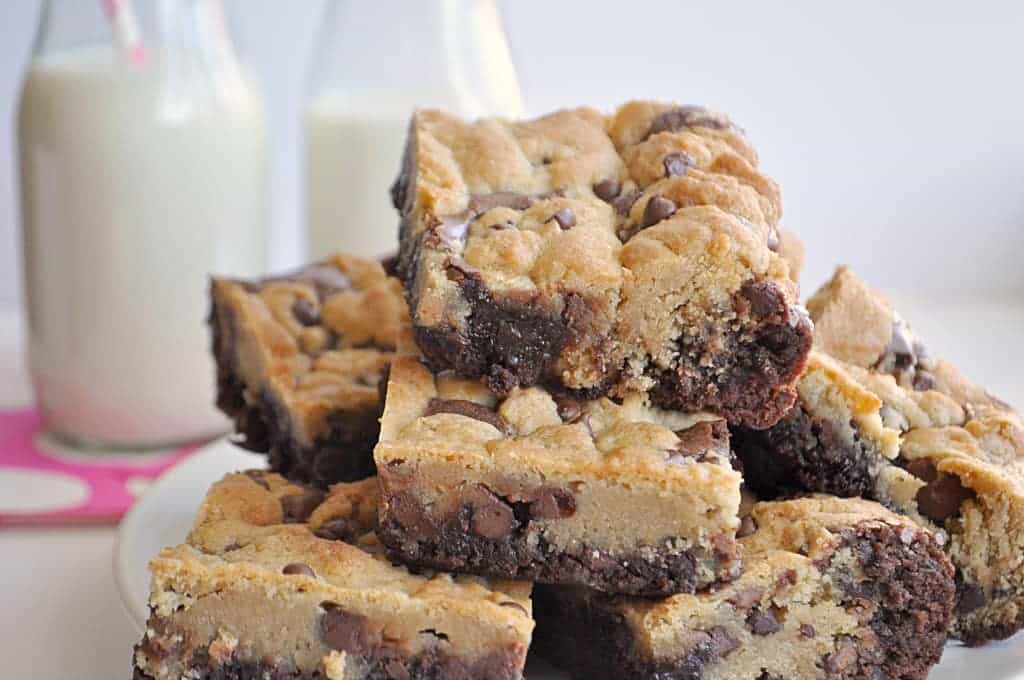 So are Cadbury creme eggs. Does anything else say Easter quite like those little foil wrapped bites of happiness? If I could I would just sit on my happy behind and eat Cadbury eggs all day long. Of course this would be done while having my house clean, my laundry done, and all of my kids quietly taking a nap. Sigh. What a wonderful fantasy.
These brookies (and yes that is a real thing..contrary to what my husband tells me!) came about by a wonderful failure. How serendipitous. Love that word. I was attempting to make cookies with the Cadbury eggs and that was a wonderful disaster. The Cadbury eggs melted and oozed all over the baking sheet. Quite the catastrophe and a horrific way for the Cadbury eggs to go.
Don't be too upset though, the cookies tasted wonderful and we still enjoyed them here at home. Luckily I only had used a little of the cookie dough for the first batch of cookies, so I still had a bowl of cookie dough just sitting there, pumped full of chocolate chips and Cadbury egg chunks. So of course I had to do something with it.
Not quite enough dough to just make cookie bars, but if I put it on top of a brownie mix it would work out perfectly!! Hence, these serendipitous Cadbury creme egg brookies were made!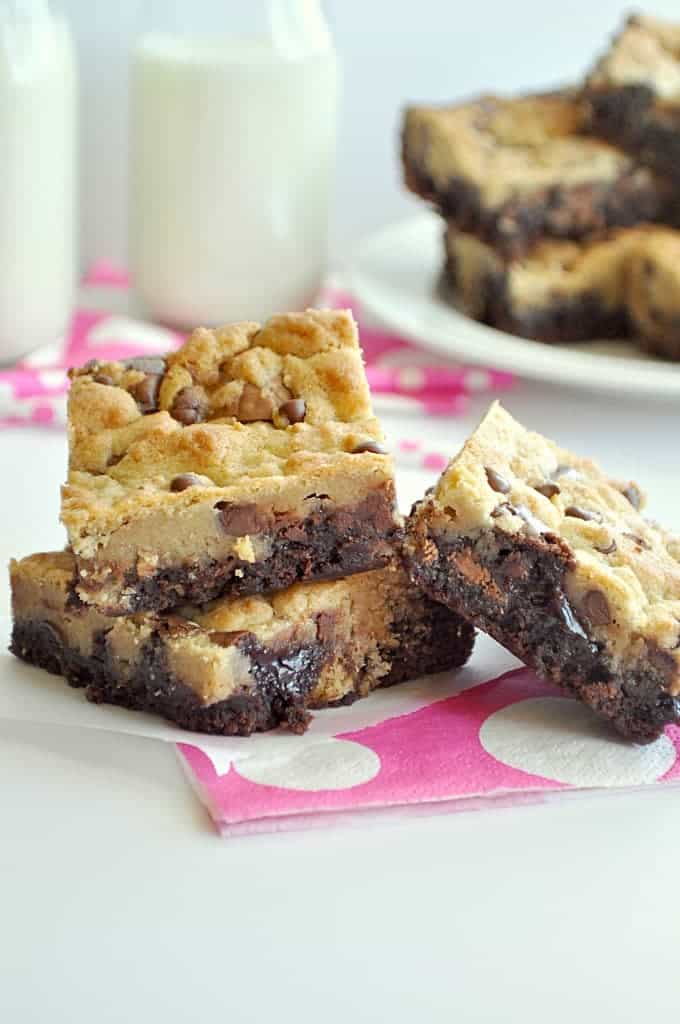 I consider these to be the next best serendipitous invention after penicillin. Are you keeping track of how many times I use the word serendipity? I don't think that word gets used as often as it should on a daily basis.
Back to the brookies! Again, yes it's a real thing!
Half brownie, half cookie bar. It turned out marvelously, since the cake pan kept any oozing from occurring. So all the lovely gooeyness, from the chopped up Cadbury eggs, is wonderfully mixed into these bars giving them almost a marshmallowy effect.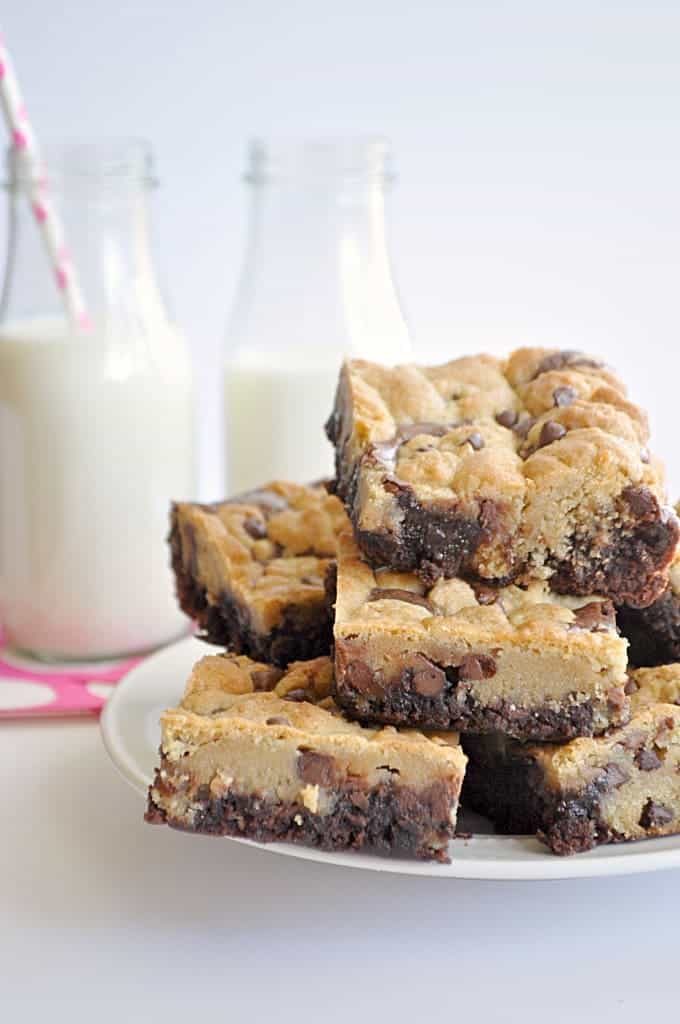 As you can tell from the pictures these are stupendously chocolatey! Perfect way to get ready for Easter. Plus it gives another reason to go buy some Cadbury eggs!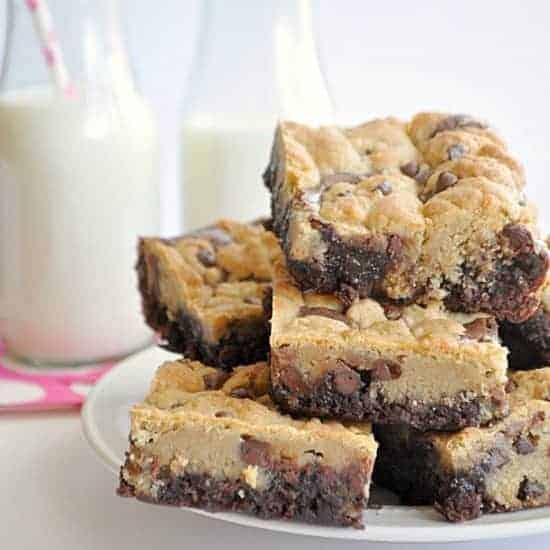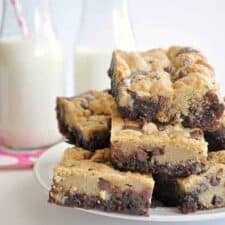 Cadbury Creme Egg Cookie Bars
 These brookies are loaded with chocolate chips and crushed up Cadbury creme eggs!
Ingredients
1 ¼ cups all purpose flour
½ tsp baking soda
½ tsp salt
½ cup butter, softened to room temperature
½ cup sugar
½ cup brown sugar
1 tsp vanilla extract
1 large egg
1 cup mini chocolate chips
1 brownie mix, +required ingredients
1 package Mini Cadbury Creme Eggs, (the mini foil wrapped eggs with the creme, not the bag of chocolate eggs!)
Instructions
Preheat the oven to 375°F.

Prepare brownie mix according to the directions on the package.

Pour brownie mix into well greased 9 inch square baking pan.

Roughly chop up Cadbury eggs, set aside.

In small bowl combine the flour, salt, baking soda

In large mixing bowl beat the softened butter and sugars until creamy, add in the egg, beat until mixed

Slowly add in the flour mixture. Stir until combined fold in the mini chocolate chips. and chopped up Cadbury eggs.

Spoon cookie dough into the baking dish on top of the brownies. You won't be able to really spread it to even it out since the dough is thicker. Just spoon it on as evenly as you can and as it bakes it'll even out more.

Bake for 20 minutes. Allow to cool, and enjoy!!
Nutrition
Calories: 396kcal, Carbohydrates: 56g, Protein: 4g, Fat: 17g, Saturated Fat: 11g, Cholesterol: 54mg, Sodium: 353mg, Potassium: 47mg, Fiber: 1g, Sugar: 40g, Vitamin A: 435IU, Vitamin C: 1mg, Calcium: 47mg, Iron: 1mg
Check out these desserts too!
House of Yumm is a participant in the Amazon Services LLC Associates Program, an affiliate advertising program designed to provide a means for us to earn fees by linking to Amazon.com and affiliated sites.