Butter Pecan Skillet Cookie with Pecan Praline Topping. A soft and chewy butter pecan skillet cookie topped with a decadent drizzle of pecan praline sauce!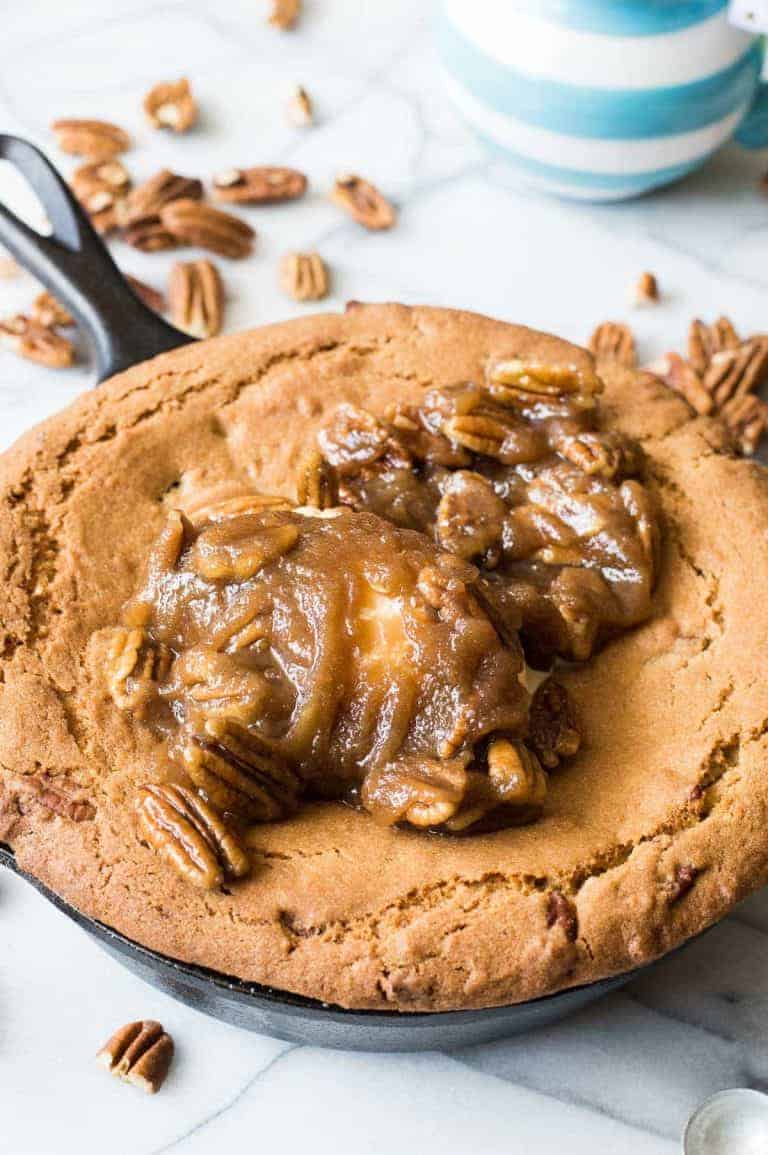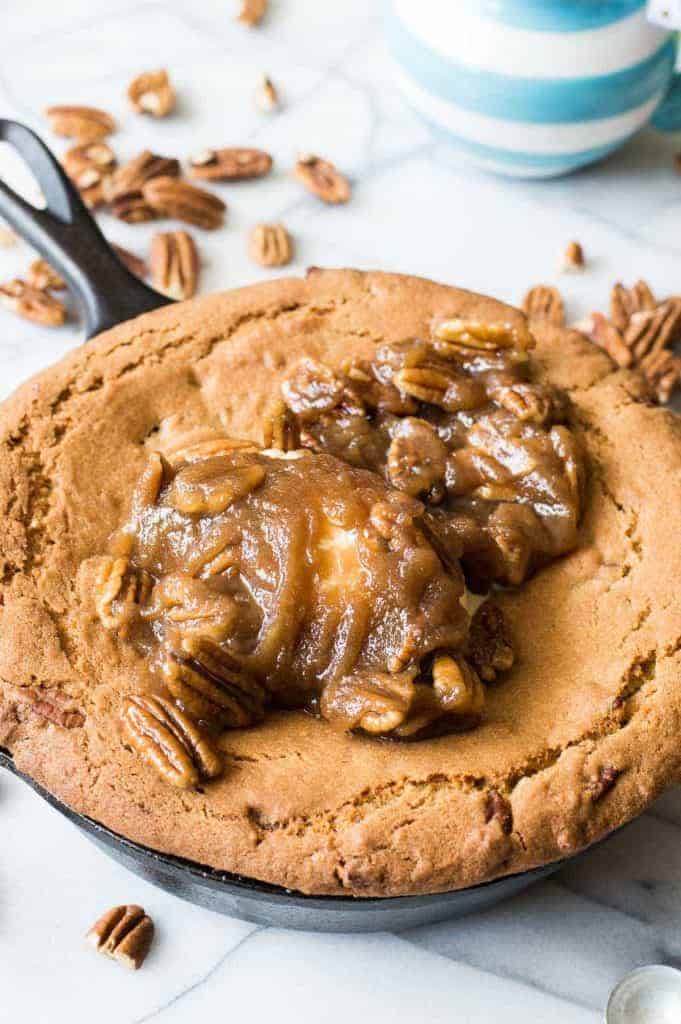 Hey y'all!!  I'm popping in with you today to share this Butter Pecan Skillet Cookie with Praline Topping.  This dessert is Texan through and through.  From the pecans, to the praline topping, to the fact that it's made in a cast iron skillet!
Did you know a very common dessert for a Tex Mex restaurant is Pecan pralines?  Why?  That involves some history.  Texas' history is rich, but I will try to keep this short.  Basically, pecans are everywhere in Texas (which is why I have so many pecan recipes!).  And back in the 1800s people were able to get their hands on pecans for free.  So for the people moving from Mexico to Texas, who didn't have a lot of money after making their journey, they were able to take those pecans and turn them into…candy!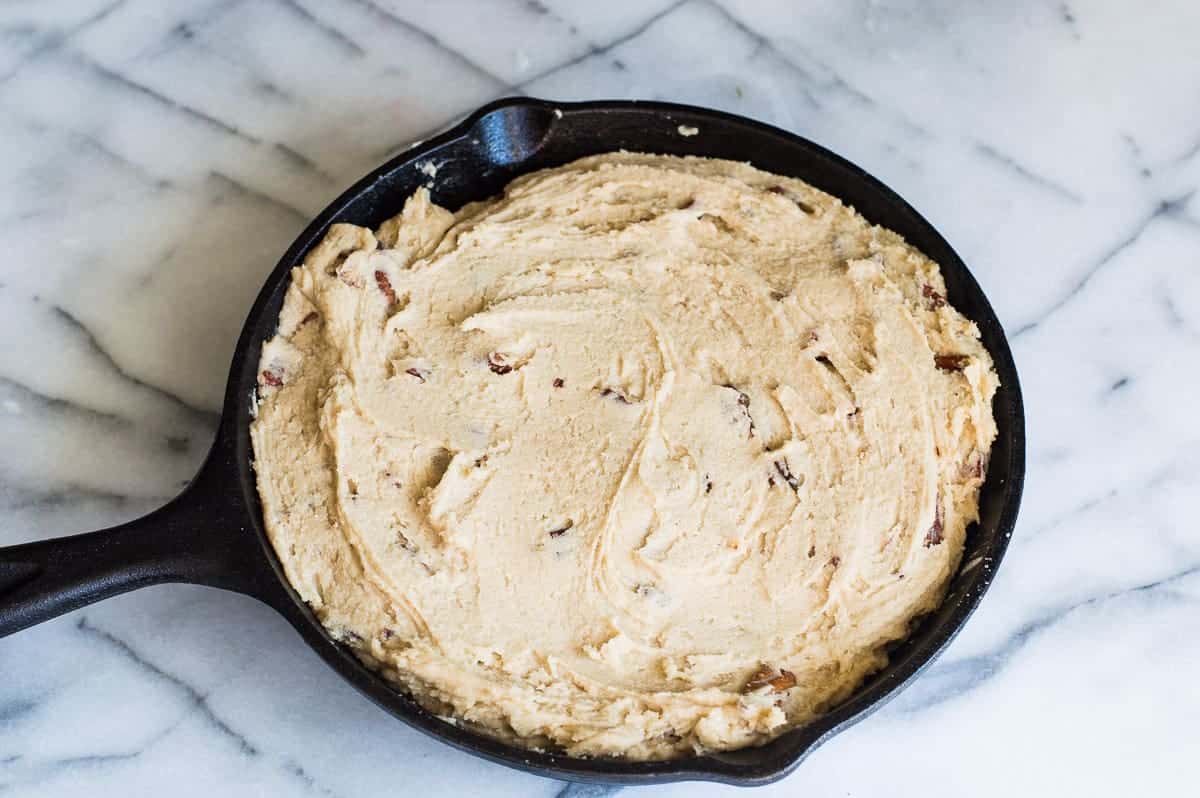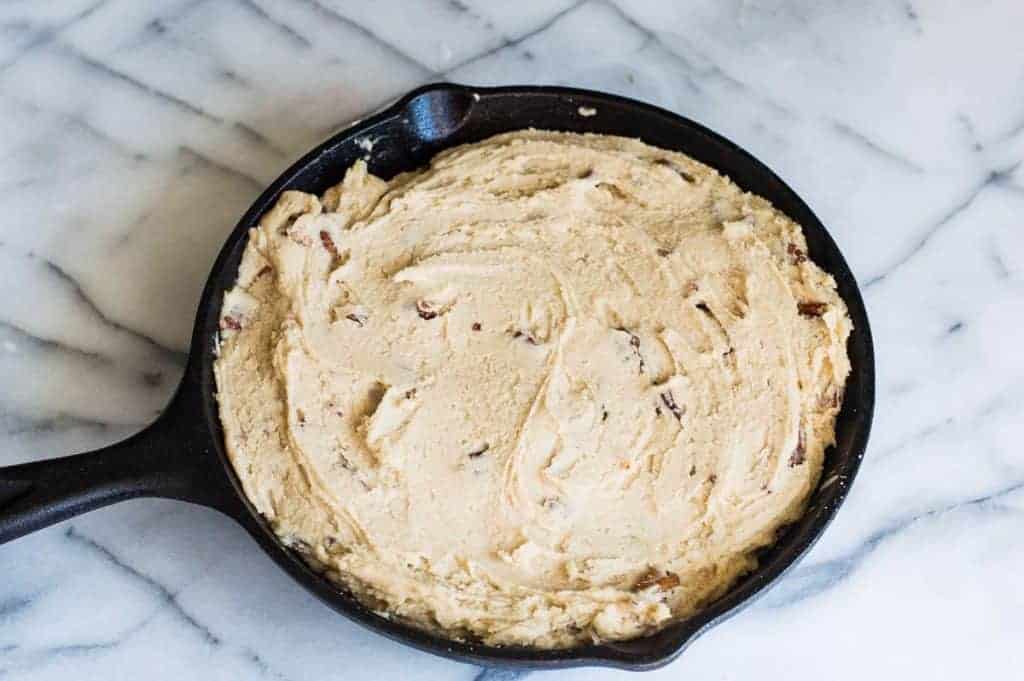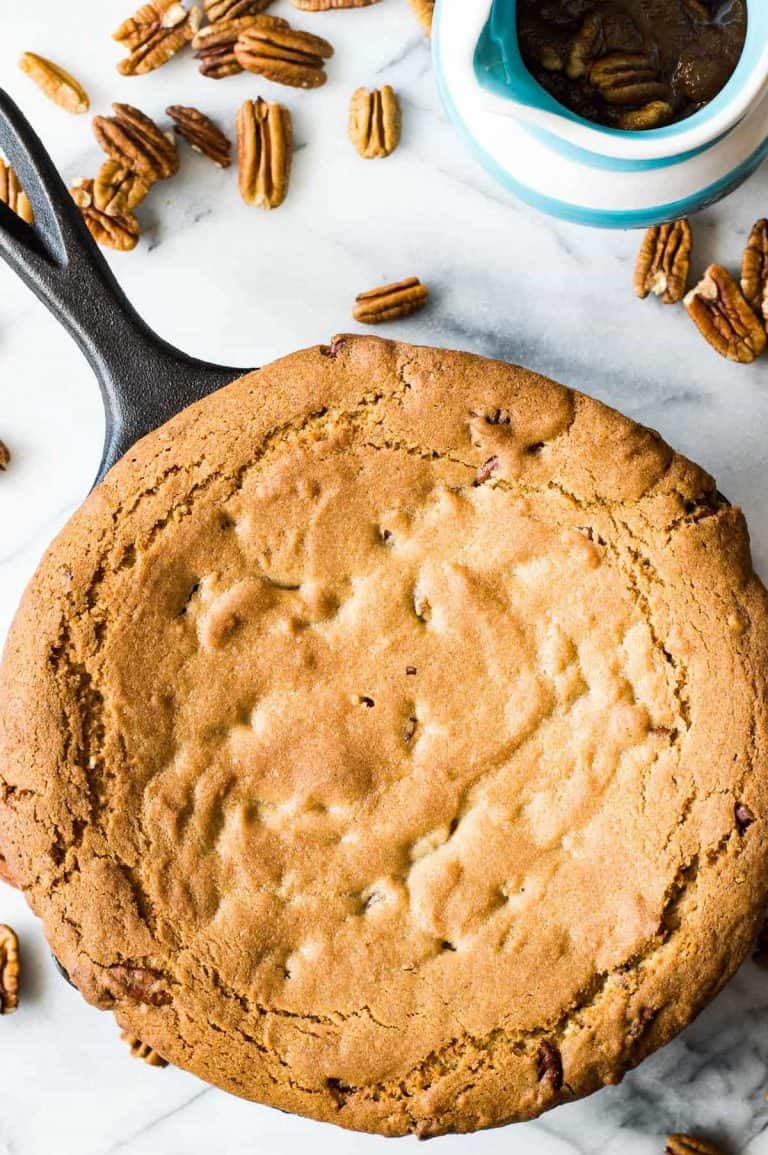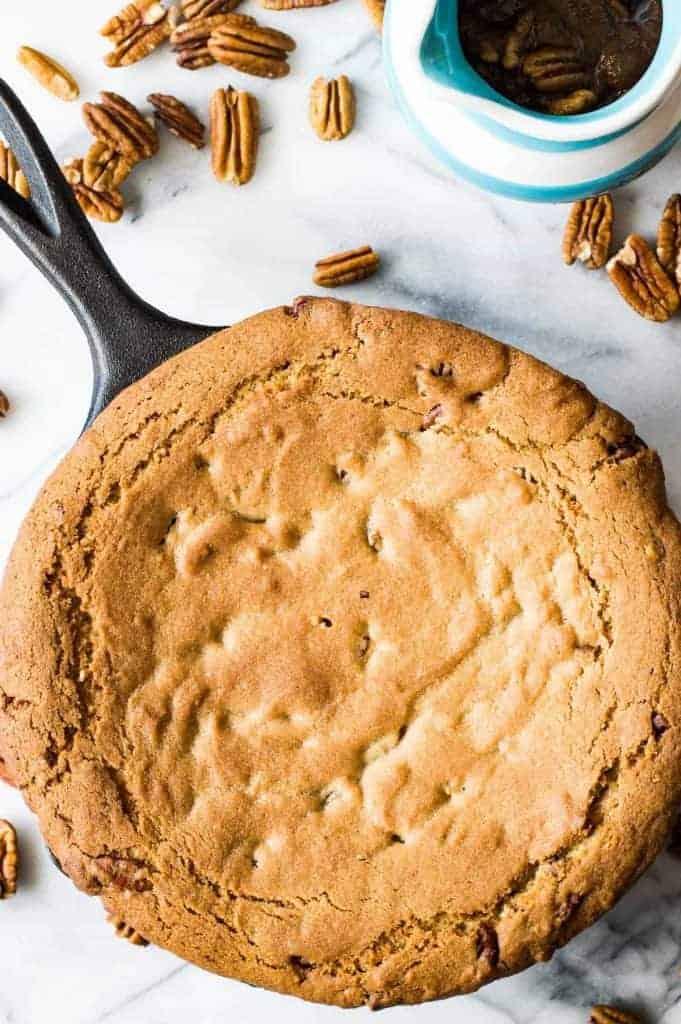 They were able to produce these candies for very little money and sell them for profit.  These became one of the treats that are typically served at the end of a Tex Mex meal.  I'm not saying that pralines were invented in Texas though.  They were actually invented in France.  But that's where I'll stop our history lesson for today.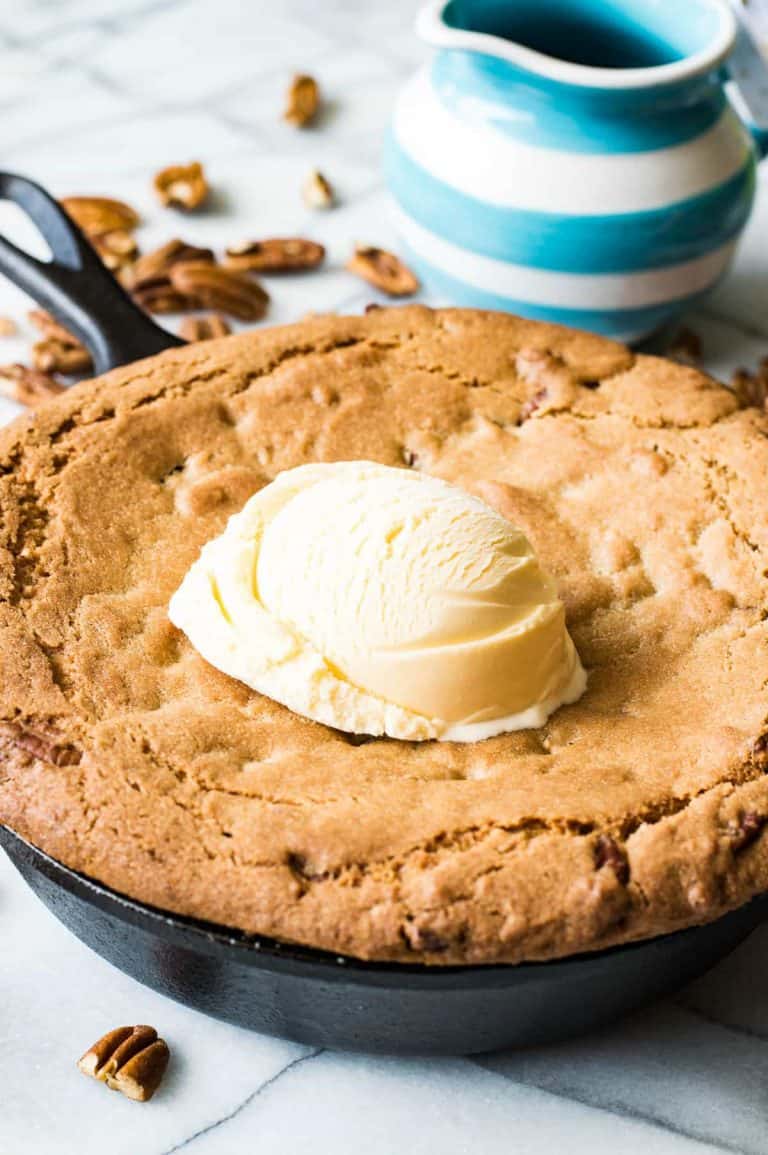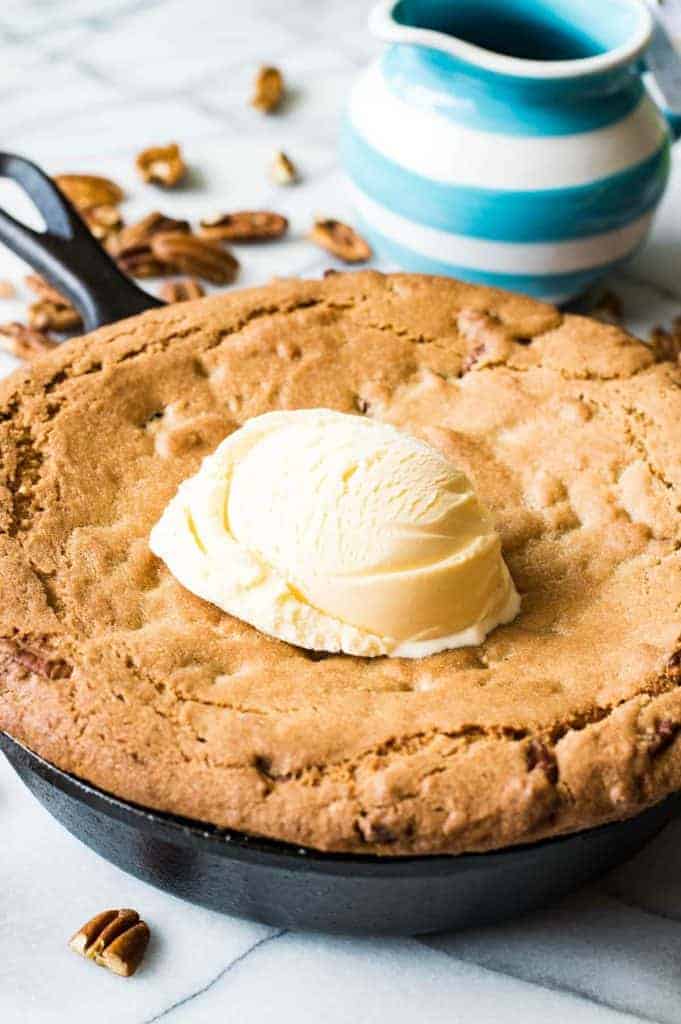 Now let's chat about the actual recipe.  First up we have a skillet cookie.  Because all cookies are better when made large, and cooked in a skillet.  Cast iron skillets are perfect for baking these large cookies in because they heat up nice and even.  I used a small 8 inch cast iron skillet made by Lodge.  I love it because since it's smaller in diameter, it makes my cookies super thick!  If you have a larger skillet this recipe will still work, the cookie will just be a little thinner, which will be perfectly fine.  Just make sure you check the baking time and start checking for doneness a little bit sooner than the recipe states.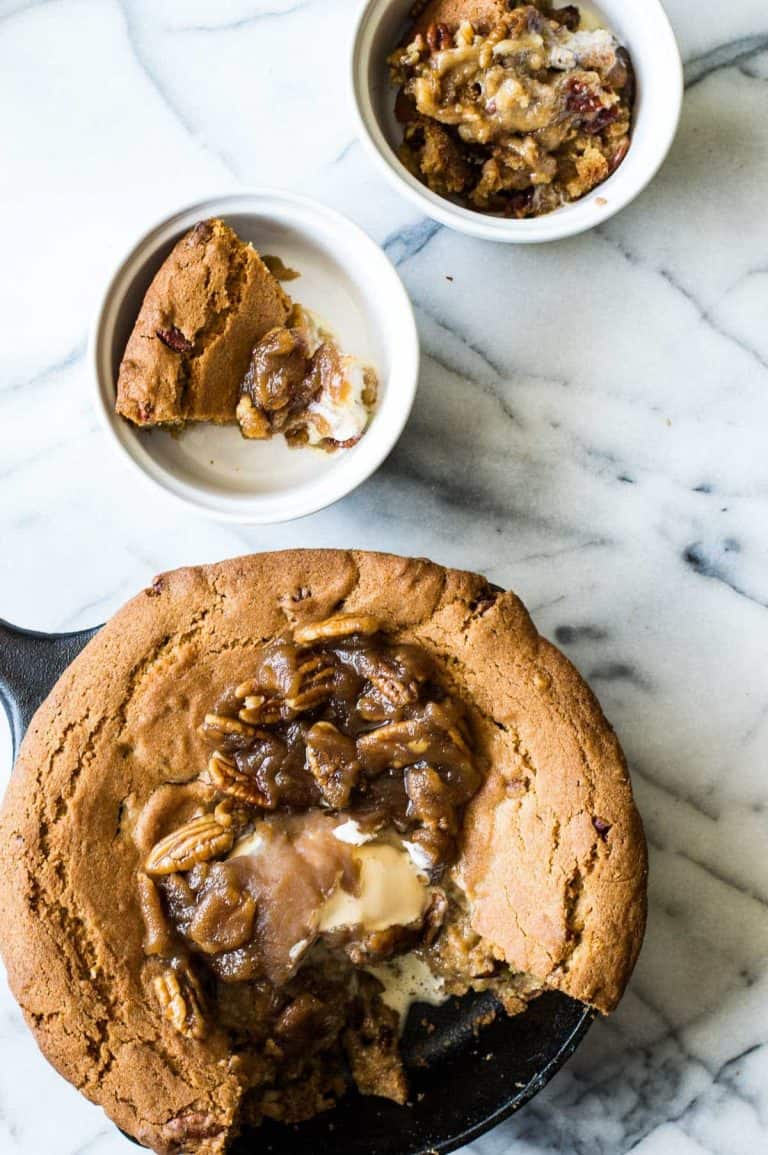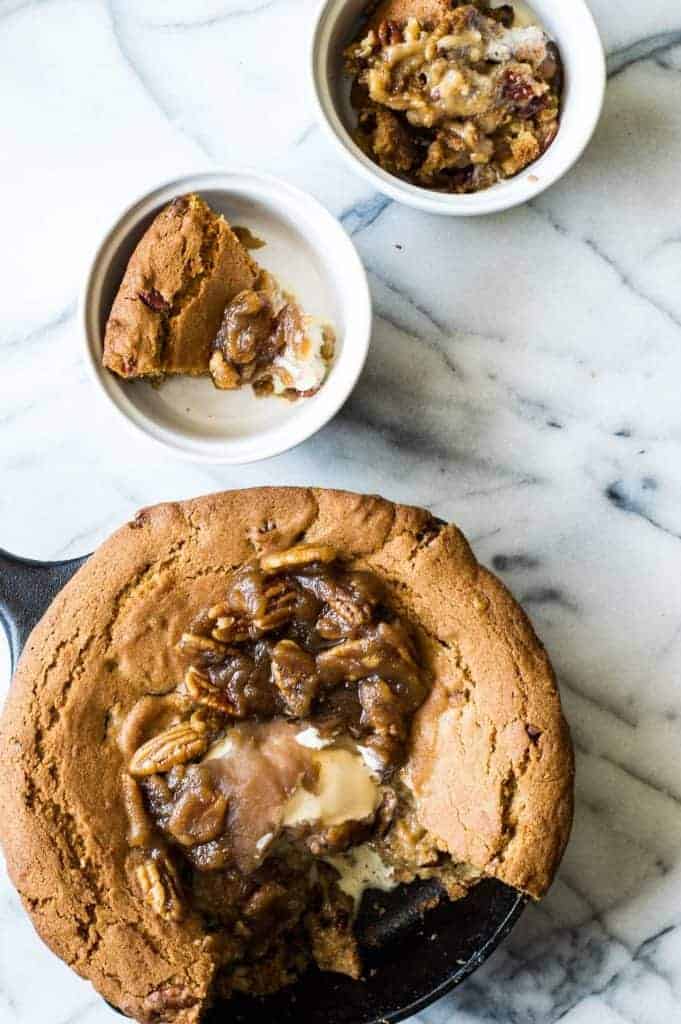 The butter pecan cookie recipe is actually adapted from Sally's Baking Addiction.  I've made that recipe into regular cookies before and I felt no urge to ever create my own butter pecan cookie recipe.  Why mess with perfection?  And the recipe worked perfectly for making a skillet cookie.
Now onto the toppings.  Skillet cookies just beg for ice cream.  The cookie is best served warm, pair that with some cold, creamy ice cream and all is right in the world.  Next up is the pecan praline topping.  Oooohhh.  My favorite part!!  Pralines are easy to make: sugar, butter, cream, and pecans.  The sauce is just a play on that.  Easy to put together.  It is kind of thick and it's easier to spoon it on top since with the pecans in there. It's difficult to pour evenly.  But on top of this skillet cookie and ice cream it's kind of, slightly, amazing.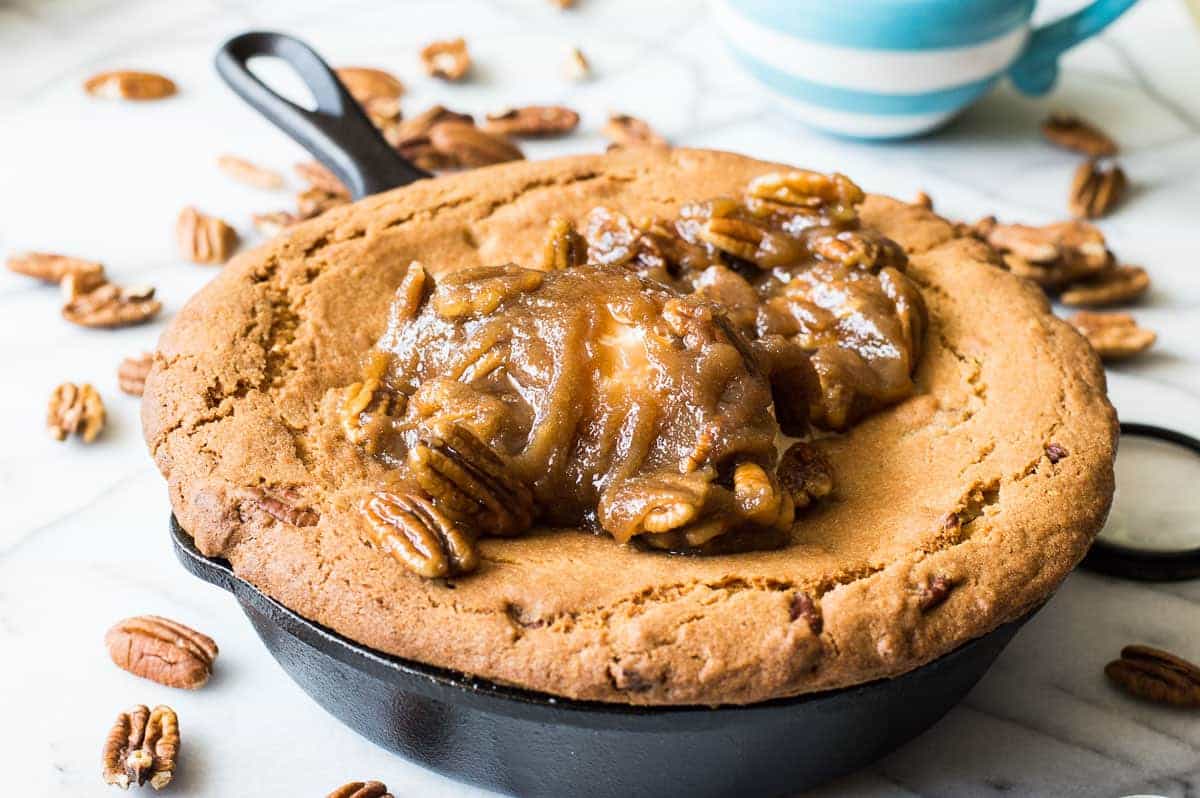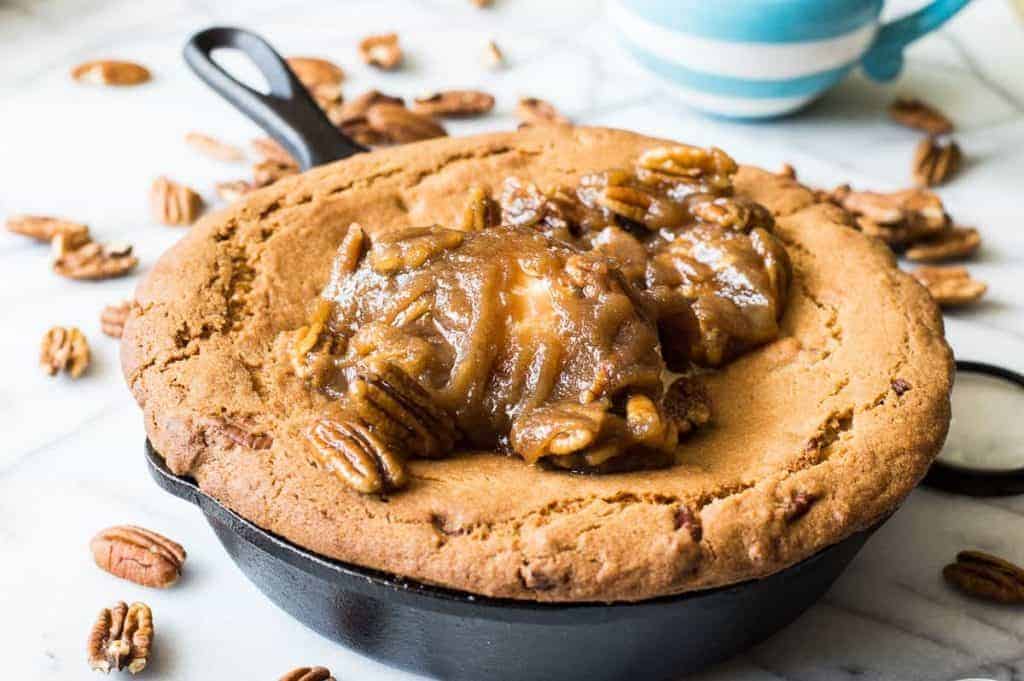 Need some more pecan dessert inspiration?!
More Fall dessert inspiration!
This Butter Pecan Skillet Cookie Recipe first appeared on Food Fanatic.
House of Yumm is a participant in the Amazon Services LLC Associates Program, an affiliate advertising program designed to provide a means for us to earn fees by linking to Amazon.com and affiliated sites.