Bubble Gum Cookie Cups
Sugar cookie cups filled with a bubble gum flavored frosting and topped with a colorful gumball!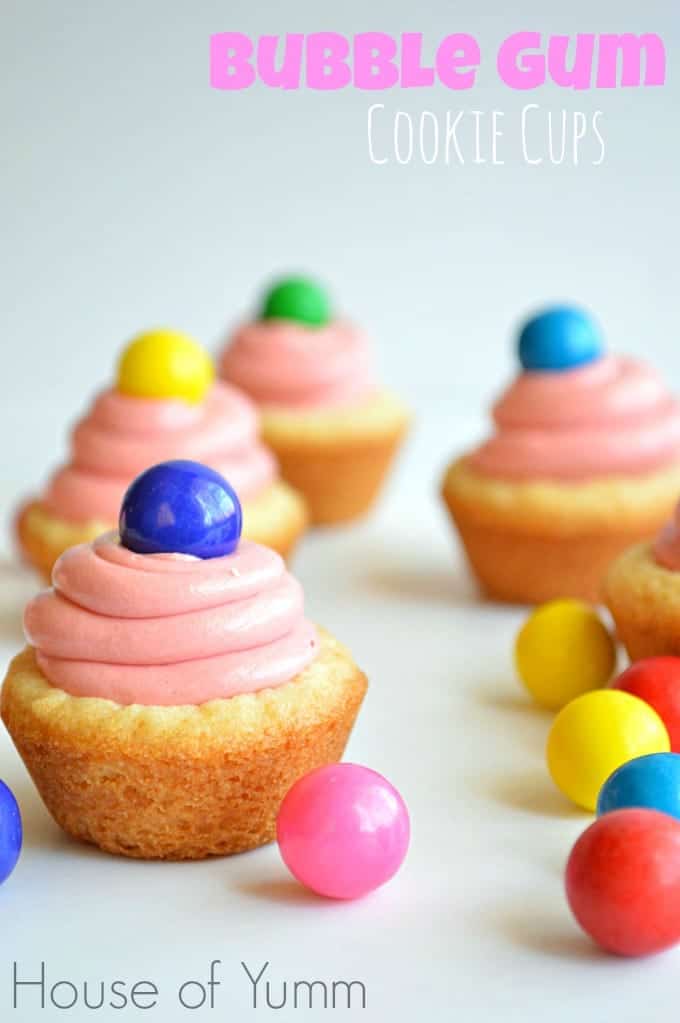 If you give a food blogger a cookie cup, they're going to want to fill it with something fun!  And what is more fun than bubble gum?!
With these little bites of joyfulness I have been permanently cemented in my children's minds as the BEST!  My girls flipped over these little desserts.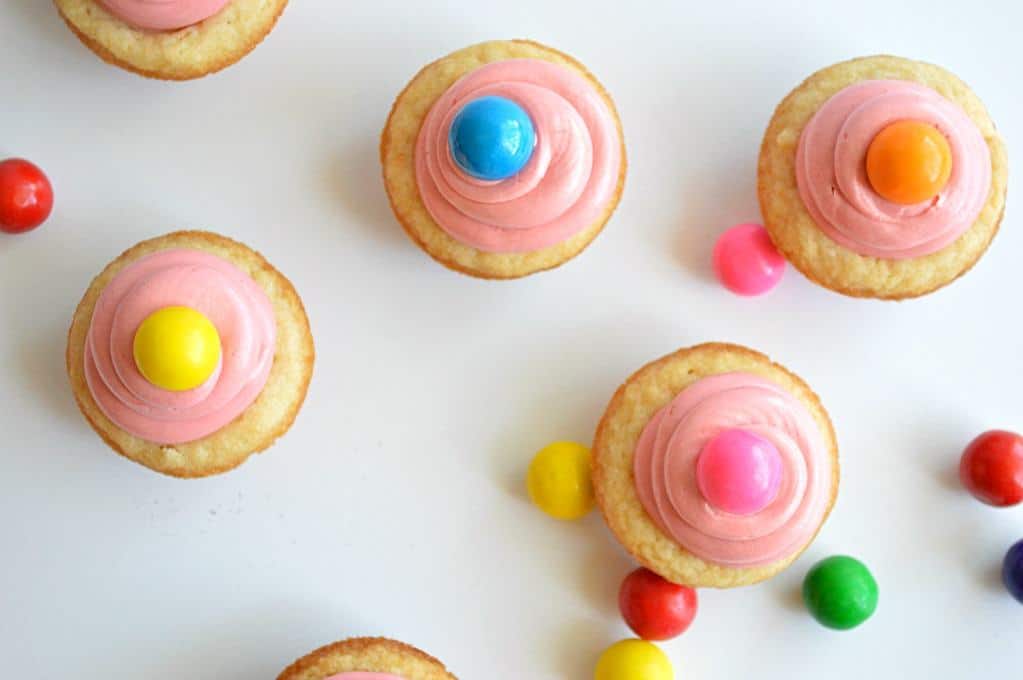 I've become a huge fan of the cookie cup.  It's way more acceptable to eat five cookie cups as opposed to five cupcakes.  Bite sized treats are just the best aren't they?
These ones are filled with a happy bubble gum flavored frosting.  Thanks to the Duncan Hines frosting creation packet with the bubble gum flavor.  Those little packets are so much fun.  Have you used them for anything yet?  They're made to go into their vanilla frosting base, I still make my own frosting, but these little packets add a fun pop of flavor.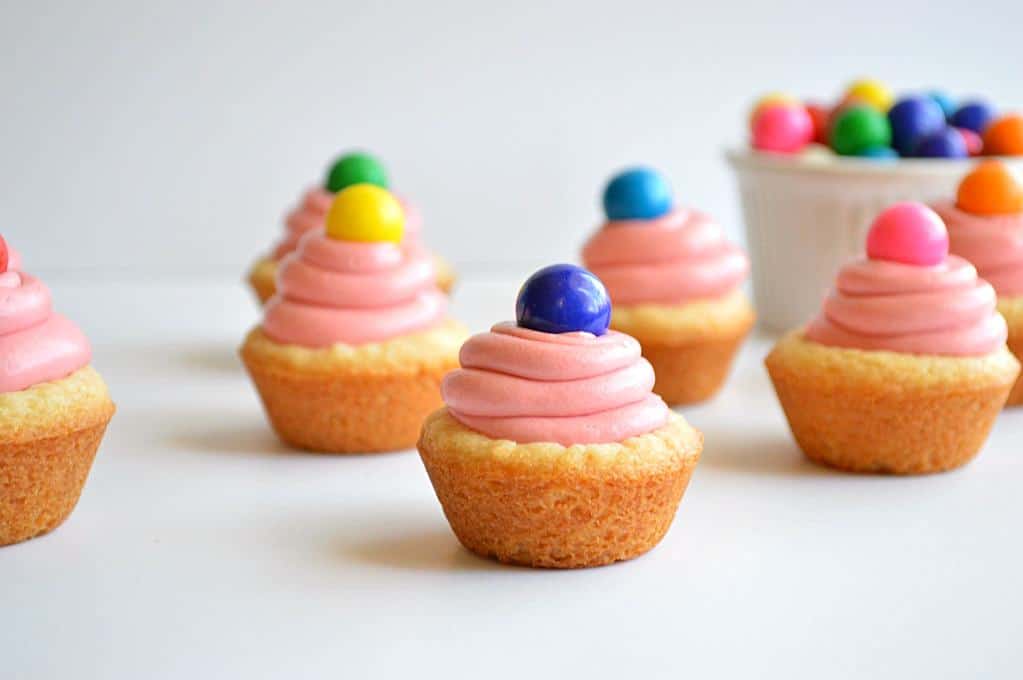 And doesn't that frosting just look like it's pure bubble gum? The flavor is unreal, they really nailed it with this one.
Of course, these would need to be topped with an actual gumball for added delight.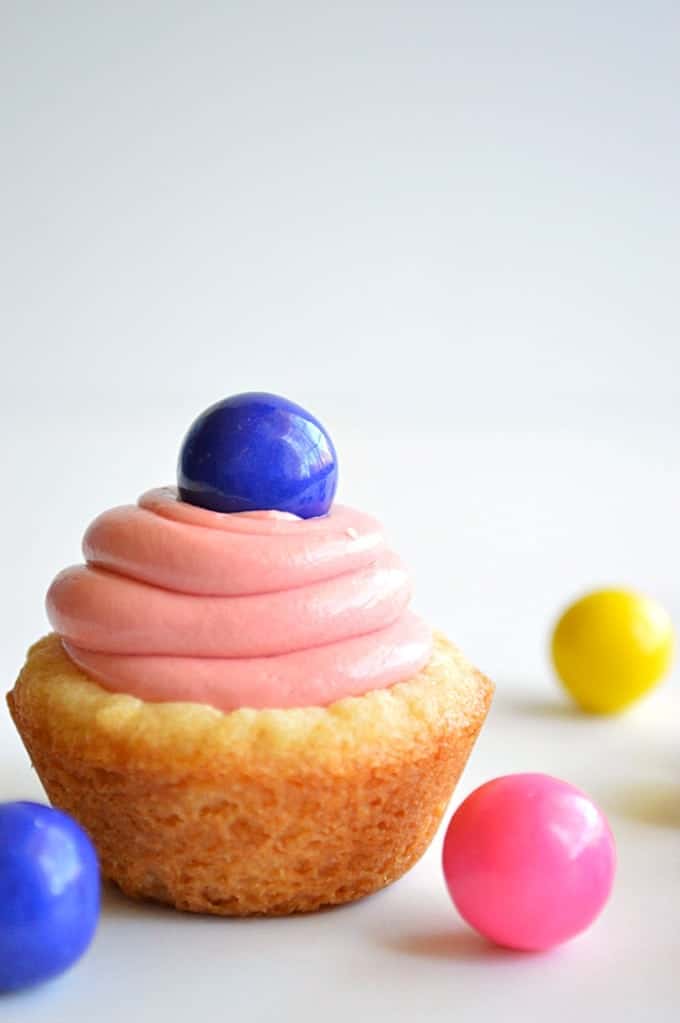 Quick Tips for Making Sugar Cookie Cups
Don't be intimidated to make these.  All it takes is a mini muffin tin, make sure you spray it with some non-stick cooking spray.  Once you have the dough, roll it into little balls about 1 inch in diameter.  Place the dough into the muffin tin and slightly press it down with your thumb making an indent in the center of the dough.  This helps them to bake more evenly and quicker.  I bake mine for about 9 minutes.  When you remove them from the oven you will see that the indent has pretty much disappeared.  I use my 1/4 teaspoon, since it's perfectly round, and slightly press down on the top of the cookie cup again.  This creates the perfect size indent for the cookie cups.  Allow them to cool in the pan for 5 minutes and then remove to finish cooling on a wire rack.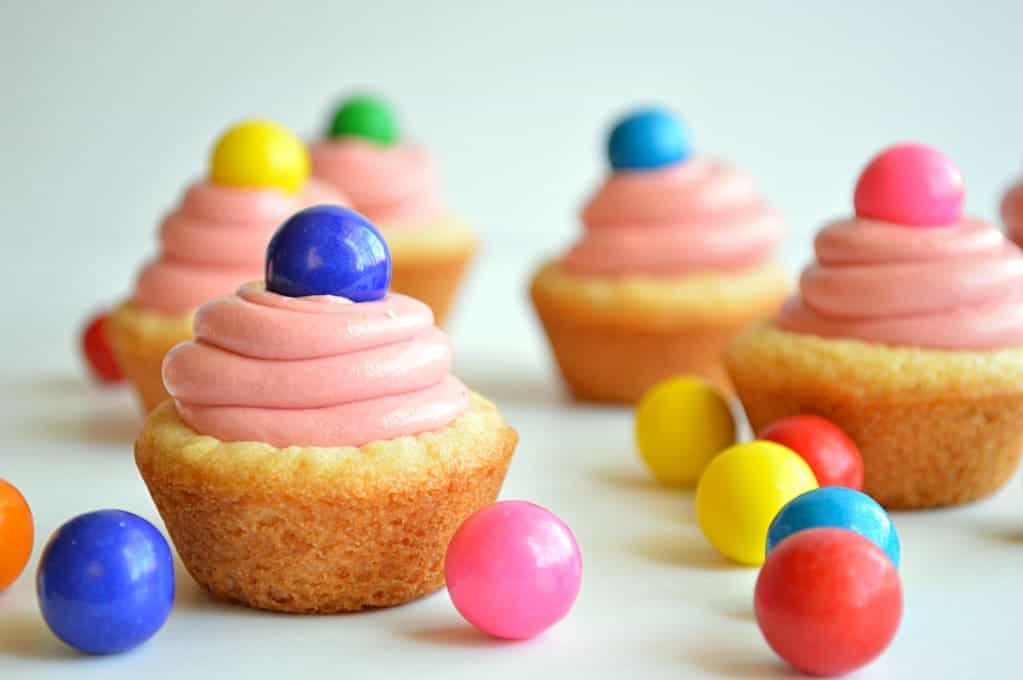 Print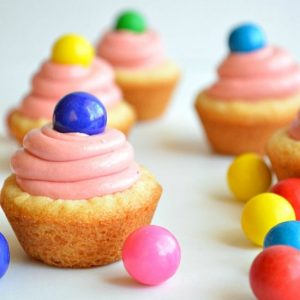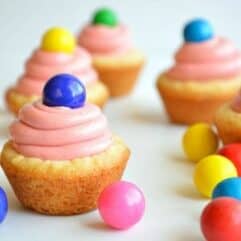 Bubble Gum Cookie Cups
---
Author:
Prep Time: 10 minutes
Cook Time: 20 minutes
Total Time: 30 minutes
Yield: 24 1x
Description
Sugar Cookie Cups filled with bubble gum flavored frosting and topped with a colorful gumball!
---
Scale
Ingredients
Sugar Cookie dough
Duncan Hines Flavor Creations packet in bubble gum
Frosting
4 cups powdered sugar
8 tablespoons butter at room temperature
4 tablespoons milk
1 teaspoon vanilla extract
---
Instructions
Preheat oven to 375
Roll sugar cookie dough into balls one inch in diameter. Place into mini muffin tin, press down in center of dough with thumb to create a small crater.
Bake for 9 minutes or until cooked, cookie cups will be slightly golden in color and will appear filled in, in the center. Using a spoon press down the center to create the cup shape. Let cool in pan for 5 minutes and then remove onto a wire rack to continue cooling.
Frosting
In mixer, mix the room temperature butter with the sugar on low speed until blended. Then continue to mix on medium speed for another couple minutes.
Add in the vanilla and the milk. Beat for another 2-3 minutes, add more milk or sugar for desired consistency.
Add in the Duncan Hines Flavor Creations packet, beat until completely mixed. Color will be consistent throughout.
Pipe onto cooled cookie cups, I used a Wilton 2A tip. Top with a gumball.
Store in an air tight container.
---
More Cookie Cup Ideas!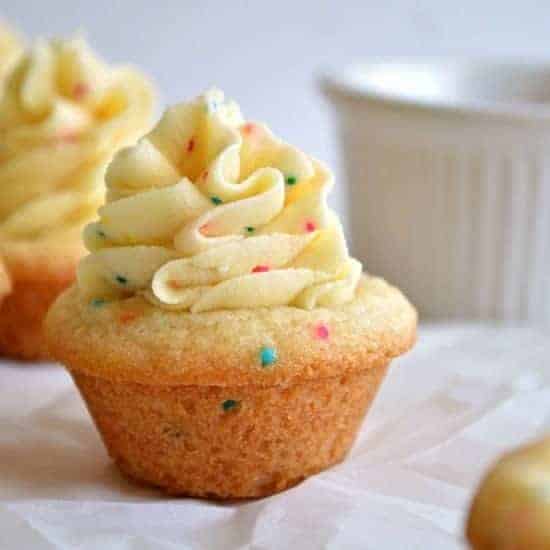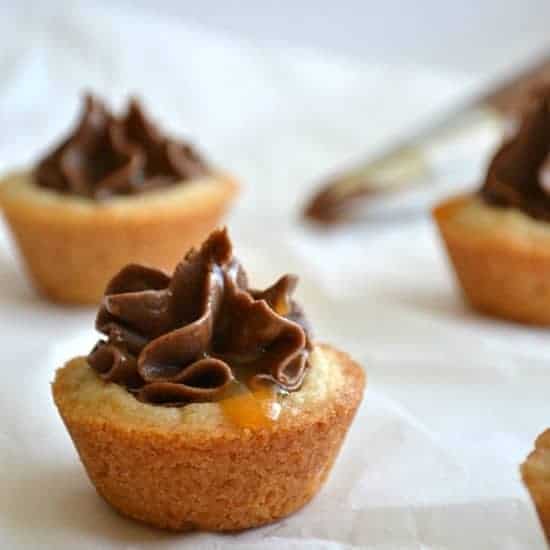 House of Yumm is a participant in the Amazon Services LLC Associates Program, an affiliate advertising program designed to provide a means for us to earn fees by linking to Amazon.com and affiliated sites.