Brussels Sprouts with Bacon and Caramelized Onion
Brussel Sprouts with bacon and the best caramelized onions you've EVER had! Everyone will be begging to eat their veggies when this dish is involved!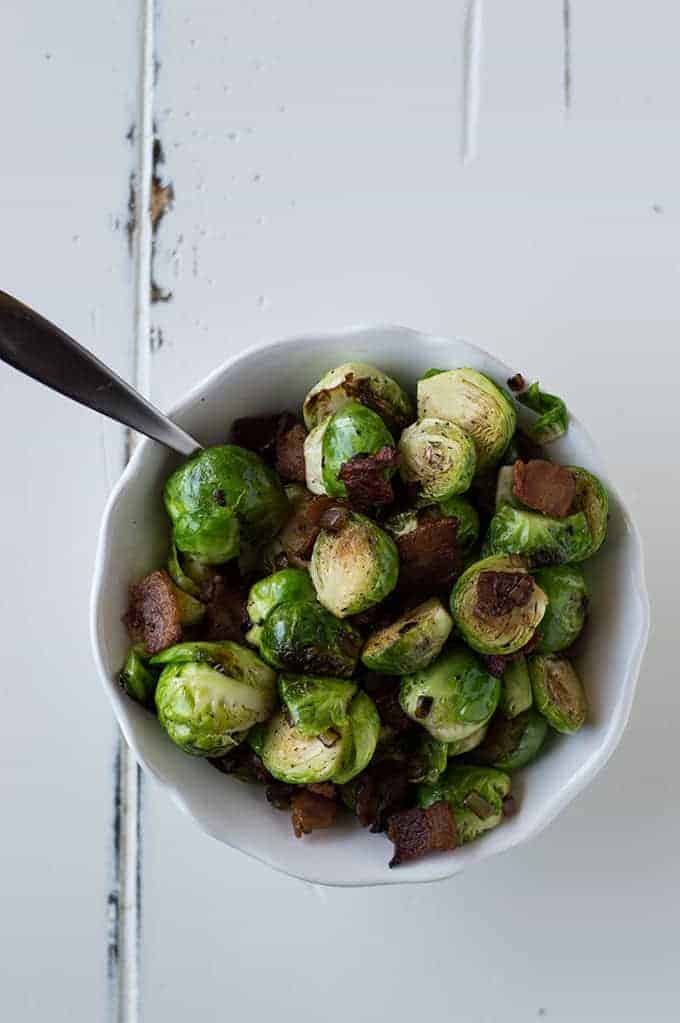 If you've been following along you may be wondering, "does she know it's January?  Everyone wants healthy recipes!" Yes!!  I do know it's January!  And I absolutely know everyone wants healthy recipes.  Which is why I made you a veggie dish!  Brussels Sprouts.  We can all ignore the fact that these are loaded with bacon right??  Actually, no.  Don't ignore that.  That's why these are so amazing!  Although, really, brussels sprouts don't need help.  I totally have a thing for brussels sprouts.  I consider them the cutest vegetable.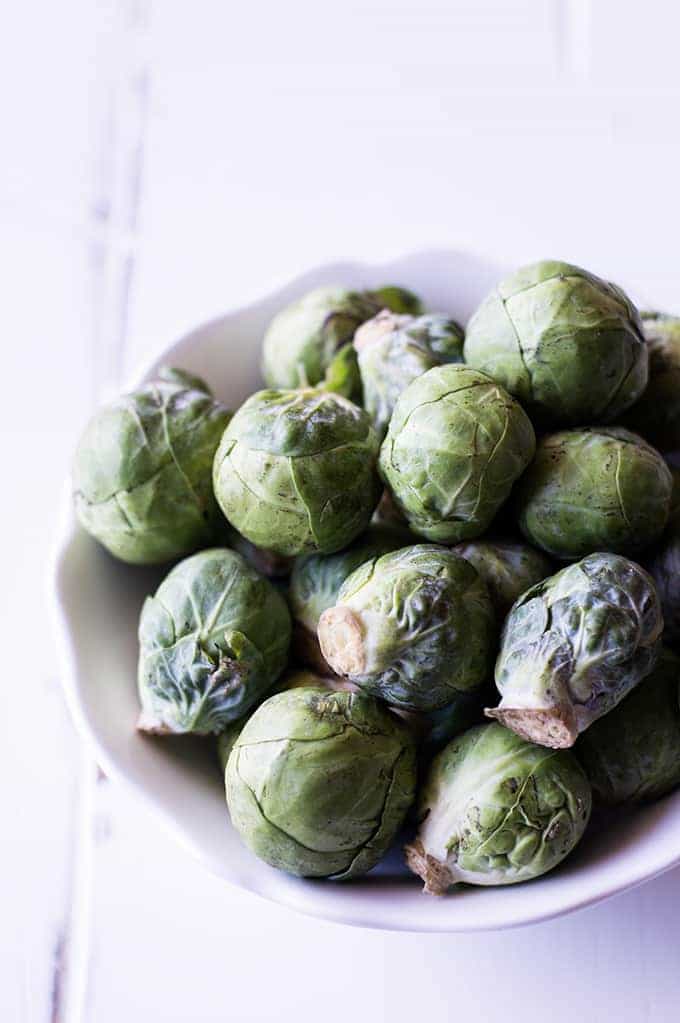 Sigh.  See what I mean? So pretty. Sidenote: I absolutely had to google to verify the spelling.  Is it just me or does it feel awkward to say brusselS Sprouts.  I can't say I ever really pronounced it like that.  Just one S is usually involved.  Now I know.  Please tell me I'm not the only one just now realizing this?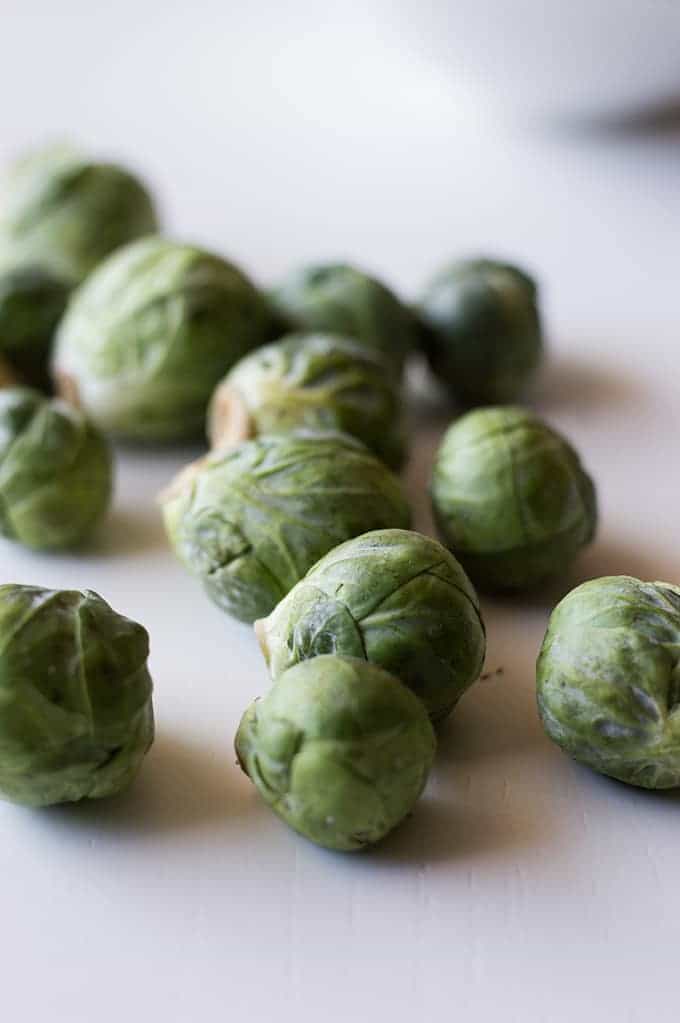 Usually I just roast these little babies with some oil and salt and pepper.  But somedays I feel like getting fancy.  And usually that involves bacon.  Or cheese.  No cheese today.  Sad I know.  You can absolutely add some though if you want!  No judging here.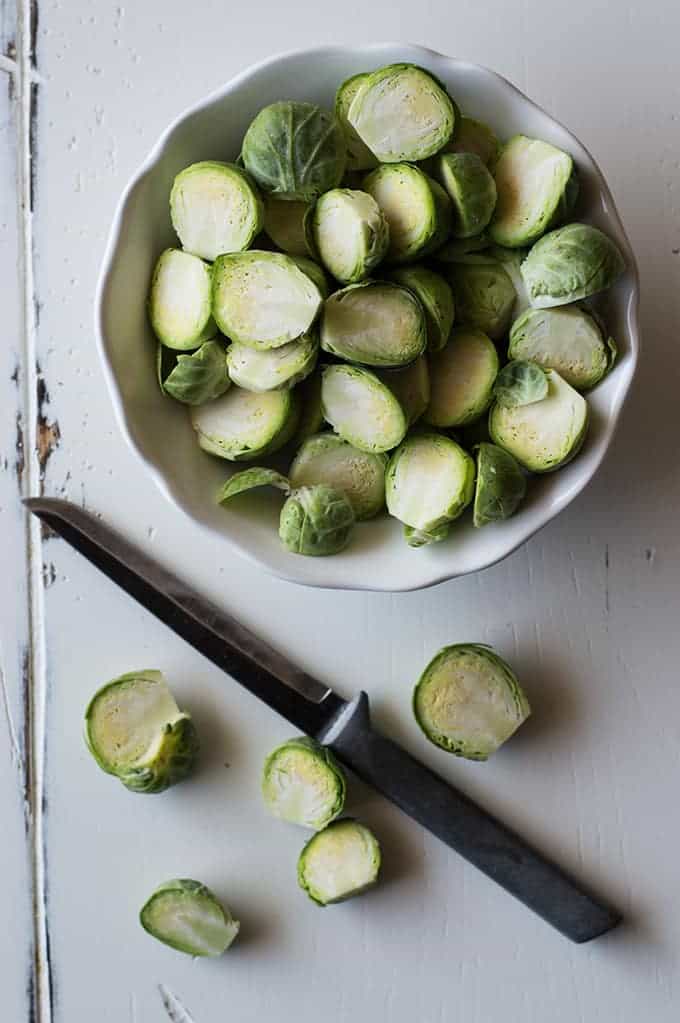 This is a really easy side dish to toss together for the fam.  And I admit that I'm not a huge fan of onion and neither are my kids.  But these caramelized onions were eaten happily and with real smiles.  Not those fake smiles as the kids pick at their zoodles smiles.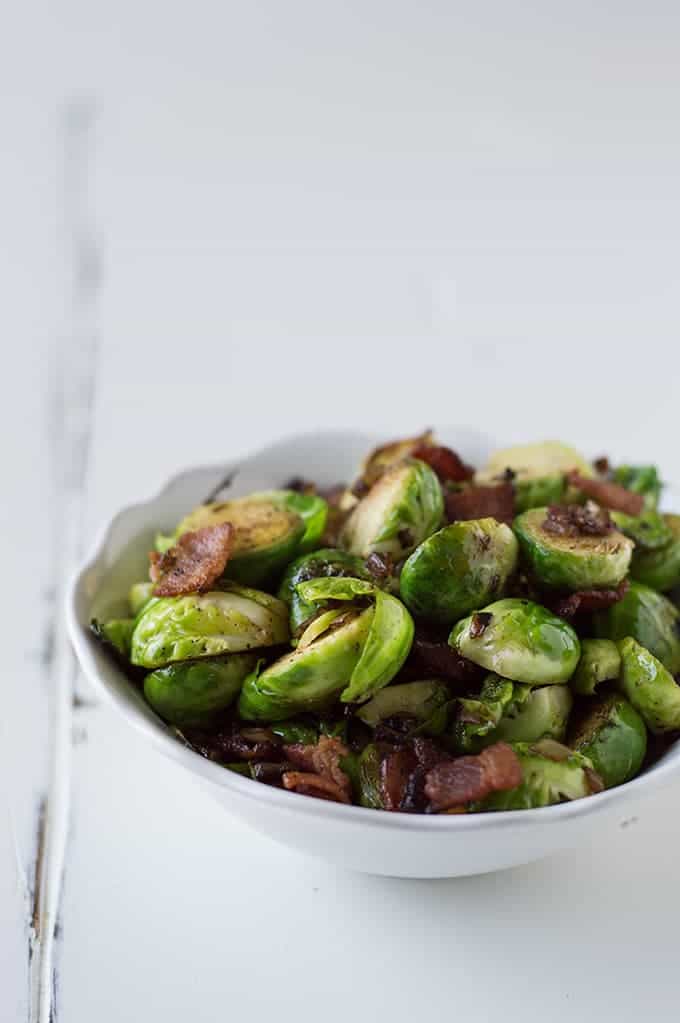 I hope you enjoy the recipe!  You can follow along with me and never miss a recipe by signing up for my newsletter.  Follow me on Instagram and tag #houseofyumm so I can see all the recipes you make.  Plus follow me on snapchat! @houseofyumm 💜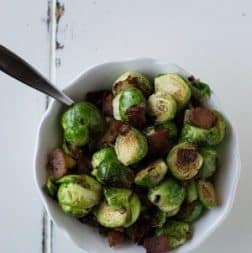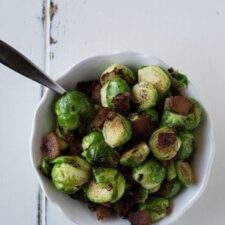 Brussels Sprouts with Bacon
Roasted brussels sprouts with bits of salty bacon.
Ingredients
½ cup yellow onion , diced
2 tbsp unsalted butter
1 tsp soy sauce
8 slices bacon , chopped
2 lbs brussels sprouts
Instructions
Prep the brussel sprouts, wash and dry, slice off the bottom stem and slice in half.

In a large size saucepan heat the butter over medium heat. Add in the diced onion and soy sauce. Cook over medium heat while stirring occasionally for about 5-6 minutes. The onions will be browned when done.

Remove the onions from the saucepan and set aside. Add in the chopped bacon and cook over medium heat until the bacon is cooked to your preference. Remove the bacon from the saucepan to a plate with a paper towel. Leave the bacon grease in the saucepan.

Add in the brussel sprouts and cook them in the bacon grease stirring occasionally for about 5 minutes over medium heat. Once the brussel sprouts are slightly browned and softened remove from heat. Add in the caramelized onions and bacon. Stir to combine. Serve and enjoy!
Nutrition
Calories: 227kcal, Carbohydrates: 15g, Protein: 9g, Fat: 16g, Saturated Fat: 6g, Cholesterol: 30mg, Sodium: 289mg, Potassium: 666mg, Fiber: 6g, Sugar: 4g, Vitamin A: 1269IU, Vitamin C: 130mg, Calcium: 67mg, Iron: 2mg
House of Yumm is a participant in the Amazon Services LLC Associates Program, an affiliate advertising program designed to provide a means for us to earn fees by linking to Amazon.com and affiliated sites.