Easy to make Boozy Pecan Praline Bars are the perfect sweet treat!  Soft, crumbly shortbread with a chewy praline topping!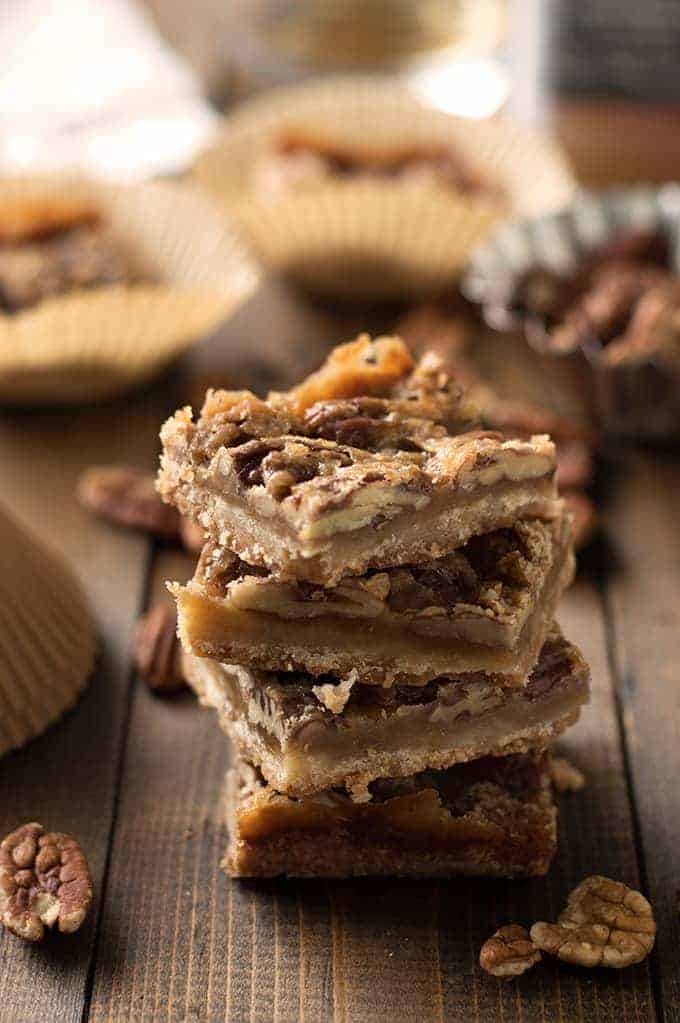 Yikes, so Christmas is one day closer!  Does Christmas feel like a deadline to you too? I feel like there's so many things that I want to get done by that day.  Things that I never do.  Like get down and scrub the baseboards.  Things like that.  Not to say that I don't ever clean the baseboards, it's just not a thing I have the time to do all that often.  Like cleaning the fan blades.  Things that get done when I notice how badly they need to be done.  But whenever a holiday comes up, I feel the urge to complete all of these things so I can relax that day.  So I'm not hit by some random urge to wash the produce drawers in the refrigerator while I'm supposed to be relaxing.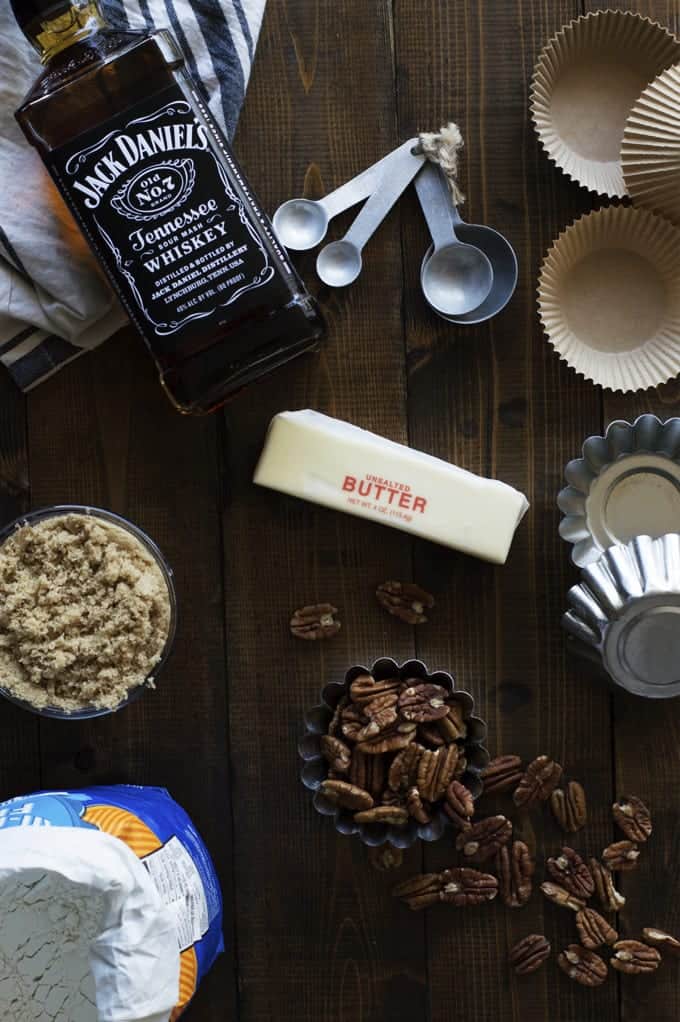 So to assist me in procrastinating, since apparently I need help with this, I decided to make some pecan pralines.  Then I decided to make them in a bar form, because that's more fun.  Then I decided to add some whiskey.  Because.  Why not?  And if I'm going for a Texan dessert, I may as well go full on Texan with it.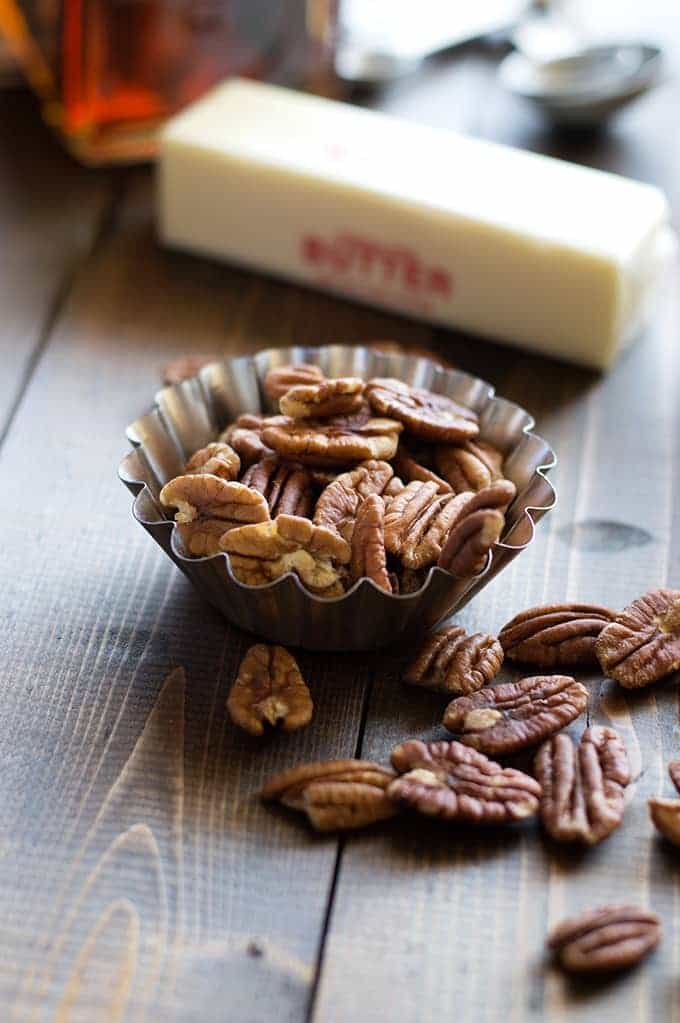 Pecan pralines are a soft and creamy candy, tastes like a caramel or toffee, that is loaded with pecans.  These bars have a soft, crumbly shortbread base, like what I used on these Lemon Crumble Bars, topped with pecan praline goodness on top.  They taste like a toffee, slightly caramel-y, pecan heaven sent bar.  Totally worth procrastinating for.  And way more enjoyable than cleaning the inside of the oven.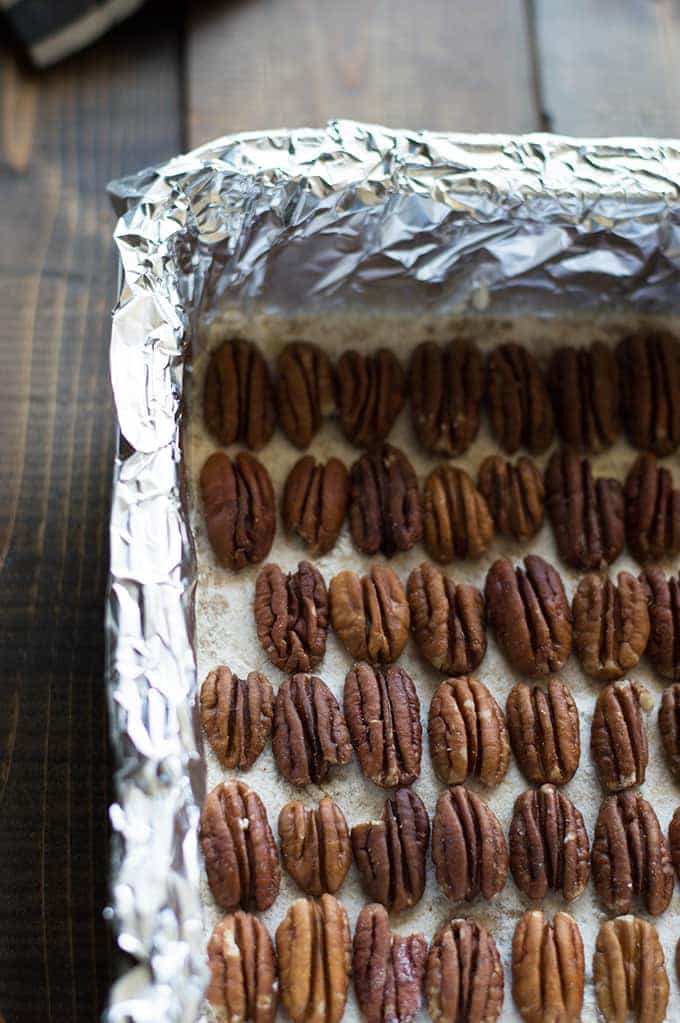 These boozy pecan praline bars are really easy to put together.  The dough for the shortbread bar on the bottom comes together quick.  It will be very soft and crumbly after you mix it.  When you press it together with your fingers it will mold together though.  So just press it down into the baking pan.  I used the side of my rubber spatula to press it down nice and flat.  Then you can think about dusting the lighting fixtures that hang down in the kitchen while you carefully and precisely lay down the pecans on top of the cookie base.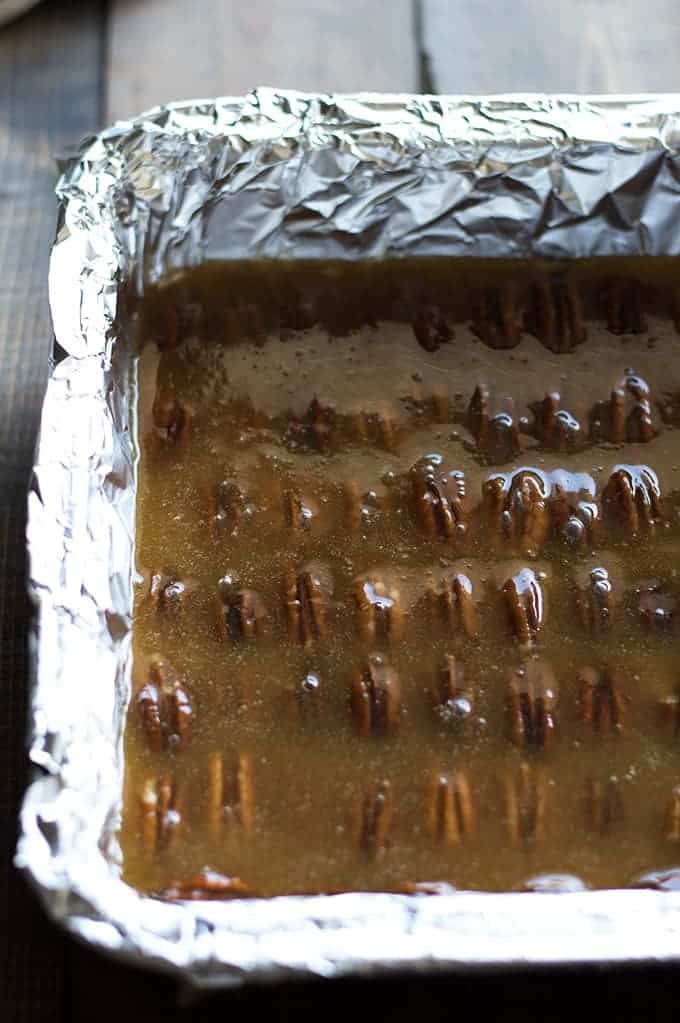 The chewy praline topping is made by melting butter and mixing it with some dark brown sugar.  You can use light brown sugar, but I wanted a deeper molasses taste to mine.  Once this mixture starts to bubble up on the stove you can remove it from the heat, pour in some whiskey, have fun watching it bubble and hiss at you for a moment.  Then pour that beautiful golden sugar mixture over the top of the bars.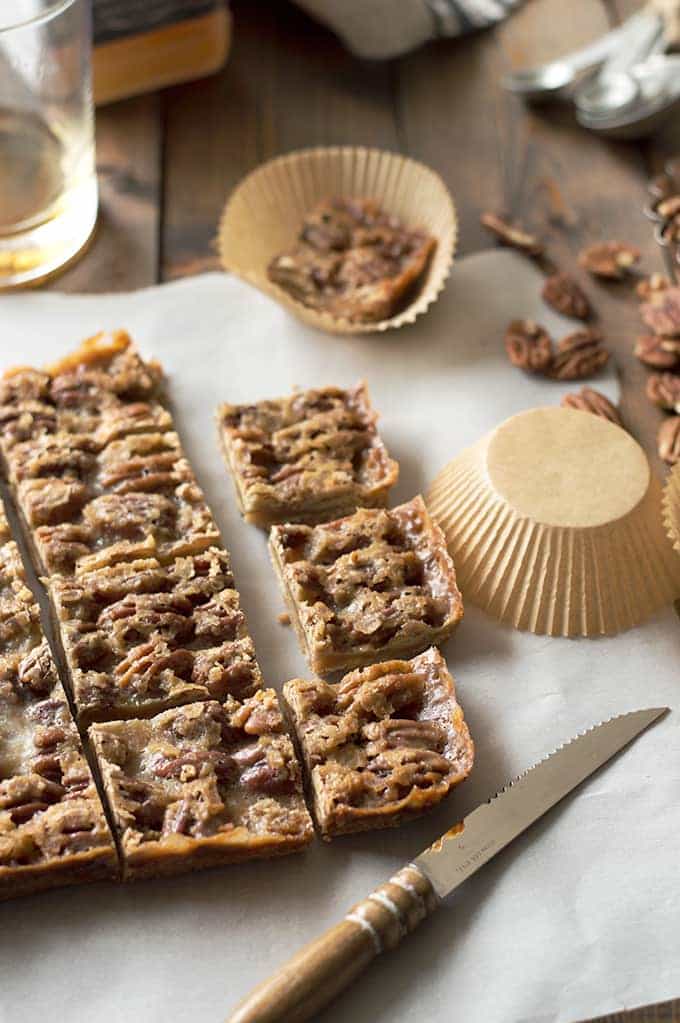 Bake for a little bit.  Then cool.  Toss in the fridge.  Cut.  Then enjoy.  Life is good.  Take a moment.  Enjoy the buttery taste, the hint of whiskey, the sweet toffee, the toasted pecans.  In that moment there are no chores.  There are no kids needing diaper changes.  There are no kids asking to play monopoly.  It is just you and the boozy pecan praline bars.  Just for a moment though.  Because then, after that second of pure bliss life starts going again.  And the window tracks are waving a q-tip and asking to be cleaned.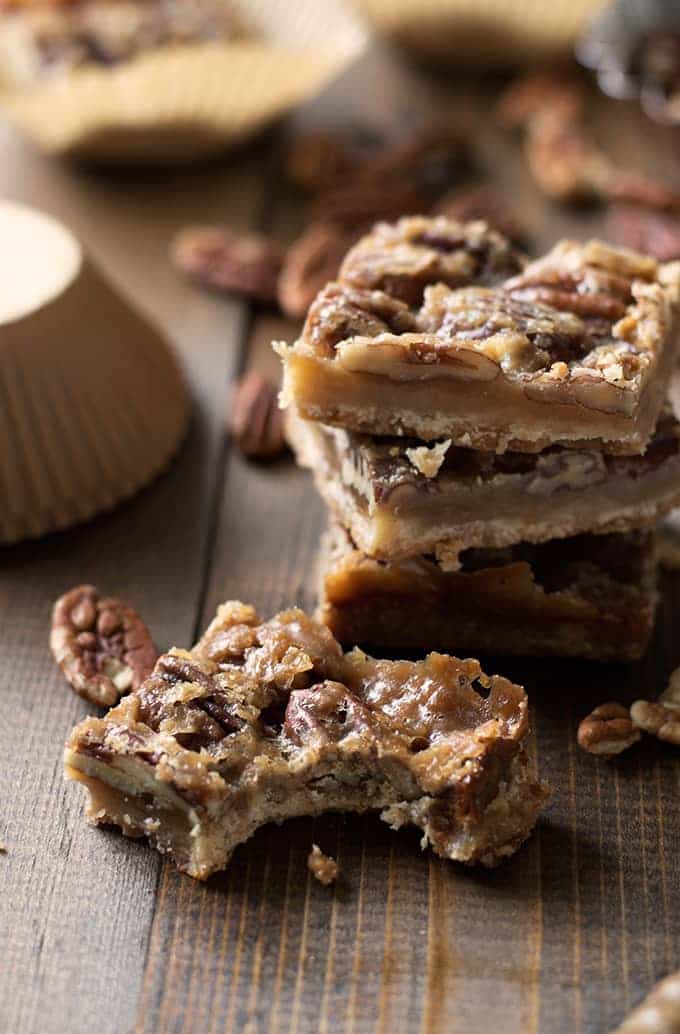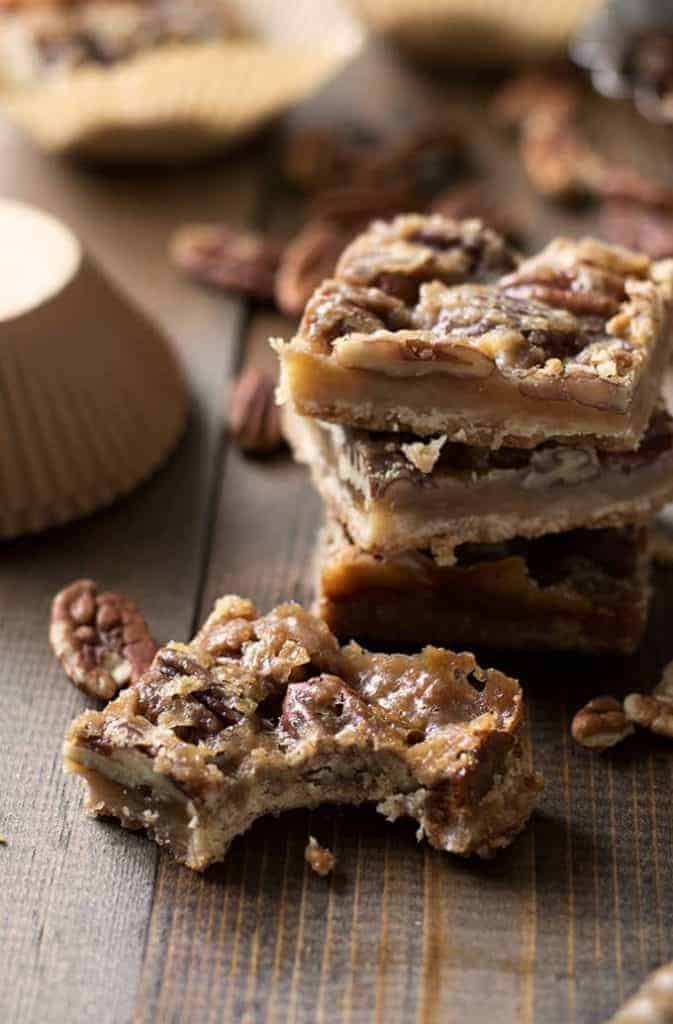 I hope you enjoy the recipe!  You can follow along with me and never miss a recipe by signing up for my newsletter.  Follow me on Instagram and tag #houseofyumm so I can see all the recipes you make ?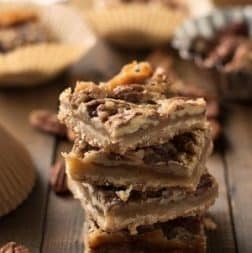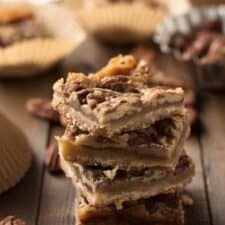 Boozy Pecan Praline Bars
Easy to make Boozy Pecan Praline Bars are the perfect sweet treat! Soft, crumbly shortbread with a chewy praline topping!
Ingredients
4 tbsp unsalted butter, softened to room temperature
¼ tsp salt
½ cup light brown sugar
1 cup all purpose flour
1 cup pecans, halved
Topping
½ cup unsalted butter
⅓ cup dark brown sugar
2 tsp whiskey
Instructions
Preheat oven to 350°F. Line a square 8x8 pan with foil and set aside.

In mixing bowl add the butter, beat on medium speed until creamy. Add in the light brown sugar, mix until fluffy. Slowly add in the flour and salt. Beat on slow until incorporated. The mixture will be soft and not combined, but when you press it together with your fingers it will mold together.

Pour the cookie mixture into the prepared baking pan. Press it down until flat and smooth. I used a rubber spatula.

Top with a layer of pecan halves.

In a small saucepan add the butter and dark brown sugar. Stir while the butter melts. Stir occasionally until the mixture starts to bubble.

Remove from heat, add in the whiskey. It will bubble. Once it stops bubbling, pour the mixture over the pecans and cookie layer in the baking pan.

Bake at 350°F for about 20 minutes. The mixture will be bubbly and golden.

Remove from the oven and allow to cool. Once cooled cut and serve! Can be placed in the refrigerator to speed up cooling time.
Nutrition
Calories: 256kcal, Carbohydrates: 24g, Protein: 2g, Fat: 18g, Saturated Fat: 8g, Cholesterol: 31mg, Sodium: 54mg, Potassium: 65mg, Fiber: 1g, Sugar: 15g, Vitamin A: 359IU, Vitamin C: 1mg, Calcium: 23mg, Iron: 1mg
House of Yumm is a participant in the Amazon Services LLC Associates Program, an affiliate advertising program designed to provide a means for us to earn fees by linking to Amazon.com and affiliated sites.