Blackberry Cornbread!  Enjoy the burst of fresh fruit in this ultra moist and buttery cornbread.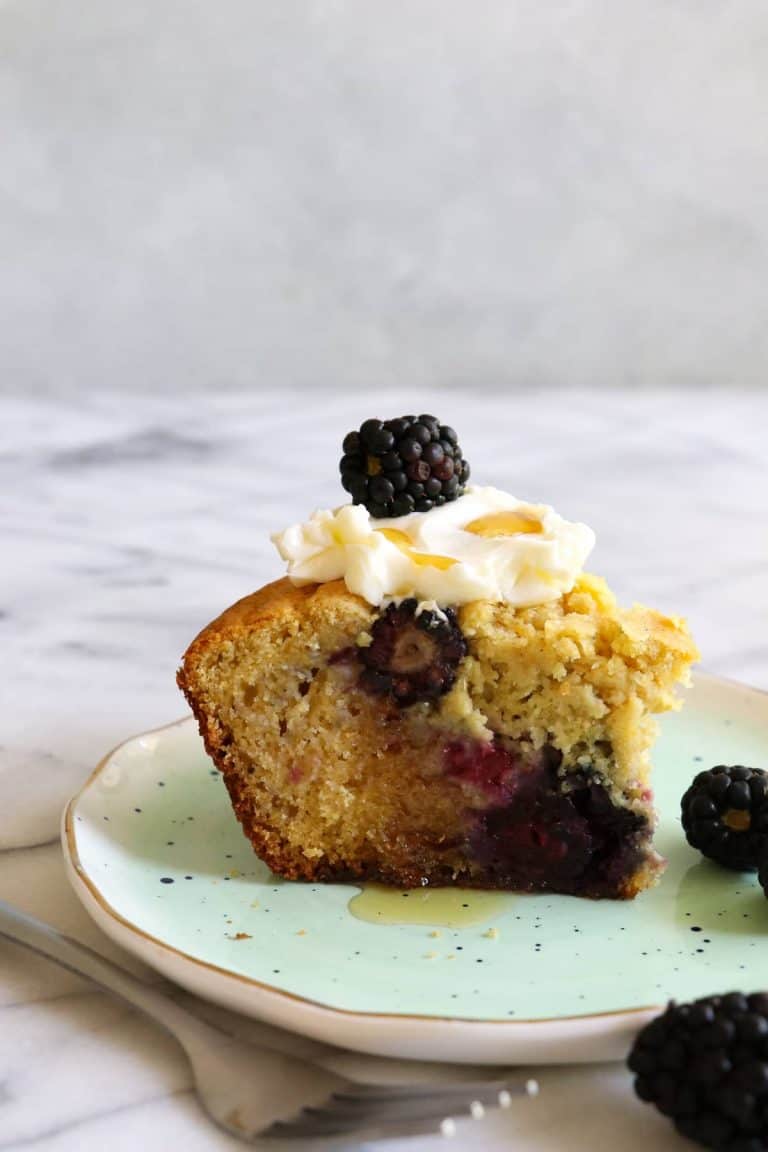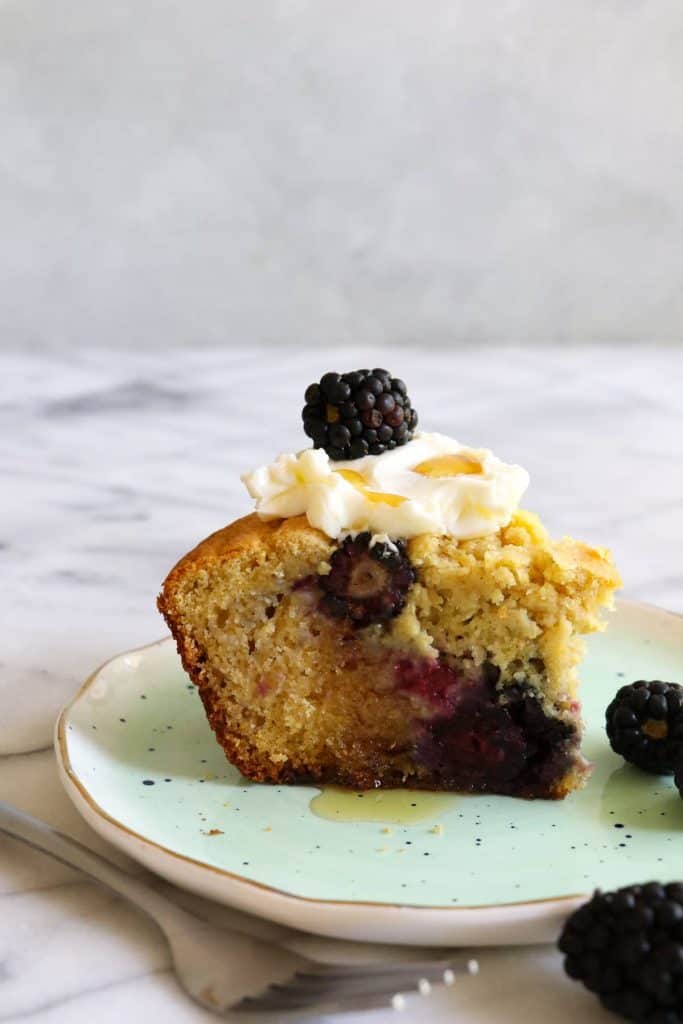 I put fruit inside my cornbread.
Genius or insane?  I mean, people make cornmeal cakes.  Which is there really any difference between a cornmeal cake and cornbread?  A lot of people put sugar or a sweetener like honey in their cornbread.  Sooooo..it's basically the same thing.  Right?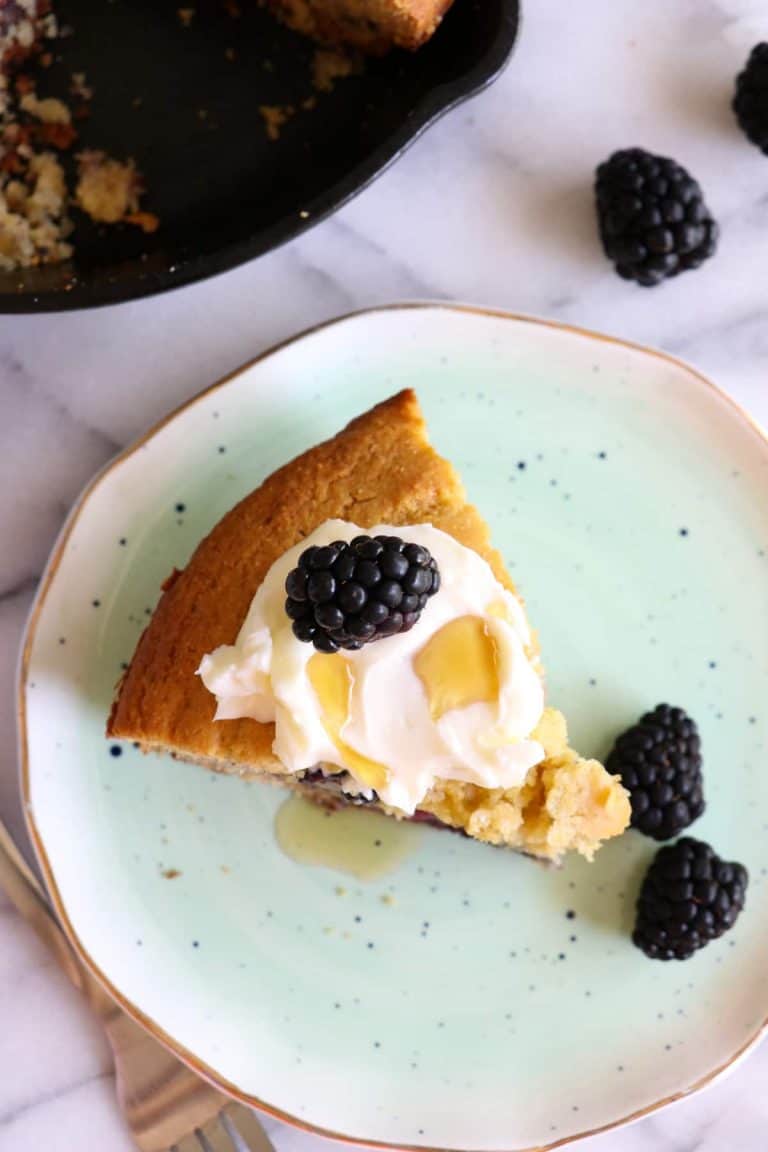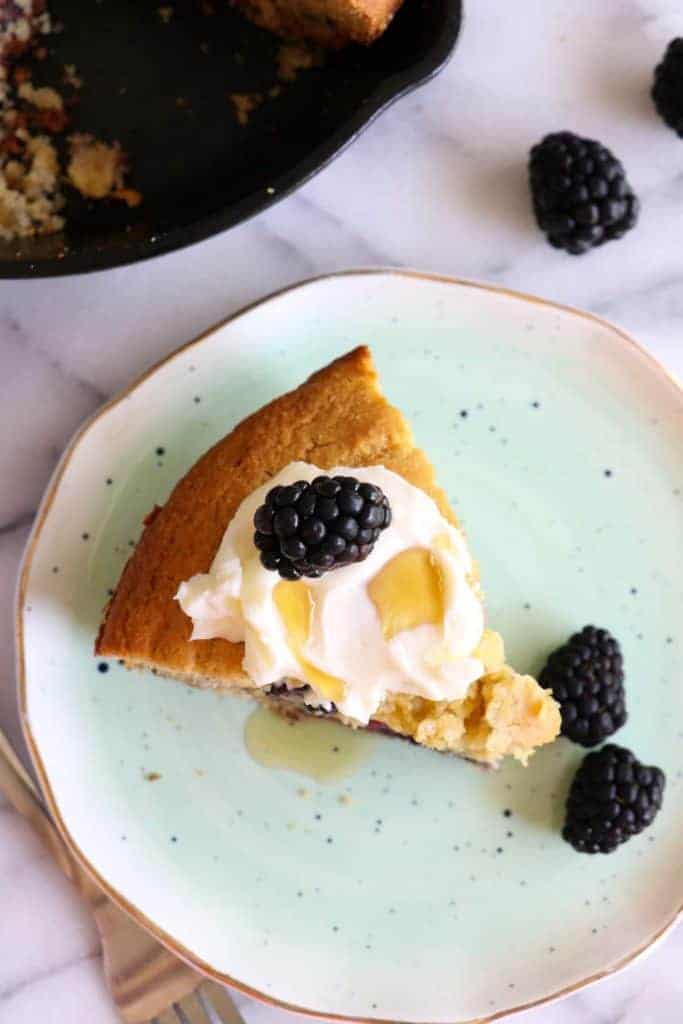 Personally I love loading up my cornbread with honey to give it that sweet taste.  Then of course I still drizzle some on top.  Because I can.
Anyway..back to this Blackberry cornbread.  It's amazing.  The end.  No joke.  I am a huge fan of dressing up my cornbread.  Remember that Farmer's Market Cornbread? Except instead of going savory I decided to go a little bit sweet.  And I also upped the butter in this recipe to make it ultra moist and give a bit more flavor and lighter texture to the cornbread.  It's not quite as thick and gritty as my other cornbread.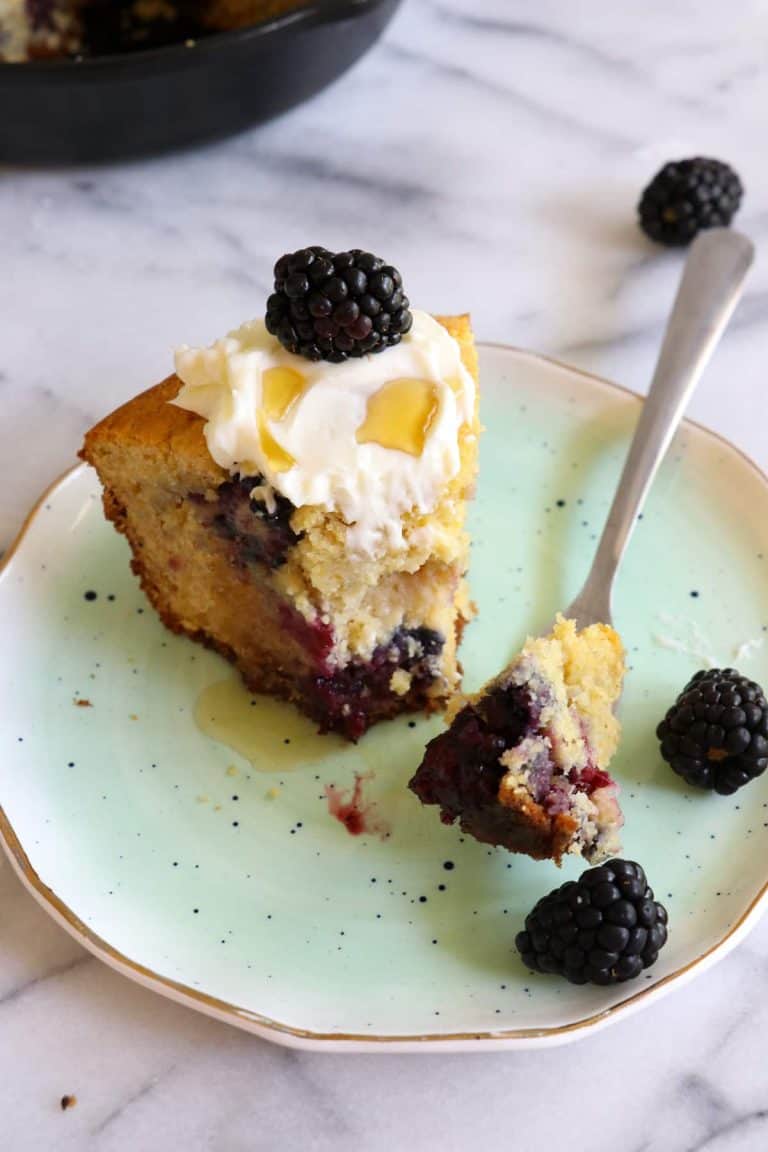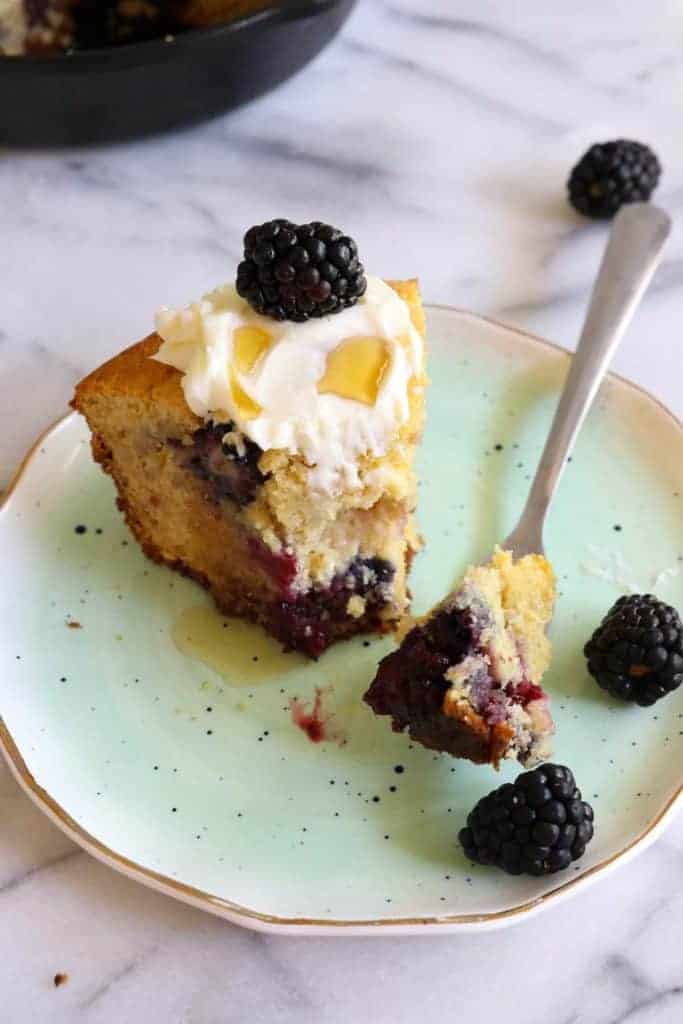 I still absolutely am considering this to be a side dish and not a dessert.  Mostly because I still think I should get dessert after a meal that involves this dish on the side.  But load this cornbread up with some butter and honey and I will happily eat it for each and every meal possible.  I personally think this makes a perfect breakfast food too.
But add a slice of this on the side of your favorite BBQ or Chili and the burst of berries will be a wonderful surprise.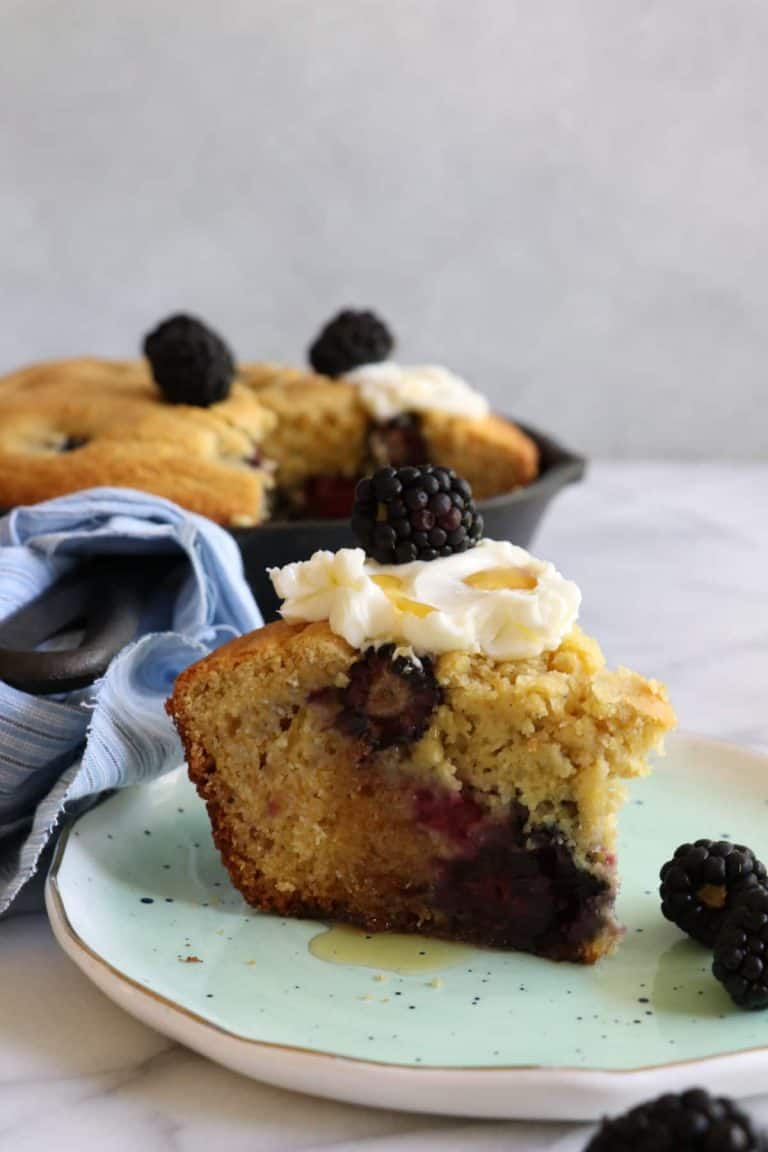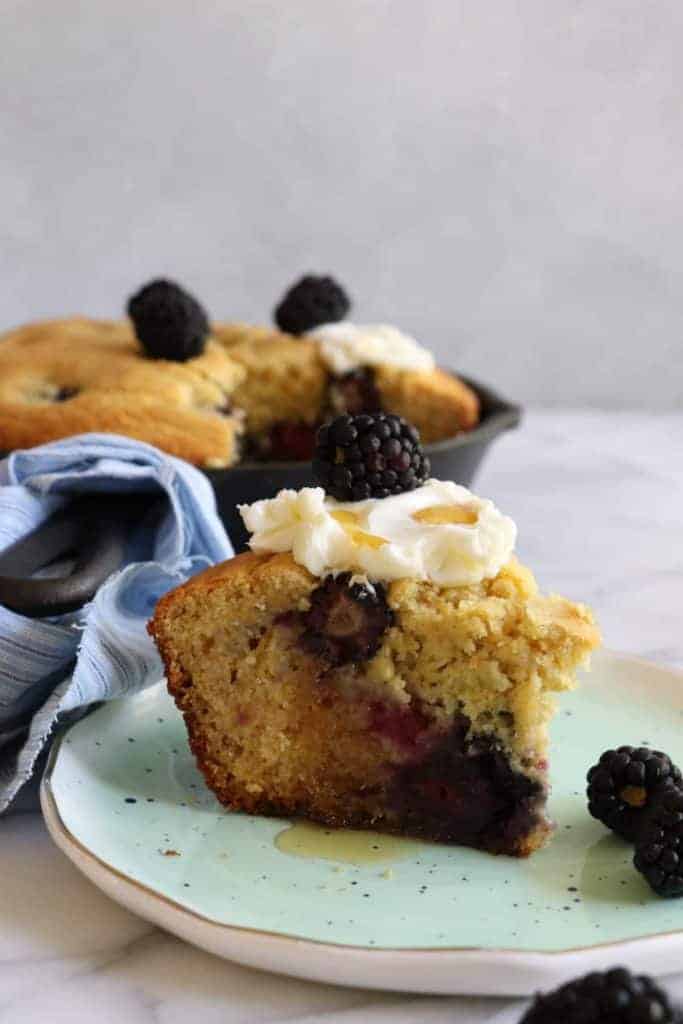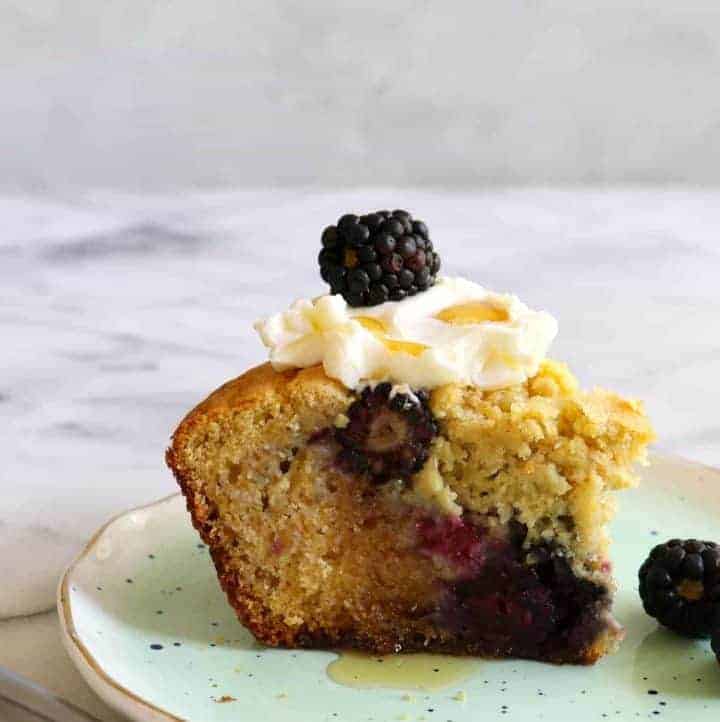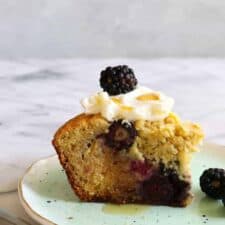 Blackberry Cornbread
Blackberry Cornbread!  Enjoy the burst of fresh fruit in this ultra moist and buttery cornbread.
Ingredients
2 tbsp canola oil
1 cup cornmeal
1 cup all purpose flour
2 tsp baking powder
½ tsp baking soda
1 tsp salt
2 large eggs
1 cup buttermilk
¼ cup honey
6 tbsp unsalted butter, melted
1 cup blackberries
Instructions
Preheat the oven to 425℉. Pour the oil into an 8 inch cast iron skillet. Bake for about 10 minutes to heat the oil.

In the meantime prepare the batter. In a large bowl add the cornmeal, flour, baking powder, baking soda and salt. Stir to combine with a fork.

Add the eggs, buttermilk and honey. Stir to combine. Add the melted butter and stir.

Gently fold in the blackberries. If you stir too hard then you will break the berries and the juice will leak into the batter.

Once the skillet is heated remove from the oven and carefully pour the batter into the oil, it will sizzle. Add extra berries to the top of the cornbread if desired.

Reduce the heat down to 375℉ and bake the cornbread for about 40 minutes, the edges will be slightly browned and a toothpick inserted into the center will come out clean.

Allow to cool in the skillet about 10 minutes, cut and serve. Top with butter and honey if desired.
Nutrition
Serving: 1g, Calories: 327kcal, Carbohydrates: 45g, Protein: 6g, Sugar: 11g
House of Yumm is a participant in the Amazon Services LLC Associates Program, an affiliate advertising program designed to provide a means for us to earn fees by linking to Amazon.com and affiliated sites.