Black Beans and Rice Stuffed Tomatoes. A colorful, flavorful meal that is sure to be a winner with the entire family! Black beans and rice cooked with juicy bits of ground turkey, melted cheese, fresh cilantro, all baked inside of tomatoes for a complete meal!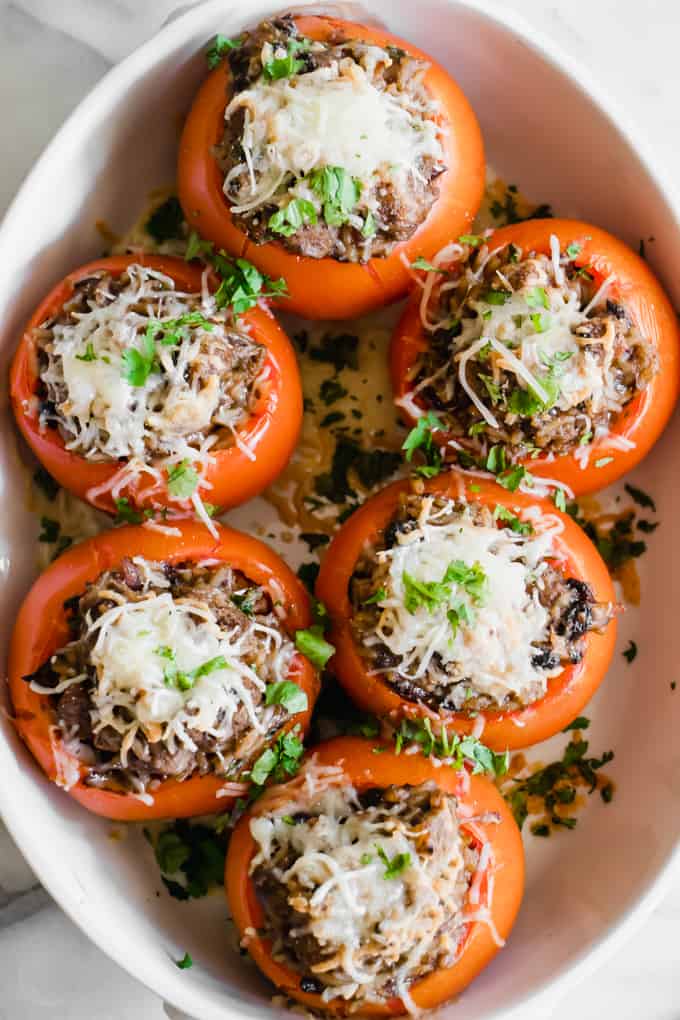 This post is sponsored by Zatarain's.  As always, all opinions expressed in this post are mine.  Thanks for continuing to support the brands that support House of Yumm <3
This easy, weeknight dinner is loaded up with everything the family needs. Black beans, rice, ground turkey, tomatoes, cheese. All in one satisfying meal.
The black beans and rice mixture with the ground turkey is definitely tasty, and filling. Stuffing it into a tomato makes this not only fun for the kids, and adults, but also adds a freshness to the meal.
Back to school time is always a hectic time in our household. Five kids with different schedules and activities all at the same time can make for busy days.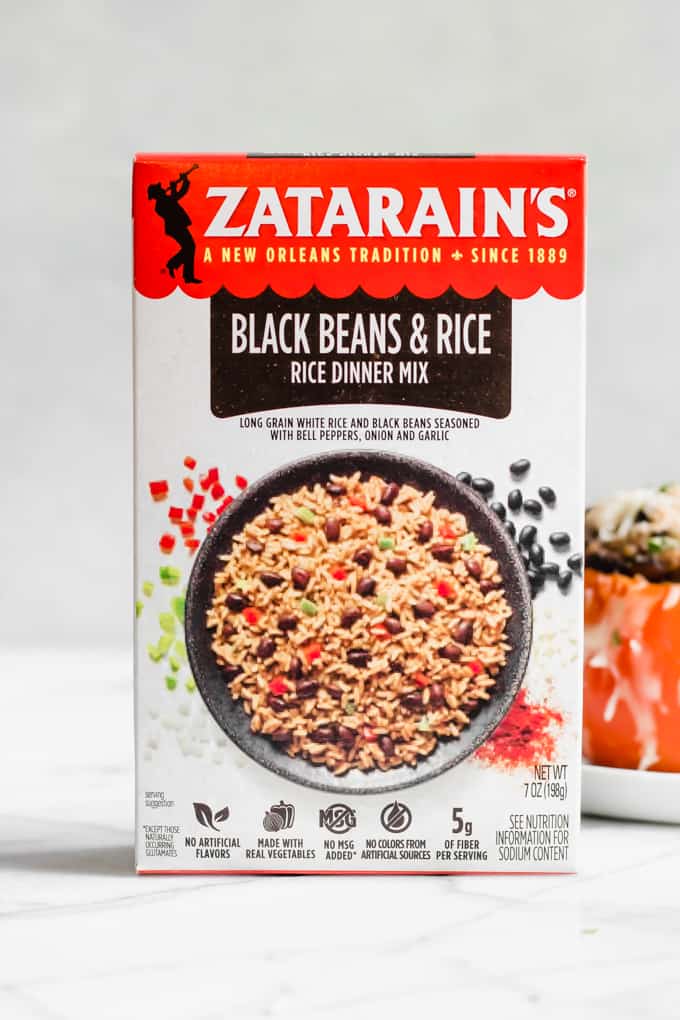 Coming up with flavorful meals that are quick to put together, and that please the entire family can be a challenge. Especially when time is short.
But thanks to Zatarain's this dish is not only easy to put together, it's tasty thanks to their Black Beans and Rice Rice Dinner Mix.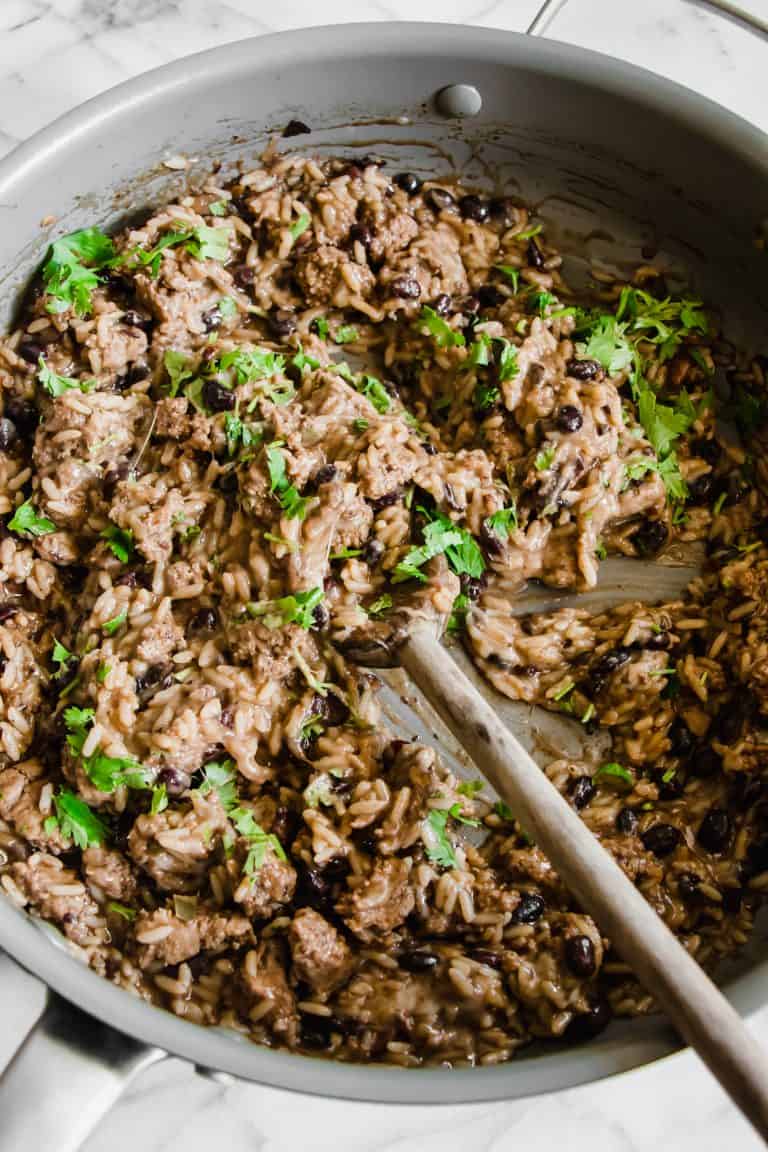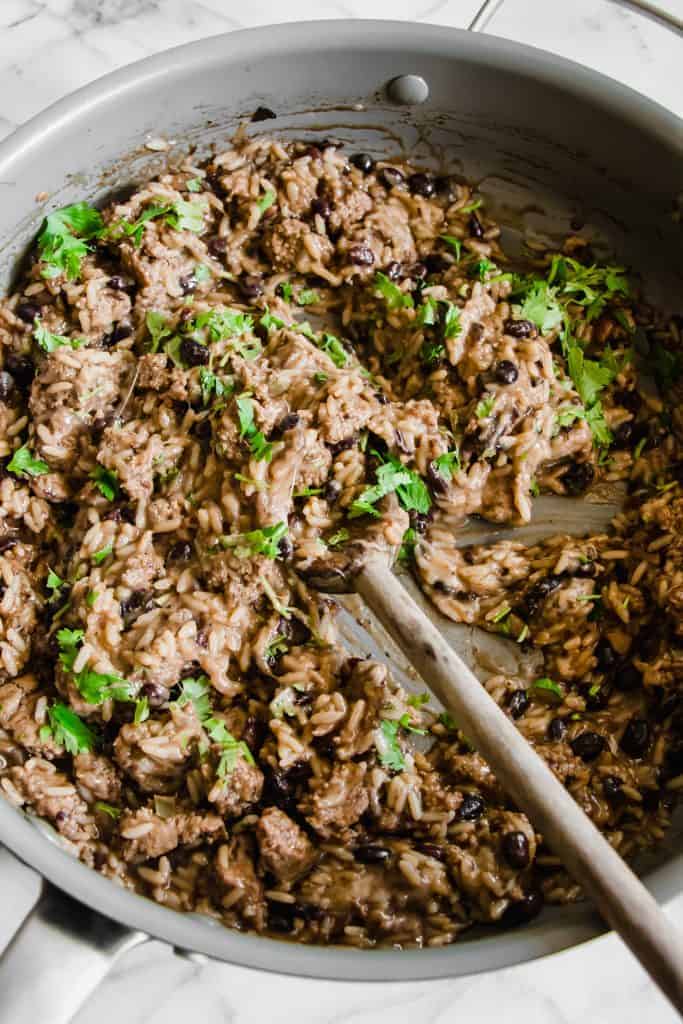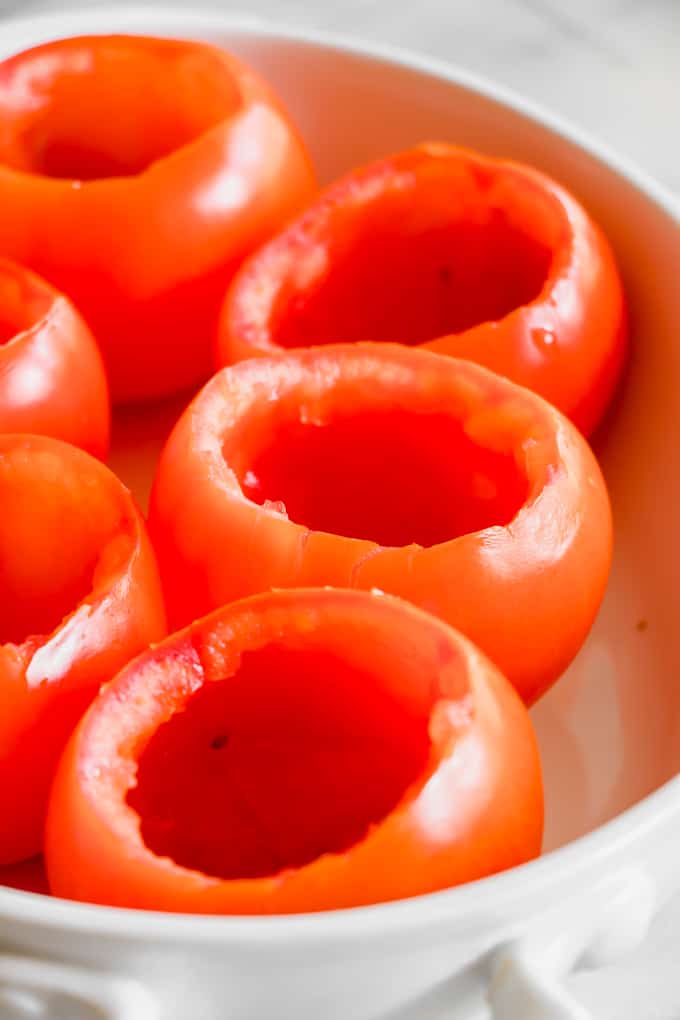 How to Make Black Beans and Rice Stuffed Tomatoes:
First of all we want to add a lean protein to our meal, which is where the ground turkey comes in. You can substitute with ground beef if you prefer. Cook up the meat in a large skillet, pick a large one because we're going to add all the other ingredients to this same skillet. Which means fewer dishes, always a bonus.
After the turkey is cooked up, a few simple seasonings are added. Some salt, paprika, and garlic. The rest of the flavor is going to come from the Black Beans and Rice Rice Dinner Mix from Zatarain's.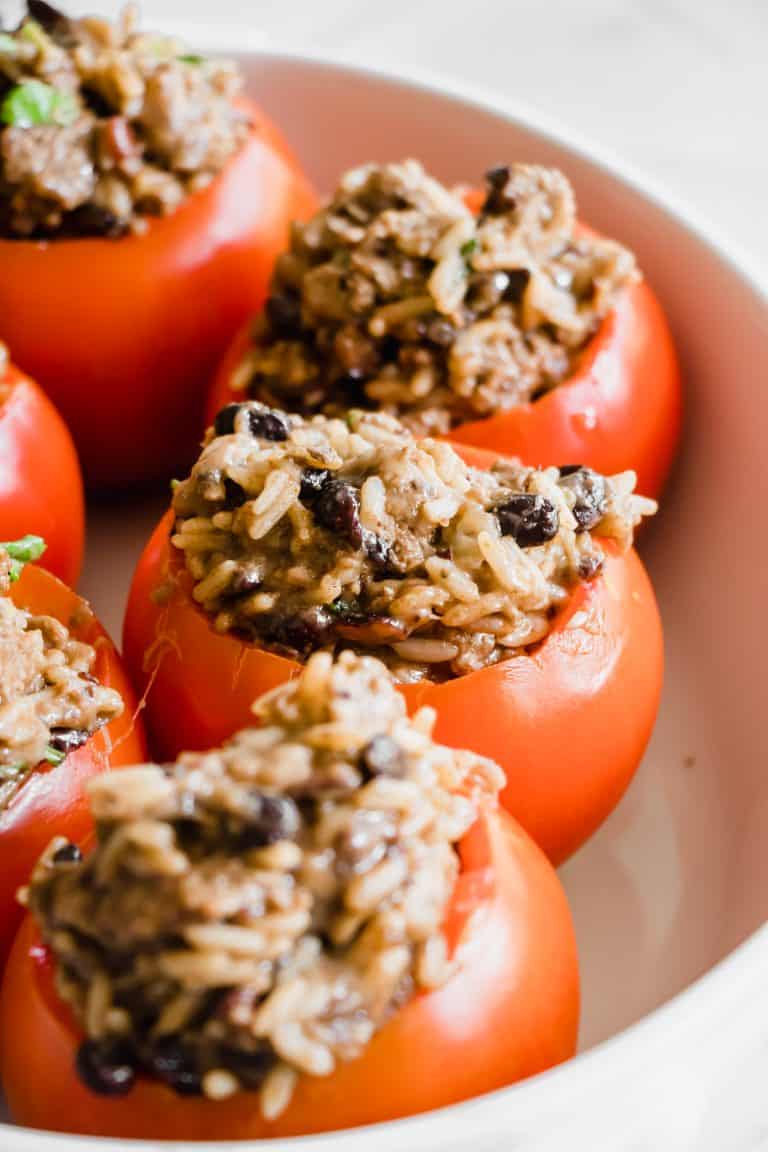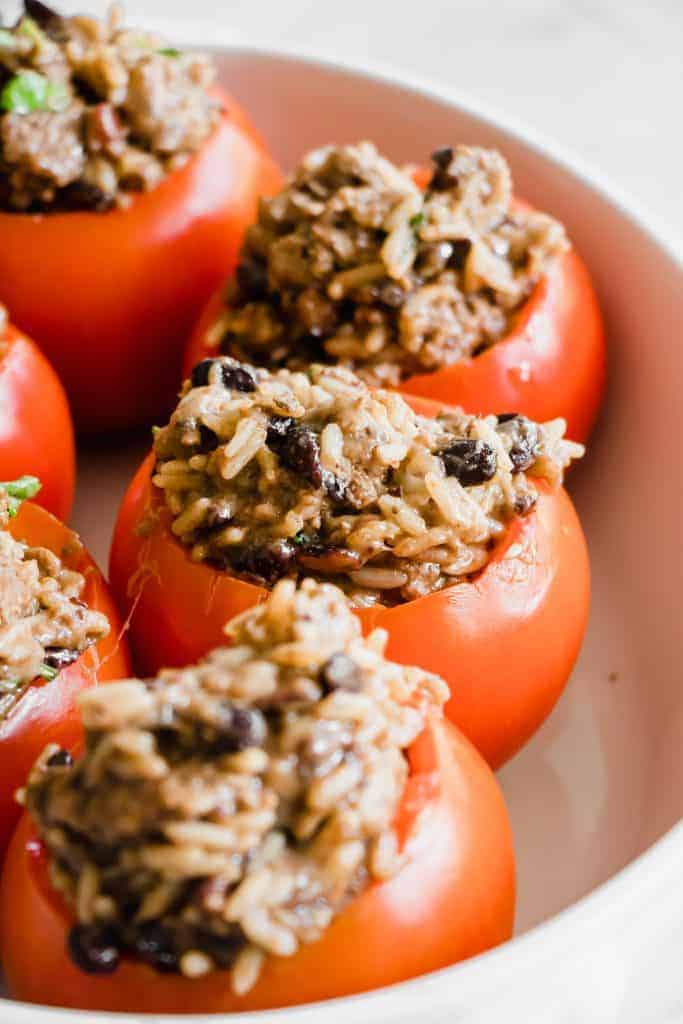 Make the rice according to the directions, we're going to add the olive oil to the skillet with the turkey, then add the rice mix, and the water needed. Give it a stir, cover and allow it to cook.
Once the rice is cooked, stir to fluff it, and add the cheese. I add cilantro also, I like the freshness of the herbs added to this dish.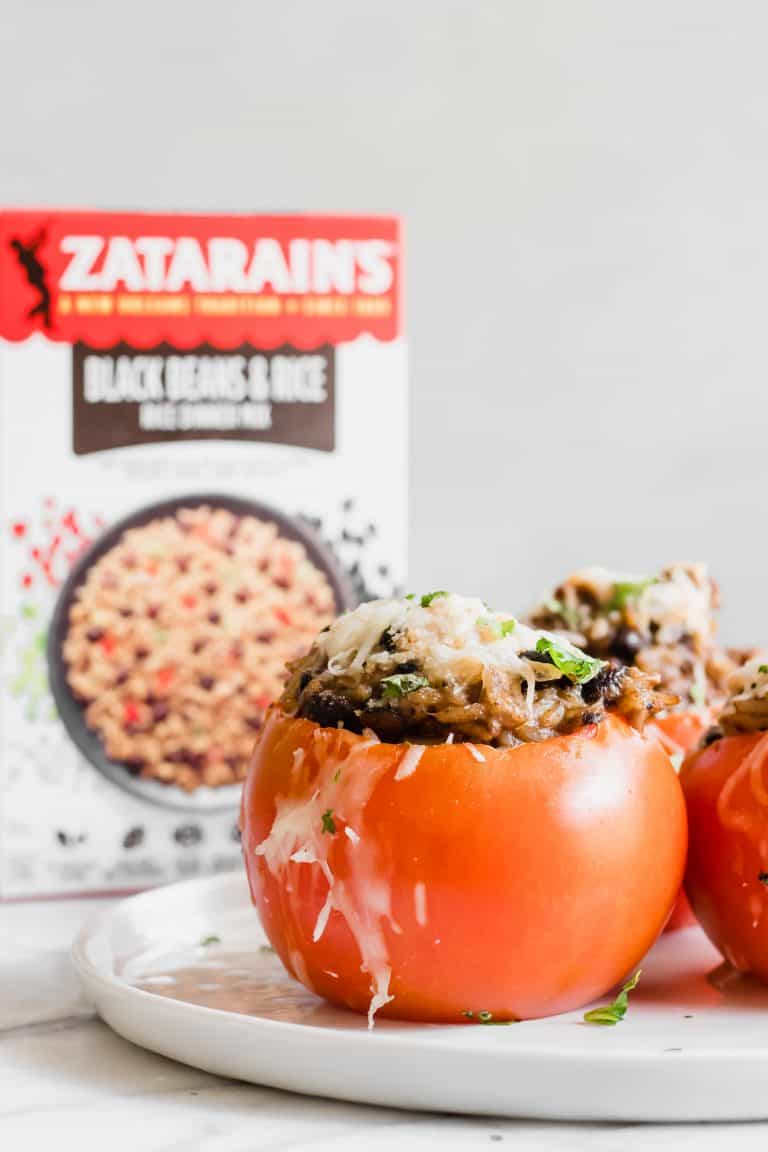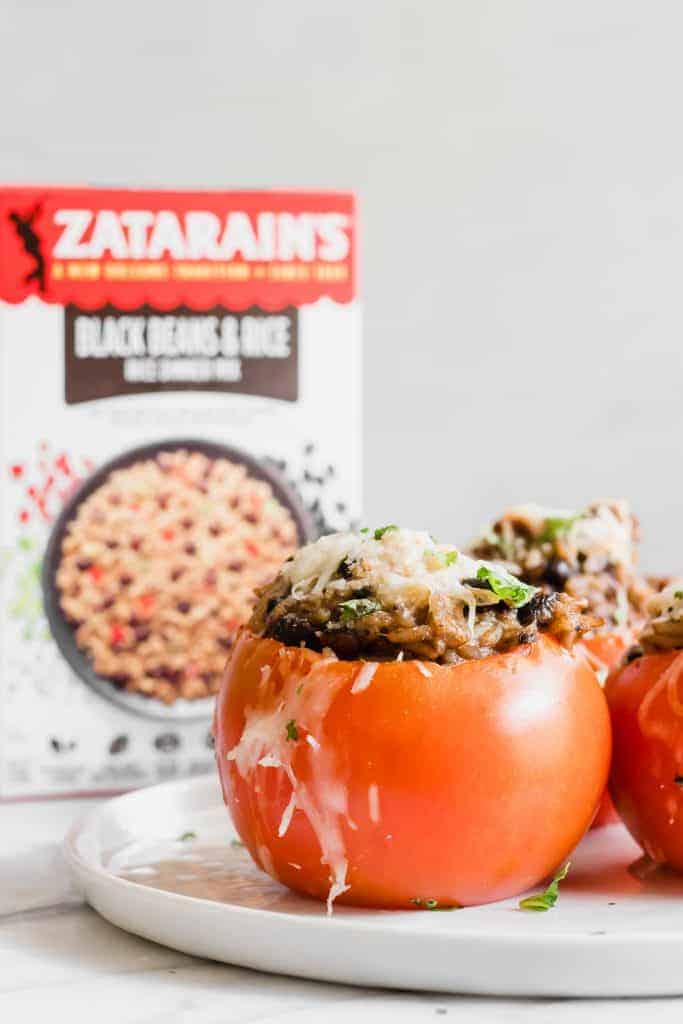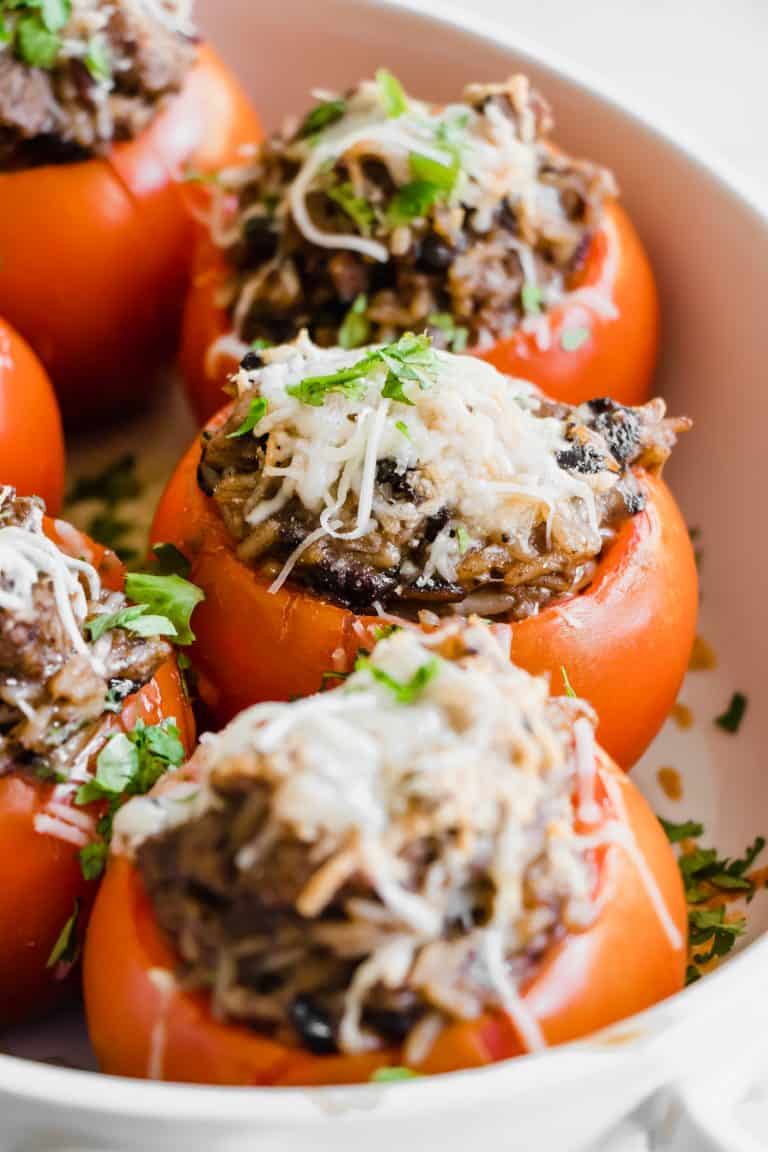 While the rice is cooking it's the perfect time to clean out the tomatoes. Cut the tops off the tomatoes, and use a spoon to scrape out the seeds. You will be left with tomatoes that are perfect for stuffing with the rice mixture.
Then it's just a matter of spooning the rice mixture into the tomatoes. Top it off with a spoonful on the top of the tomatoes. Bake uncovered just to soften up the tomatoes. If you would prefer fresh uncooked tomatoes you can absolutely skip this step!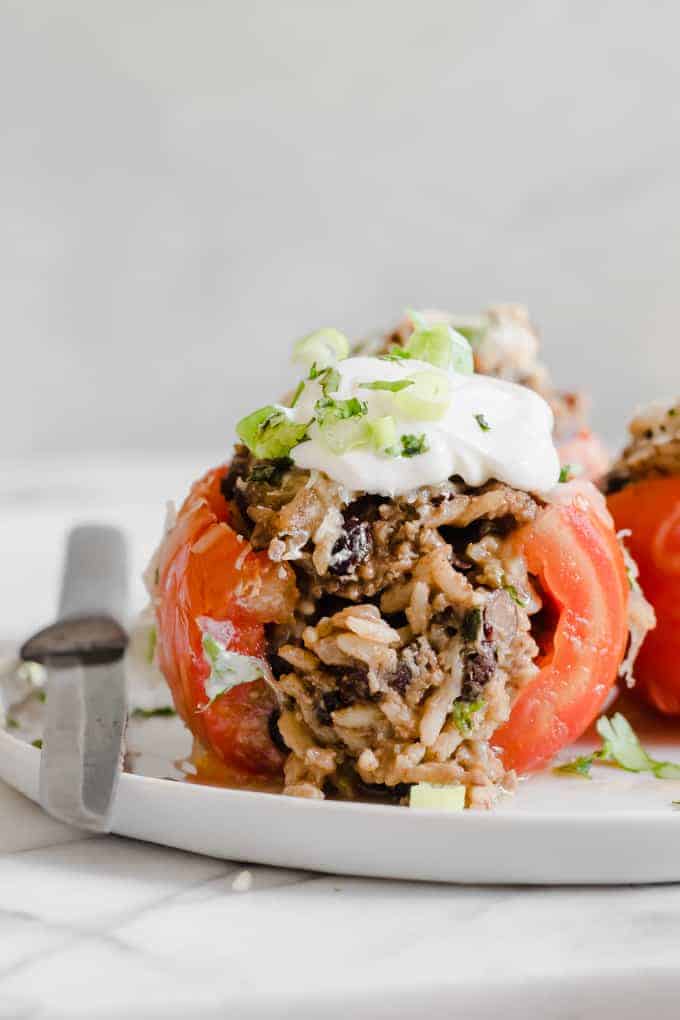 Looking for other Easy Weeknight Meals?
Check out this Red Beans & Rice Burrito Bowls. Plus, check out Zatarains' website to see all of their Rice Mixes.
Try this Black Beans and Rice Stuffed Tomatoes tonight!
WANT TO TRY THESE BLACK BEANS AND RICE STUFFED TOMATOES?
PIN THEM NOW! 
FIND ME ON PINTEREST FOR MORE GREAT RECIPES!
Black Beans and Rice Stuffed Tomatoes first appeared on Food Fanatic.
House of Yumm is a participant in the Amazon Services LLC Associates Program, an affiliate advertising program designed to provide a means for us to earn fees by linking to Amazon.com and affiliated sites.