Simple three ingredient, no bake, truffles made with Birthday cake stuffed Oreos and dipped in Birthday cake flavored candy melts.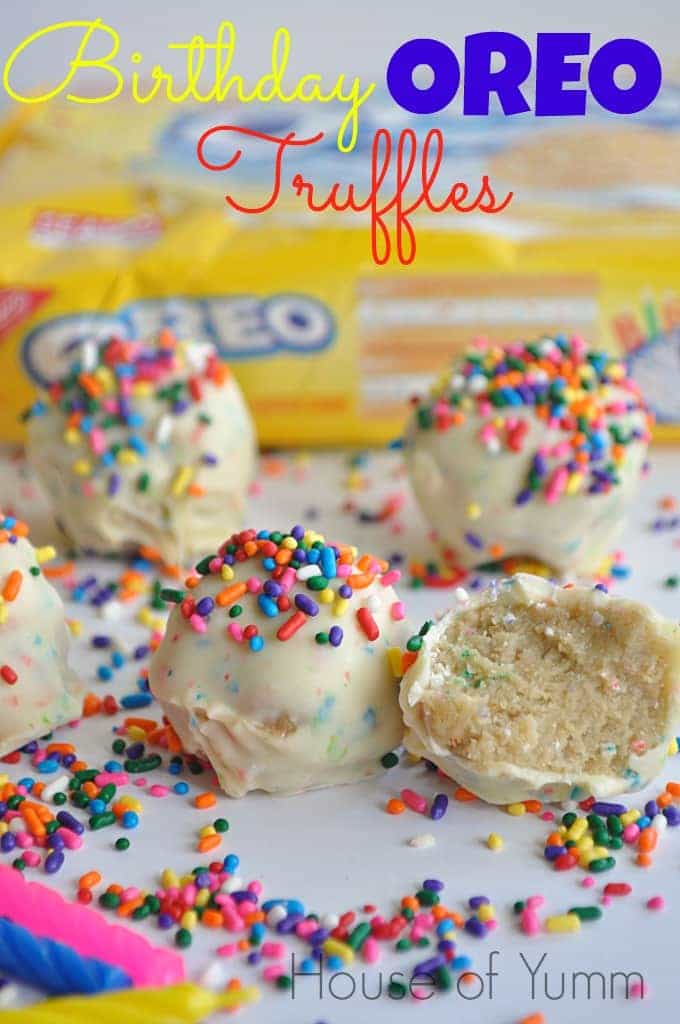 Happy Birthday!! Oh wait? What's that? It's not your birthday? Weeeellll…it's not mine either! It's not even anyone's Birthday that I know. The exciting news: You don't need to have a birthday to celebrate to make these truffles!!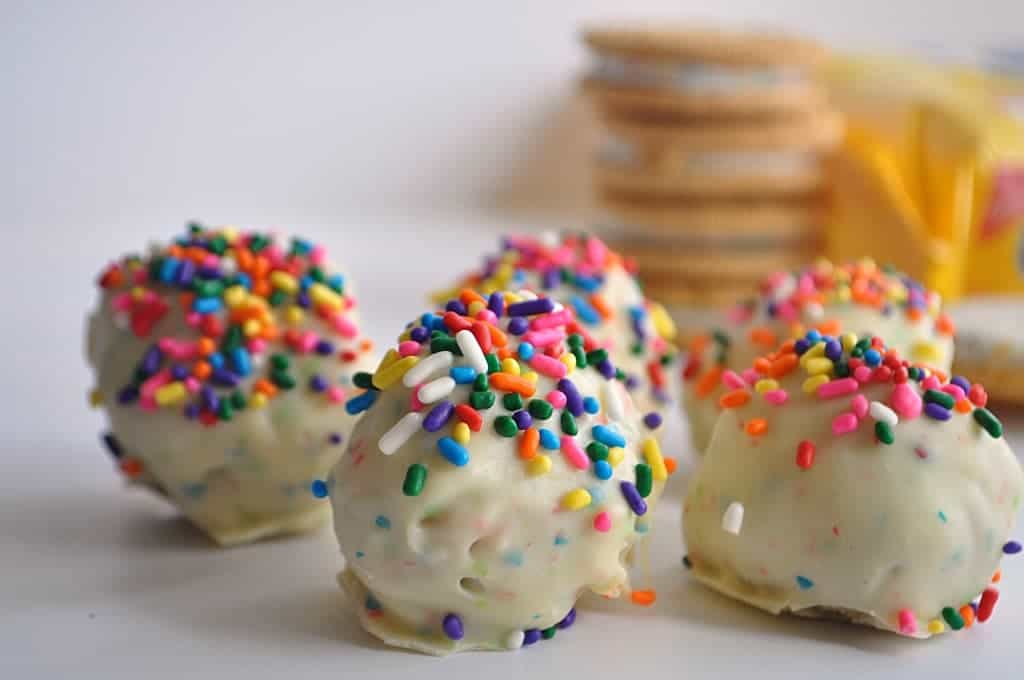 Trust me when I tell you this will not disappoint! Even if it's not your birthday. Remember everything is better with SPRINKLES! Sprinkles can turn the worst, laundry filled, day into a wonderful day! They are that magical.
The recipe for these Oreo truffles were adapted from a recipe by Kraft and can be found here. Simple enough, three ingredients! A package of Oreos, a package of cream cheese, and some Wilton Candy Melts in their Limited Edition Birthday Cake flavor. I will be sad when these go away. But you could still make them with regular white chocolate and they would still be yummy.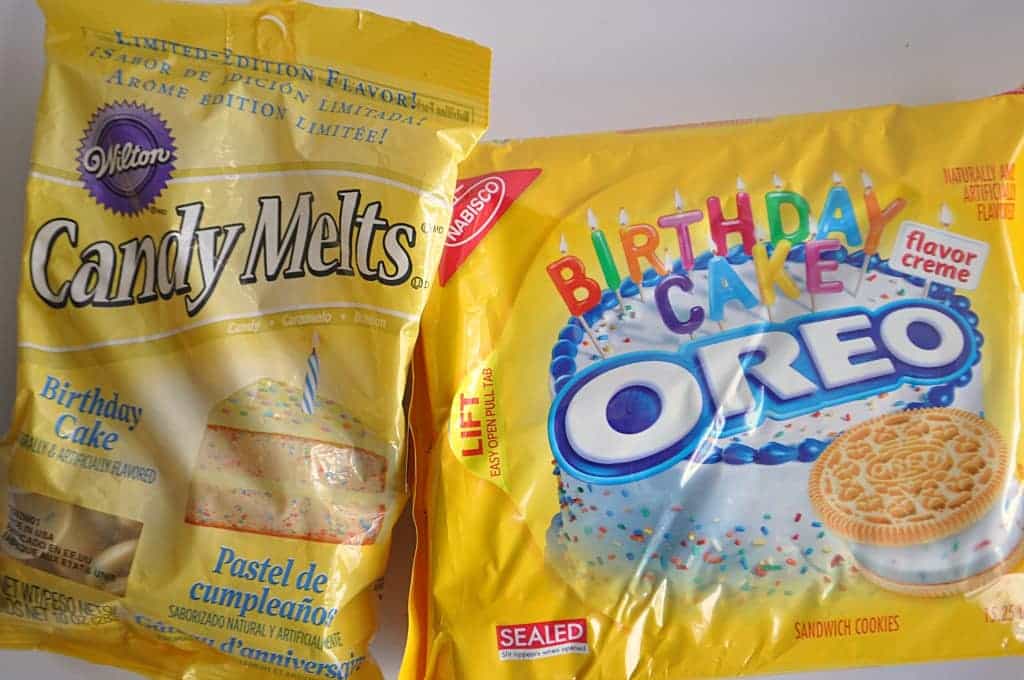 And birthday-ish as long as you use the magical sprinkles.
If you're new to Wilton's candy melts you are in for a real treat!! They're super easy to use, you just melt them in the microwave, instructions are on the package, then you just dip the truffles in them. They make these in a variety of colors, and some of them have special flavors, like this one is birthday cake.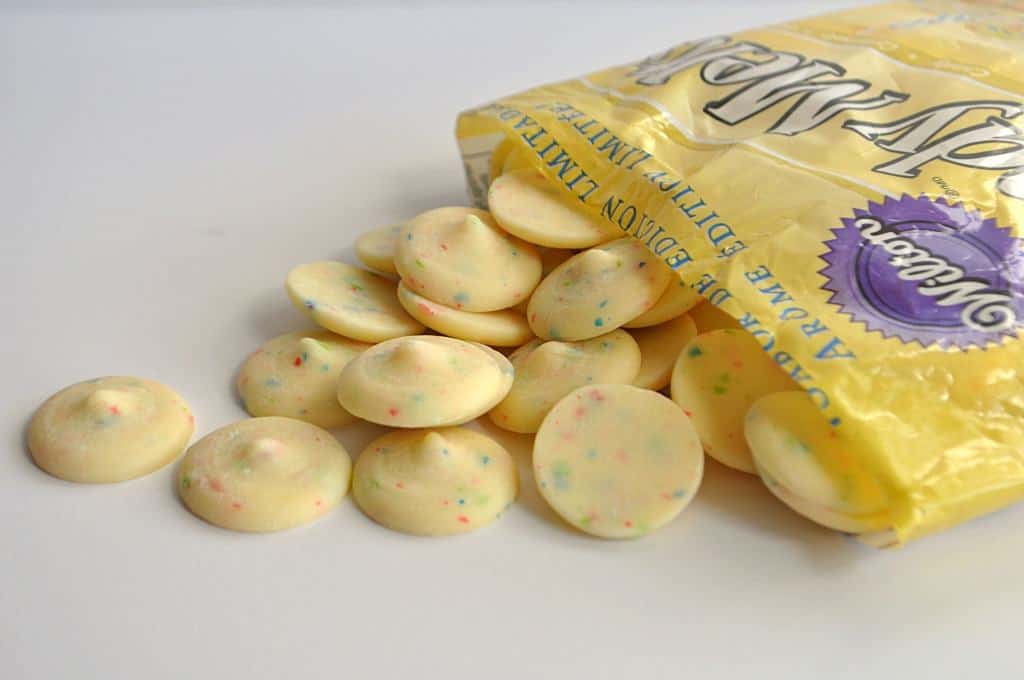 Just opening the package and I was overcome with the smell of birthday cake. Is there a better smell?!?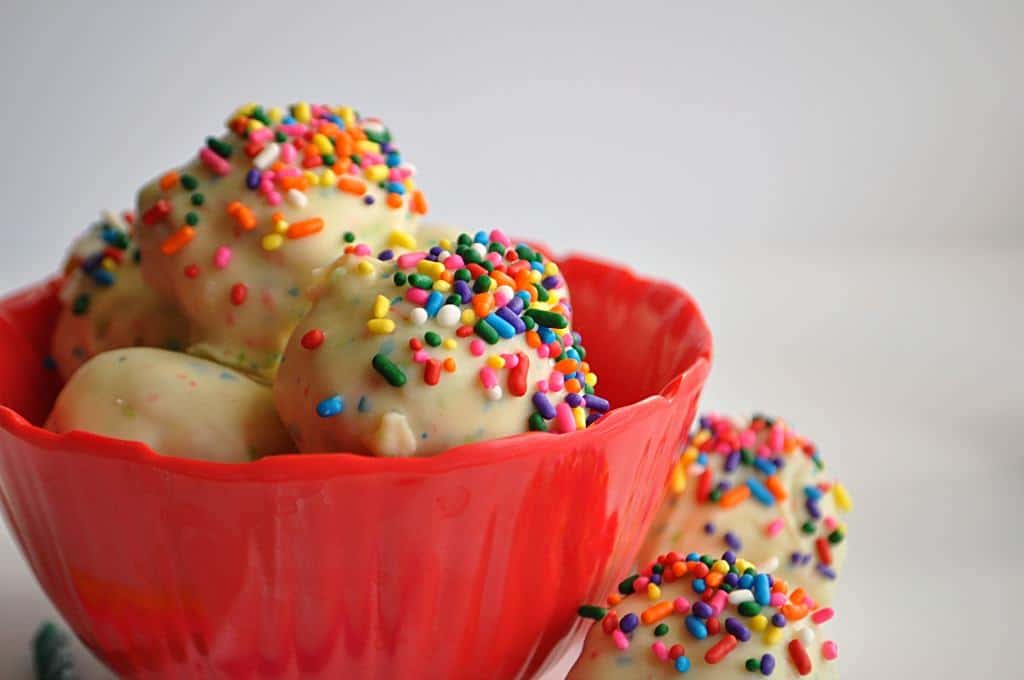 If you have a food processor just toss in all the Oreos to be processed until they are just crumbs.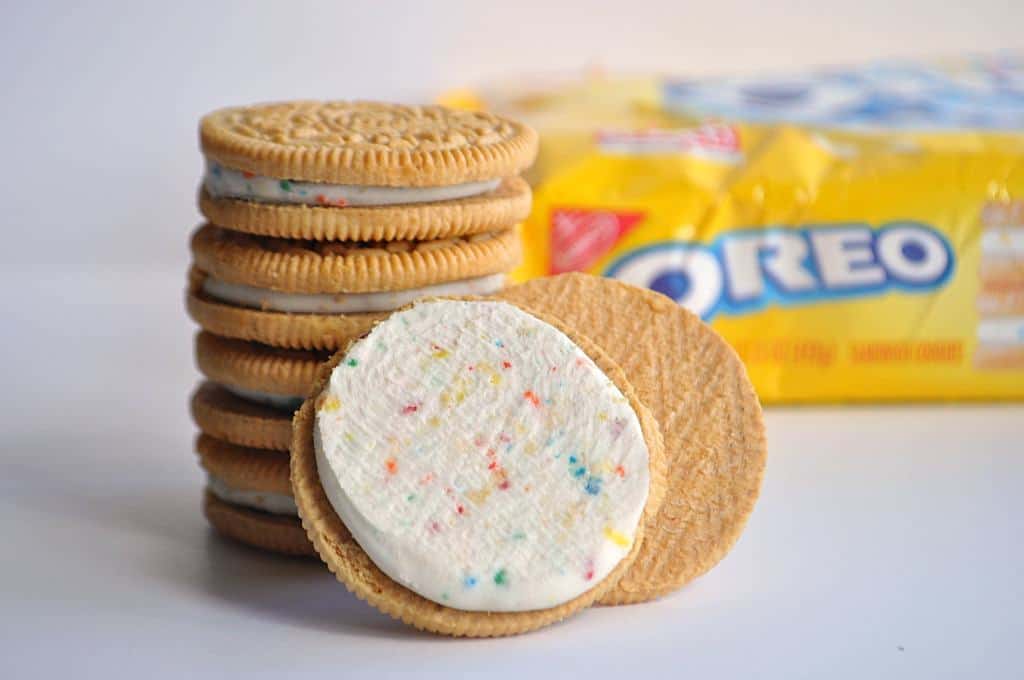 Soften the cream cheese in the microwave and then using a mixer, mix together the cream cheese and Oreo crumbs. This will give you a sticky paste almost. Roll that into small balls with your hands. Freeze them for about thirty minutes and then you can dip them in the candy melts.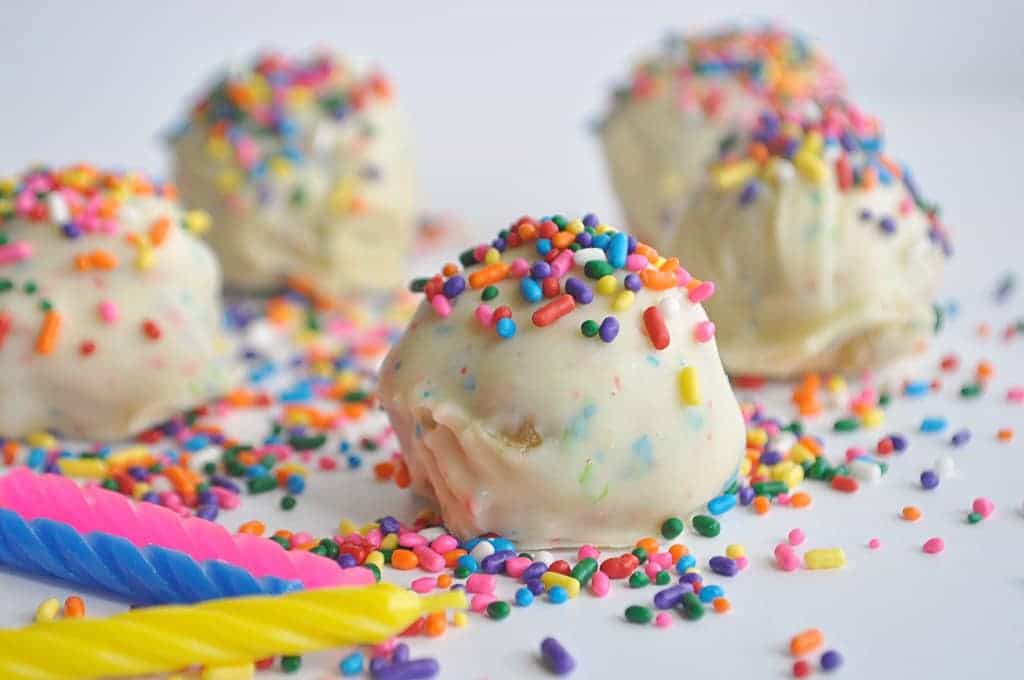 Of course I had to add extra sprinkles on top of mine!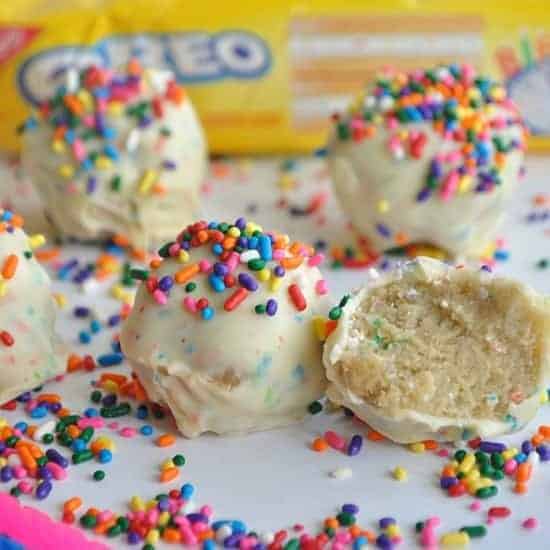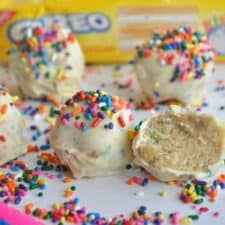 Birthday Cake Oreo Truffles
Simple three ingredient, no bake, truffles made with Birthday cake stuffed Oreos and dipped in Birthday cake flavored candy melts.
Ingredients
8 oz cream cheese, softened
1 package Birthday Cake Oreos
1 (12 ounce) Wilton's Birthday Cake Candy Melts
Instructions
Process the Oreos until they become only small crumbs.

Add the softened cream cheese and Oreo crumbs to your mixing bowl and mix on low speed.

Once fully mixed, it will be slightly sticky. Roll mixture into small balls using your hands.

Place onto a cookie sheet lined with wax paper or non stick parchment paper

Put cookie sheet with the truffles into the freezer for 30-40 minutes

Melt candy melts according to package instructions and dip truffles into melted candy.

Remove truffles with fork, tap against side of the bowl to remove excess, and then place onto the wax paper, or parchment paper to set.

Store these in the refrigerator or go ahead and eat them all!
Nutrition
Calories: 363kcal, Carbohydrates: 41g, Protein: 5g, Fat: 21g, Saturated Fat: 9g, Cholesterol: 31mg, Sodium: 352mg, Potassium: 161mg, Fiber: 2g, Sugar: 24g, Vitamin A: 381IU, Calcium: 40mg, Iron: 5mg
House of Yumm is a participant in the Amazon Services LLC Associates Program, an affiliate advertising program designed to provide a means for us to earn fees by linking to Amazon.com and affiliated sites.