Banana Pudding Oatmeal
Banana Pudding Oatmeal!  A healthy breakfast recipe that has the flavors of banana pudding!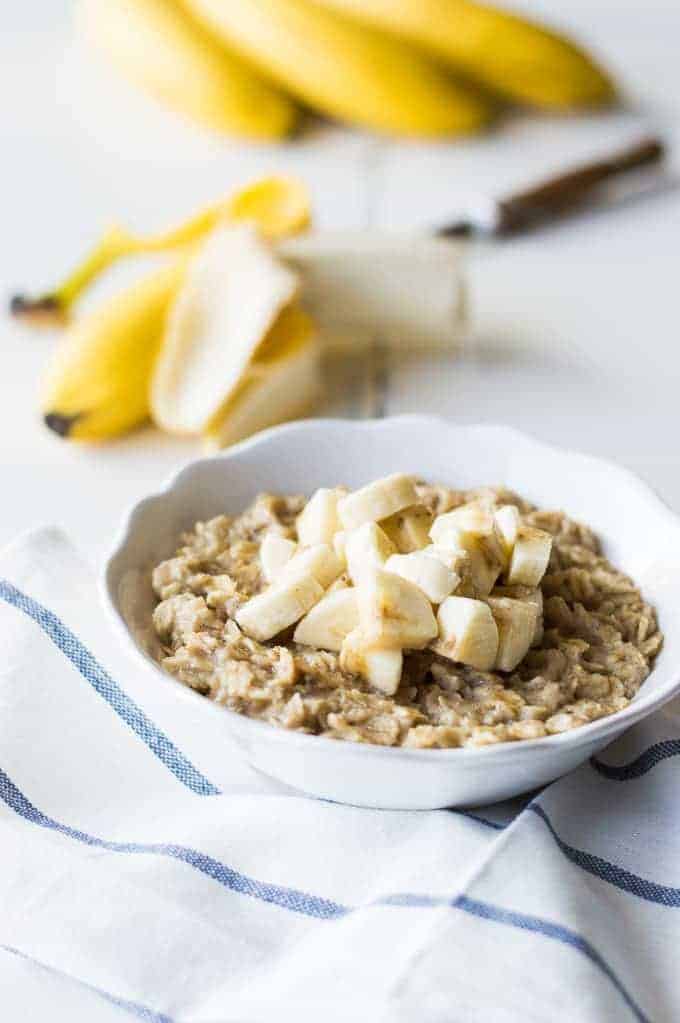 I think by now we all know my love for a good oatmeal.  Especially when I can make that oatmeal taste like some type of dessert (helloooo there Snickerdoodle Oatmeal), so today should really come as no shock to you.  Banana Pudding Oatmeal.  In my hopes to regain some semblance of my former figure, i.e. before 4 children, I am of course on a never ending quest to make healthy food taste like comforting favorites.  To be honest, as soon as I start some sort of diet and limit myself in the things I eat I always have a horrible craving for something sweet.  This last week it was banana pudding.  Which I believe came two days into a diet of sorts I was attempting.  I say attempting because again, let's face it, I'm just not cut out for such nonsense.  When the highlight of my day involves a bit of dark chocolate in my protein bar I know things have gone too far.  My reasoning for quitting diets: dieting causes me to idolize food, which is bad, therefore I should not diet.  Sound logic.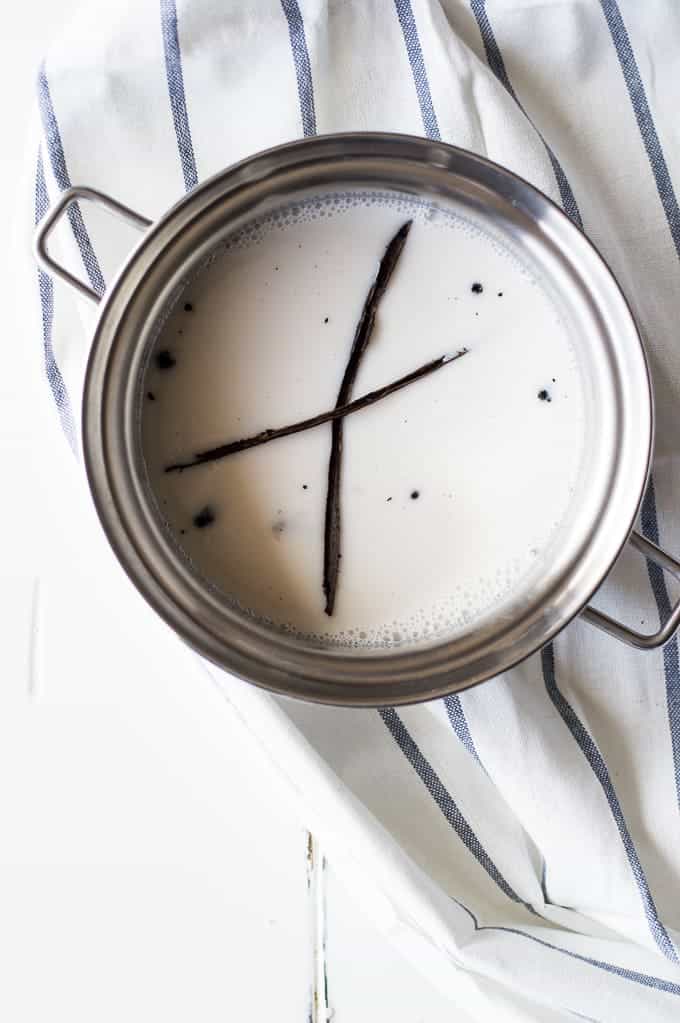 Anyways.  Regardless of any diet I actually love my oatmeal breakfasts.  It's just when it's forced upon me it takes the joy away.  However, since I have again reaffirmed my hatred for dieting, I am back to enjoying my oatmeal.  Which is fantastic because this recipe is definitely worthy of an encore.  I'll be honest, I don't think there is any possible way for me to make oatmeal taste like pudding and cookies layered with whipped cream.  I'm not a magician.  But as a healthy alternative, this oatmeal does offer a lot of the same flavors.  And there would be no judgment from me if you maybe did decide to top it with a little whipped cream.  On oatmeal?  Seriously?  Unheard of… or is it?  Something for you to ponder today.
The reason this oatmeal is able to be called banana pudding is because there is of course banana.  No brainer I know.  But the pudding comes from the use of the vanilla bean.  I'm slightly in love with vanilla beans.  While I don't have magical powers, the vanilla beans absolutely do.  They are like magical little fairy wands that sprinkle deep vanilla flavor and aroma wherever they go.  Speaking of wands for a moment, have I told you that the two year old loves to wave things like a wand and exclaim "Bocky Boom!" It's her version of bippity boppity boo.  And it's possibly the cutest thing ever.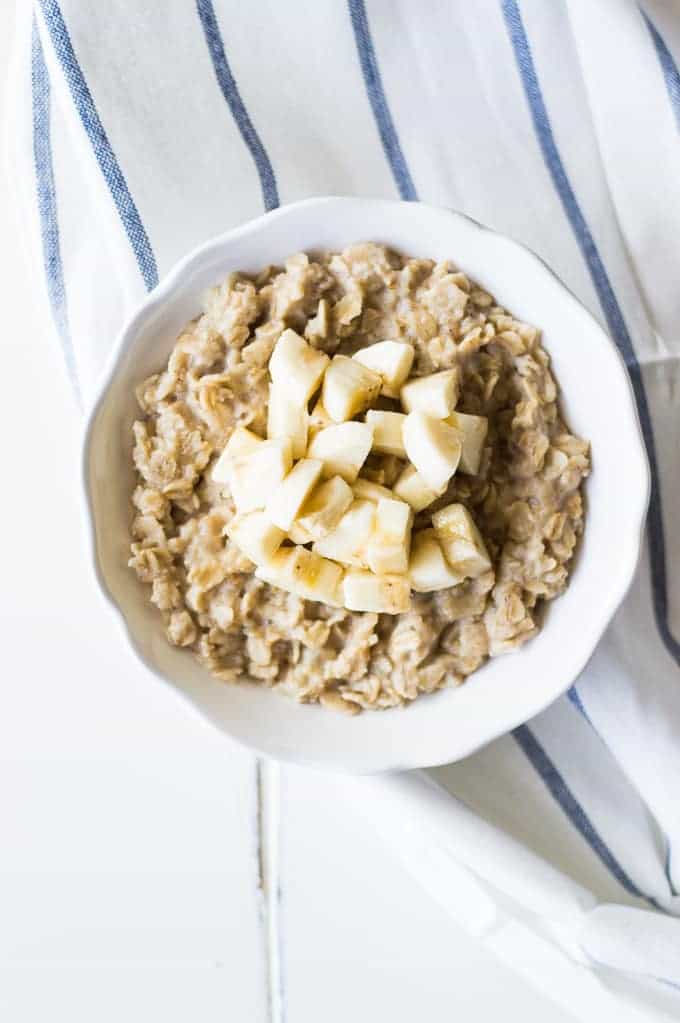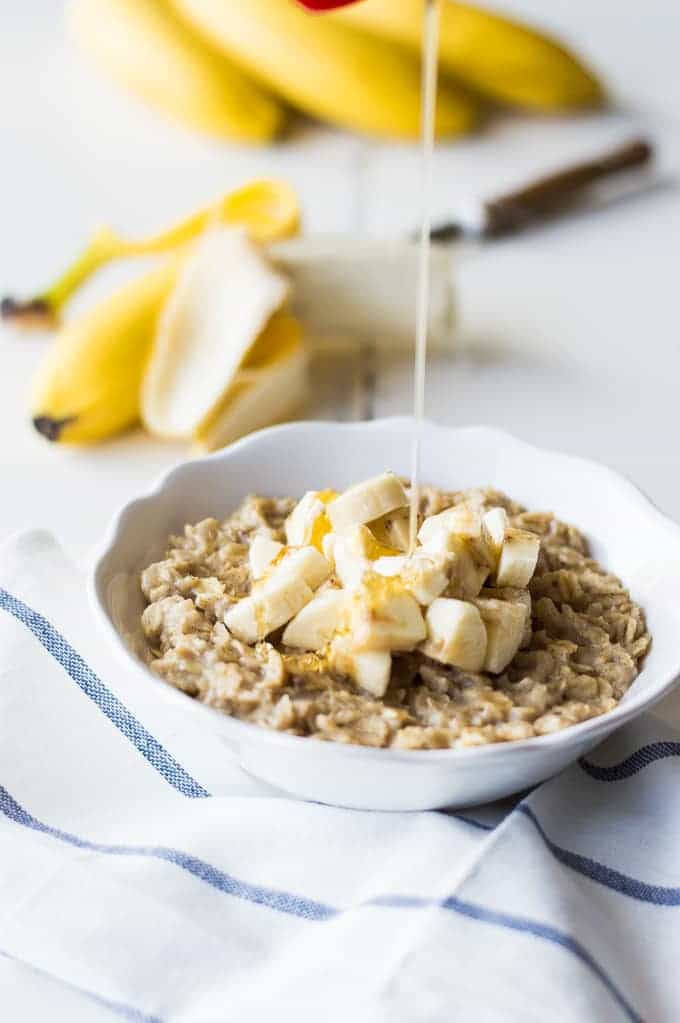 So to summarize today:
Banana Pudding Oatmeal
Healthy
Easy to make
Not really pudding.
Magical vanilla beans.
Enjoy.
I hope you enjoy the recipe!  You can follow along with me and never miss a recipe by signing up for my newsletter.  Follow me on Instagram and tag #houseofyumm so I can see all the recipes you make.  Plus follow me on snapchat! @houseofyumm 💜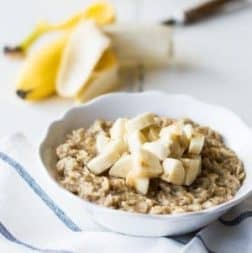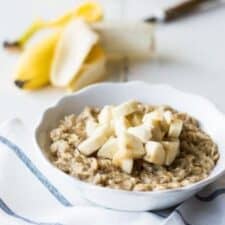 Banana Pudding Oatmeal
Banana Pudding Oatmeal! A healthy breakfast recipe that has the flavors of banana pudding!
Ingredients
1¾ cup almond milk
1 vanilla bean
1 cup old fashioned rolled oats
1 banana
1 tbsp honey
Instructions
Pour the almond milk into a small saucepan.

Slice the vanilla bean, scrape the seeds and put both the pod and the seeds into the milk.

Bring to a simmer over medium high heat. Remove the vanilla bean pod from the milk and lower heat to low.

Add in the oats. Continue to cook over low heat until the oats are softened and have absorbed the liquid. Remove from heat.

Slice the banana in half, mash half of it and then stir the mashed banana into the oats. Add the honey and stir.

Top with the remaining banana sliced up. Drizzle with more honey if desired.
Notes
Honey can be substituted with agave or maple syrup.
Nutrition
Calories: 274kcal, Carbohydrates: 51g, Protein: 7g, Fat: 6g, Saturated Fat: 1g, Sodium: 288mg, Potassium: 358mg, Fiber: 6g, Sugar: 16g, Vitamin A: 38IU, Vitamin C: 5mg, Calcium: 284mg, Iron: 2mg
House of Yumm is a participant in the Amazon Services LLC Associates Program, an affiliate advertising program designed to provide a means for us to earn fees by linking to Amazon.com and affiliated sites.