Banana Pudding Creme Brûlée.  This banana pudding custard is topped with a crunchy brûlée topping and a slice of caramelized banana.  Easier to make than it sounds! This dessert is sure to impress!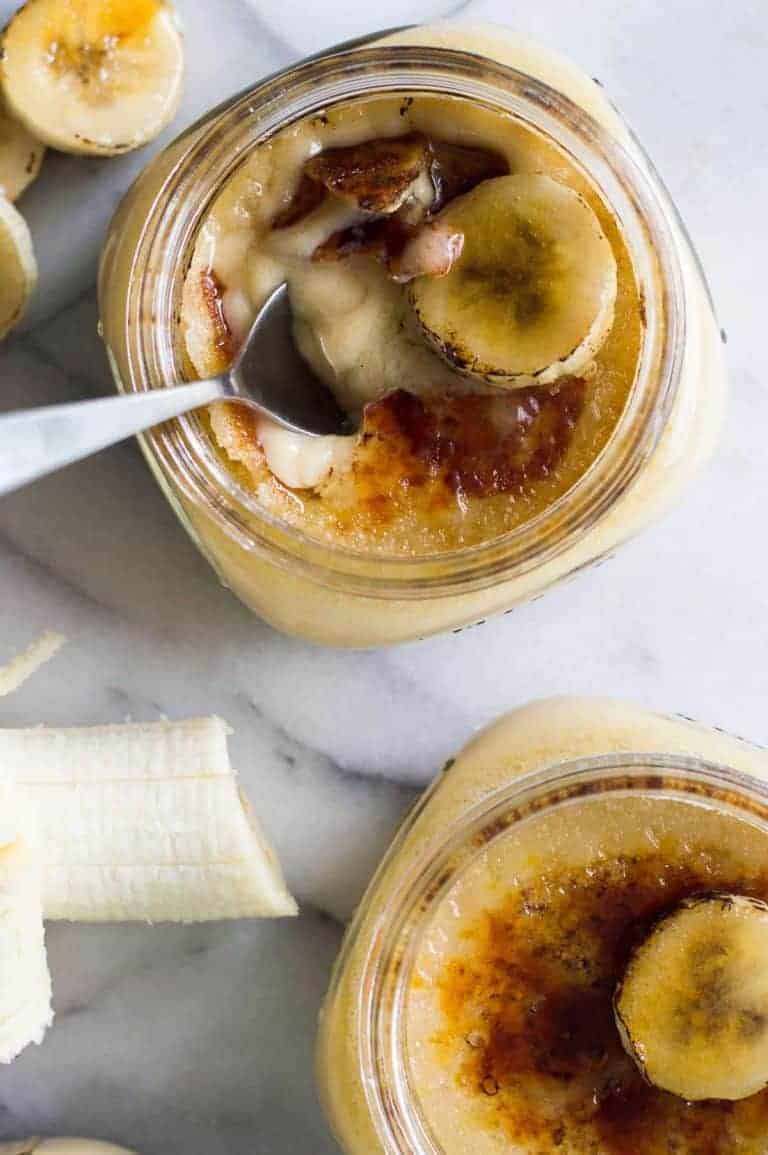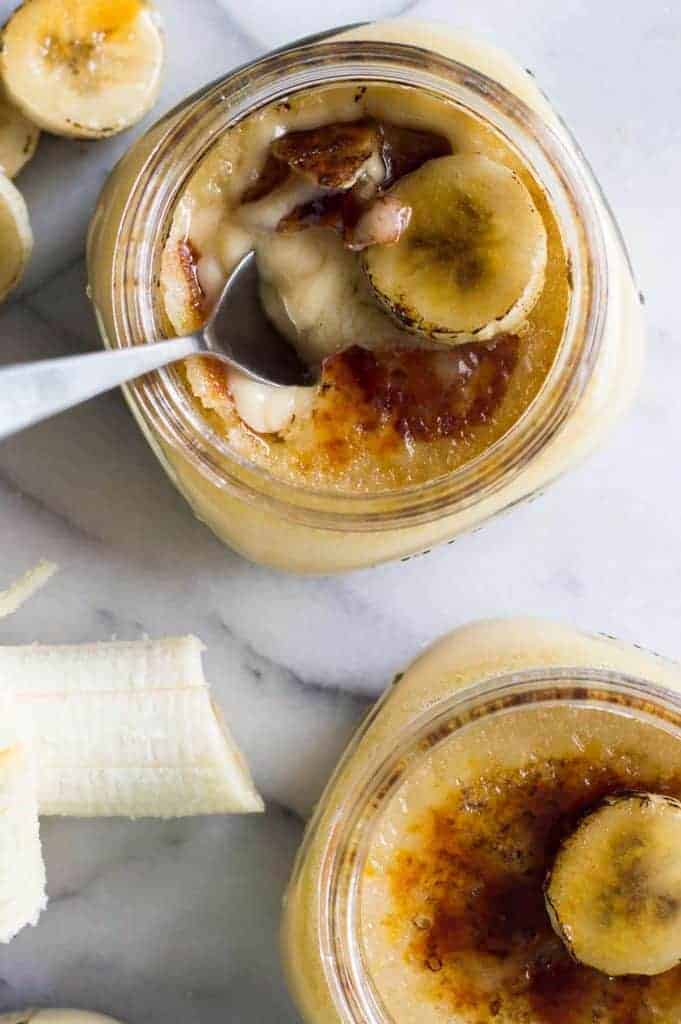 Hey y'all!  Hope you had a wonderful holiday weekend.  I didn't post a recipe on Monday, since it just seemed right to take a day off.  Which I then spent cooking and cleaning and stuffing my face with these banana pudding creme brûlées.  So all in all.  It was a good day.
So! Who wants to chat a little bit about these little delights??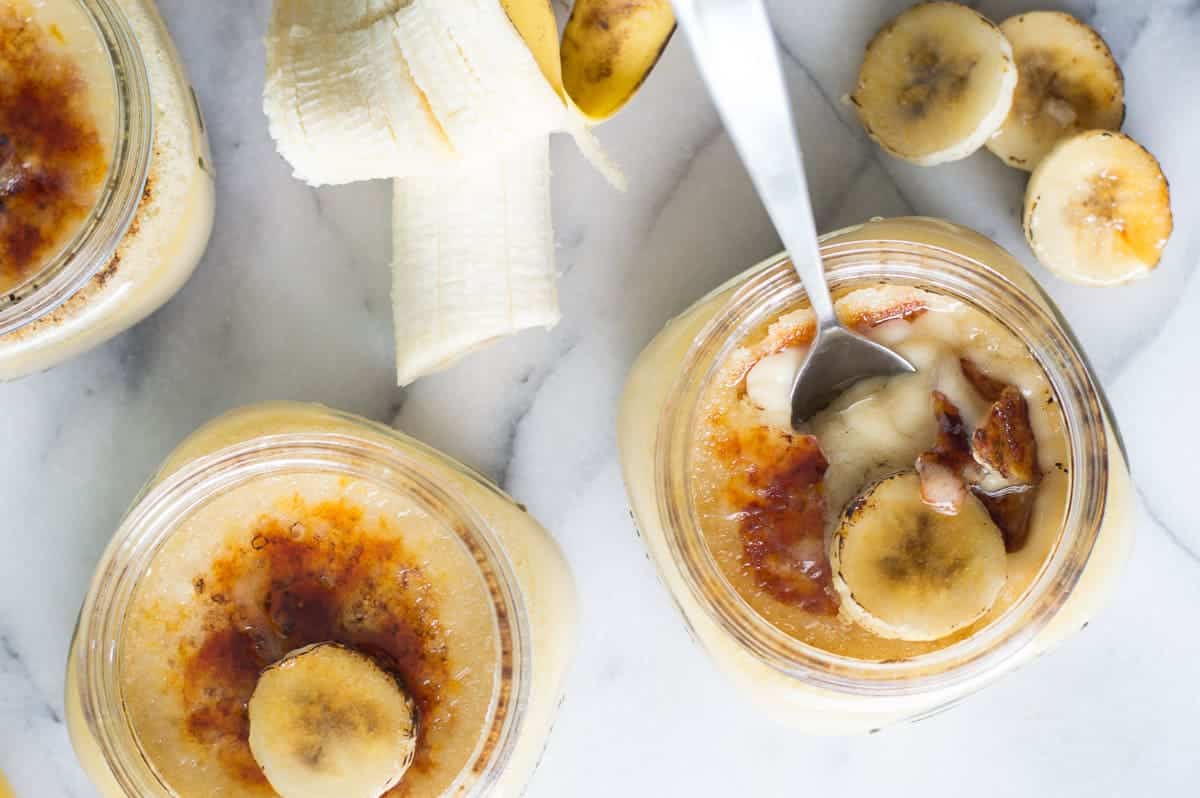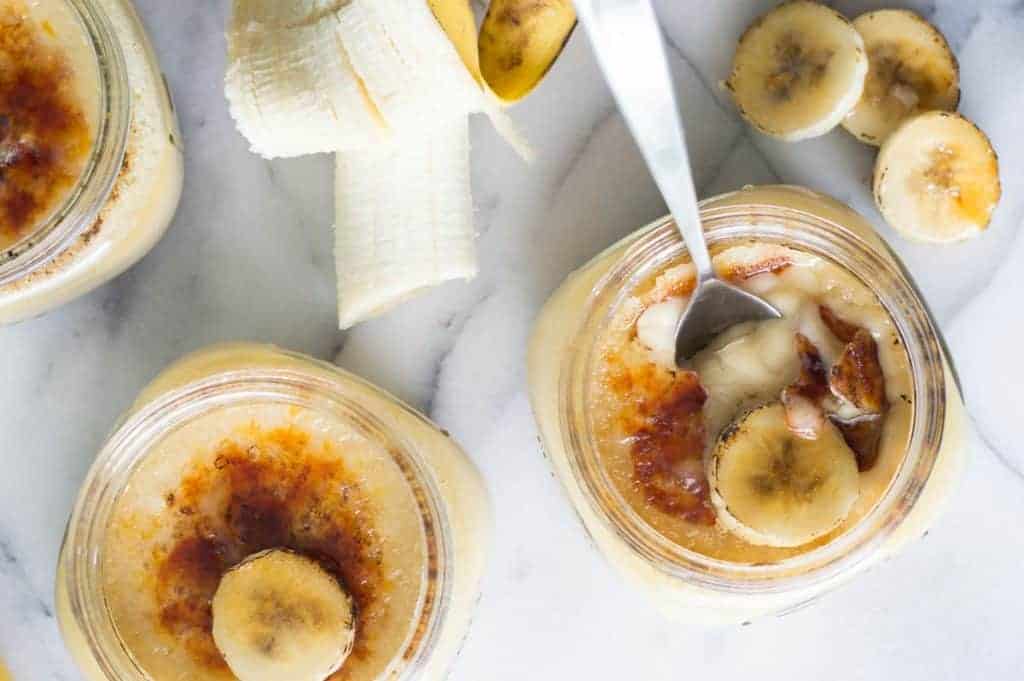 Creme Brûlée is one of those desserts that I was terrified to make.  Most likely because I watch Food Network shows and they're always messing it up in competitions!  Don't get water in the creme brûlées!!
But seriously.. It's not so bad!  It's basically just making a custard.  Sprinkling sugar on top.  And torching it.  Which is where the brûlée term comes in.
So this version is a little bit southern, with a banana pudding twist!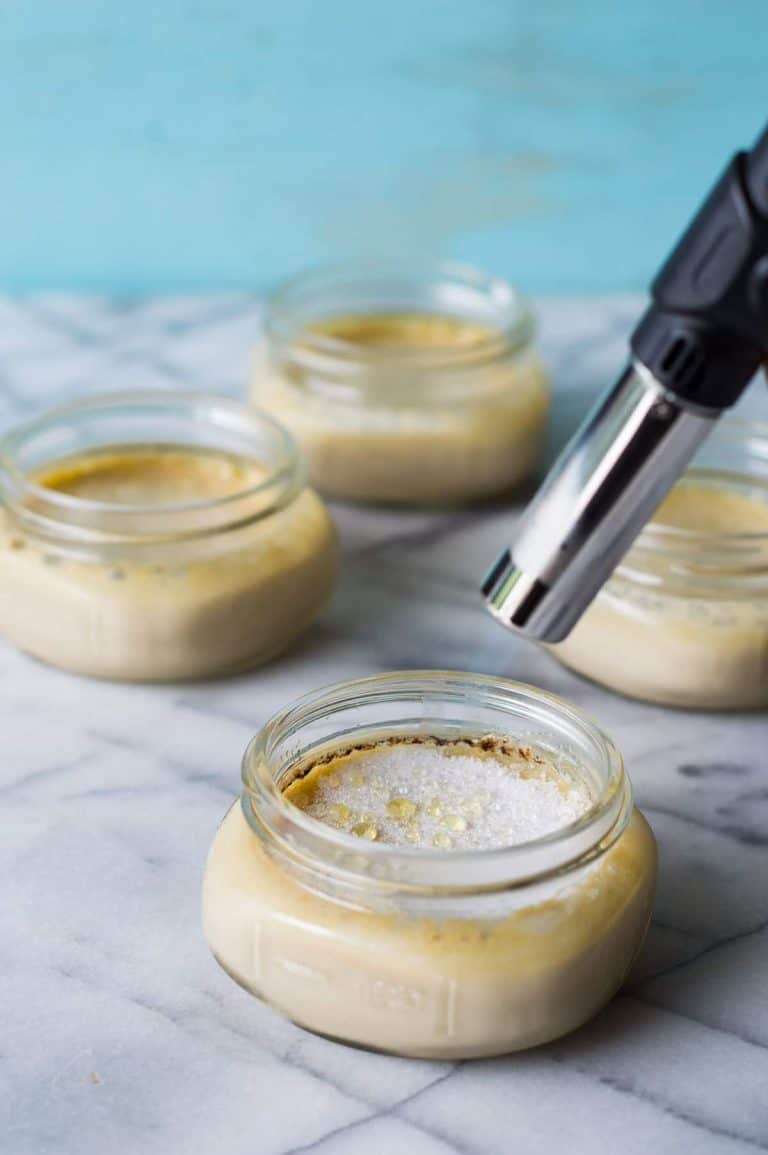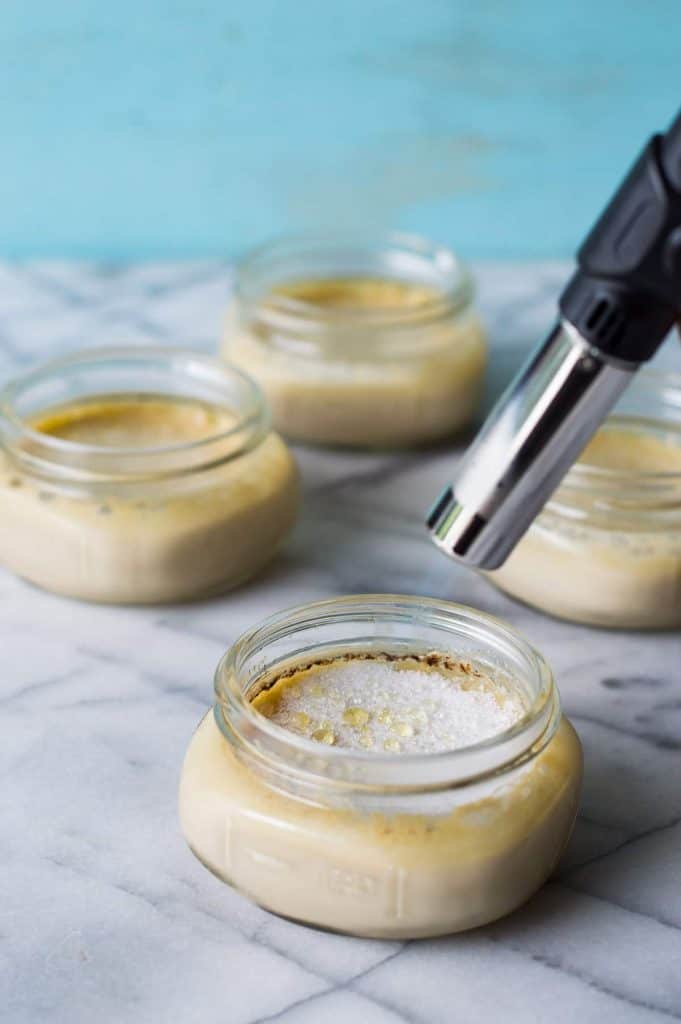 To go with our banana pudding theme, we're also going to caramelize some banana slices to put on top.  Which honestly.. I just like using this little kitchen torch.  Which is what lead to those Mocha Milkshakes with the Bruleed Marshmallow Creme.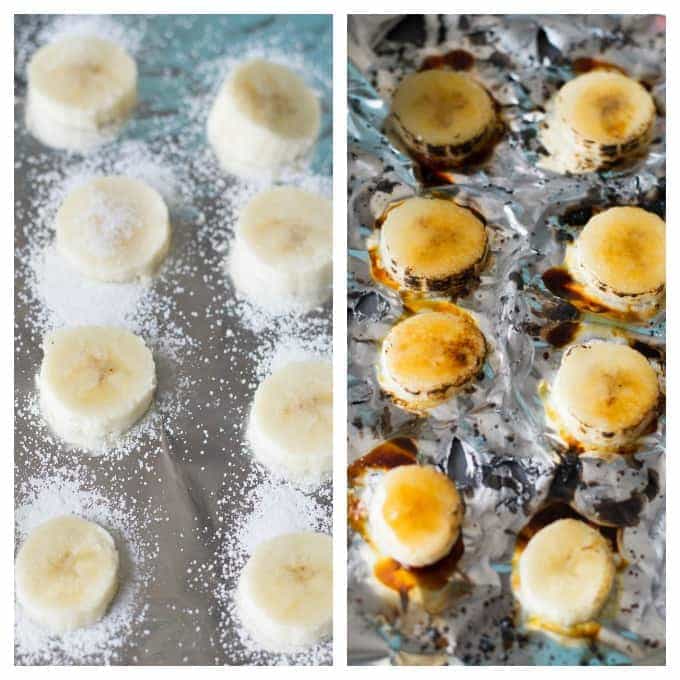 To make our custard we're going to use egg yolks and brown sugar.  Then heat up the heavy cream and banana puree (which you can just mash them up really well with a fork or put them in the food processor).
Once that banana cream starts boiling, remove it from the heat and add in the butter and vanilla extract.  Stir it up, the butter will melt, and you will have a thicker cream.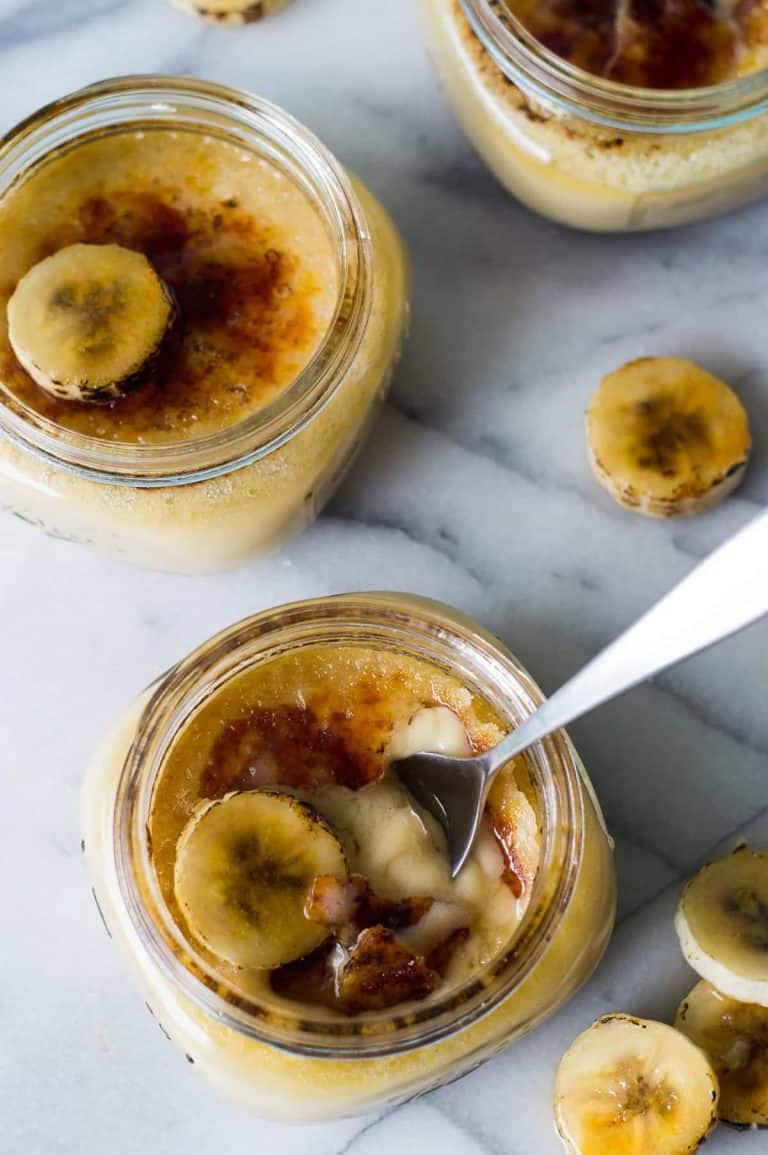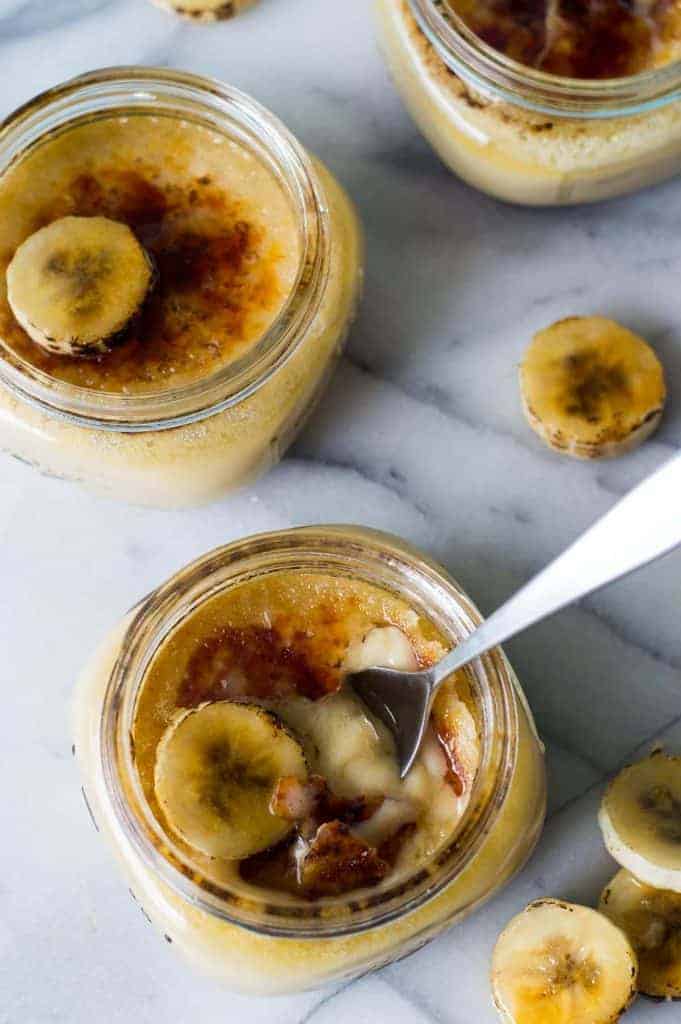 Next we will temper our eggs.  Which means we will add a small amount of the hot mixture to the egg and sugar mixture.  This will get our eggs used to the heat and they won't cook.  If we just poured the entire hot mixture straight into the egg mixture then we would have a weird banana scrambled egg meal.  Which wouldn't be as much fun.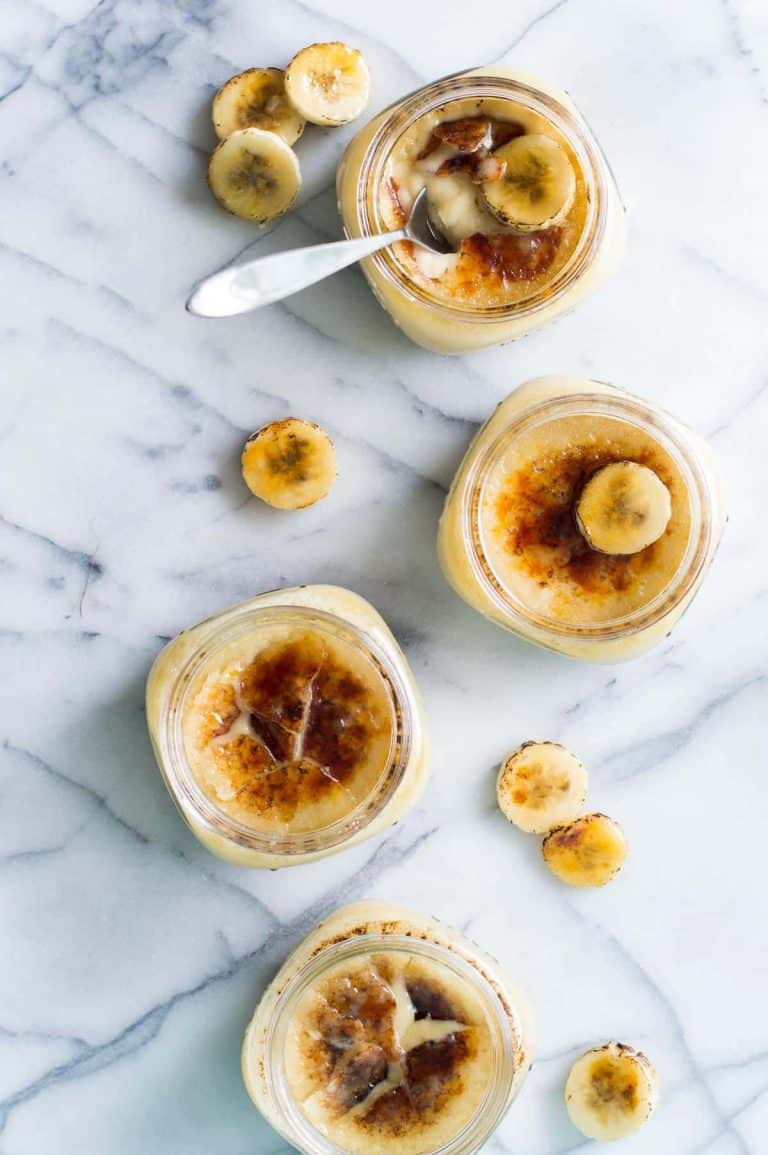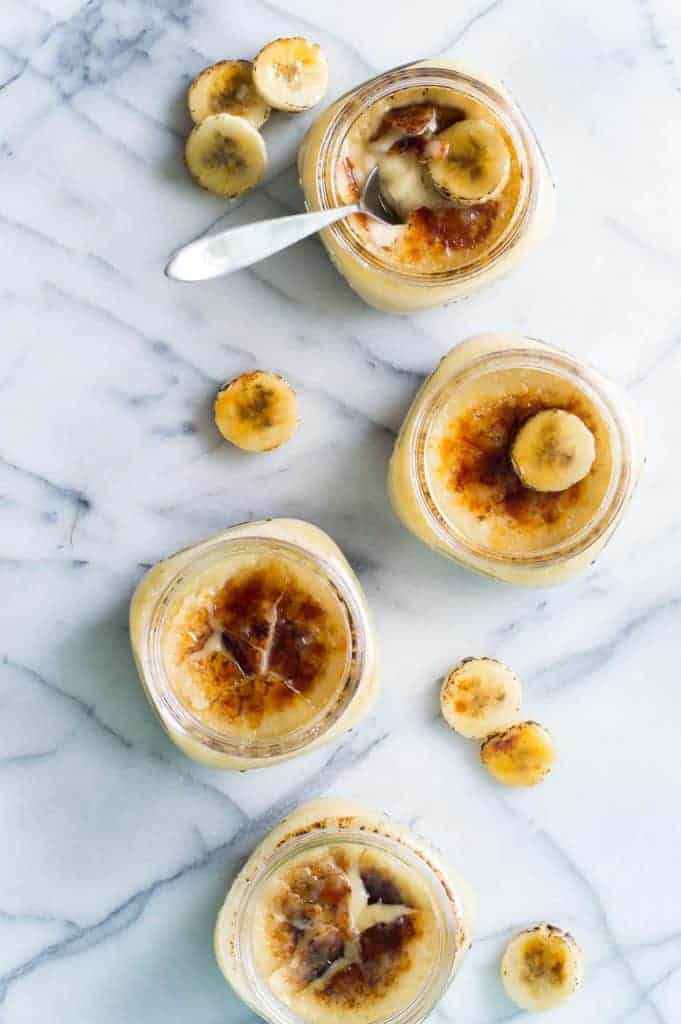 Once the eggs are tempered with that little bit of the hot cream, then we can pour the egg mixture into the hot cream, stir it up until it's smooth.
Pour the whole cream mixture through a fine mesh strainer, which will leave us with silky smooth banana pudding creme.  Pour that into the ramekins, which I used the cutest little jars, another nod to the South.  Link below the recipe for the jars I used 🙂
I placed the ramekins on a large baking sheet, that had high sides.  Or you can use a large casserole dish,  just something you can fit the ramekins in that has sides.  Because we're going to pour hot water around the ramekins.  To help bake.
And yes, we want to avoid getting water in the creme brûlées.  Easiest way?  Put the baking tray with the ramekins in the oven, then pour the water.  That way you're not having to move the tray around with all that sloshing water.
Easy enough right?  Then it's just a matter of baking.  Waiting.  Chilling.  Sprinkling.  Torching.  Enjoying.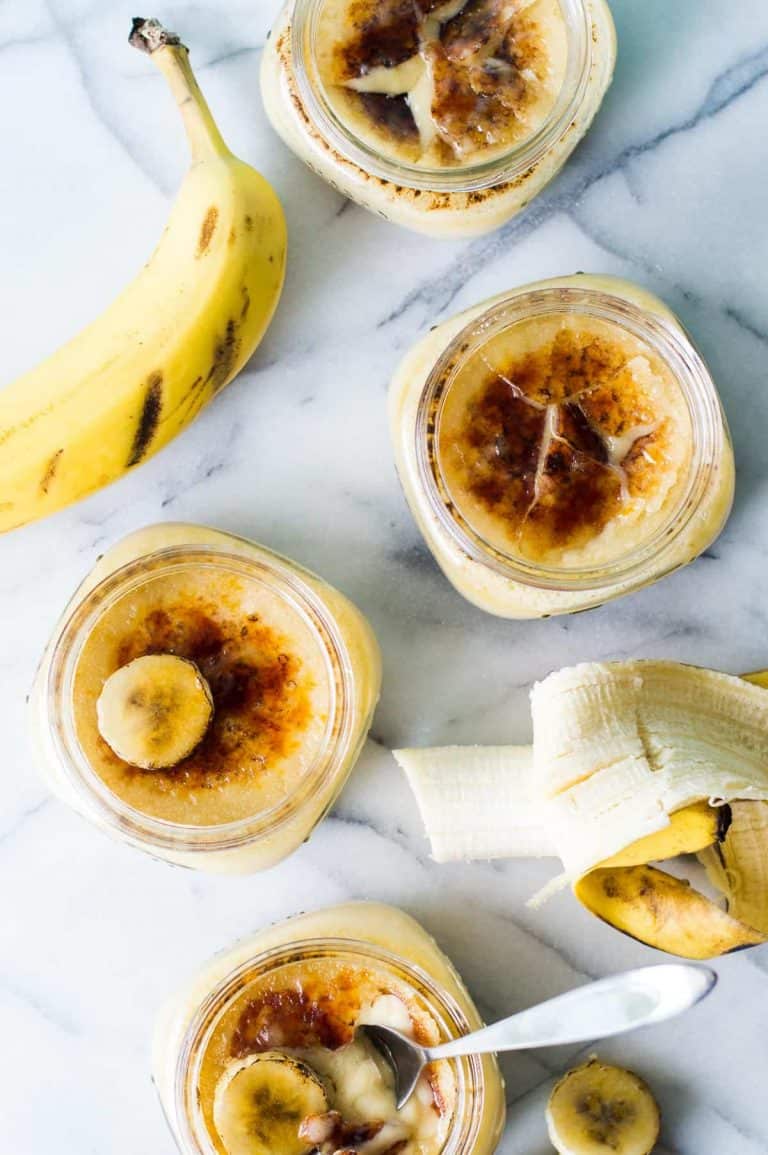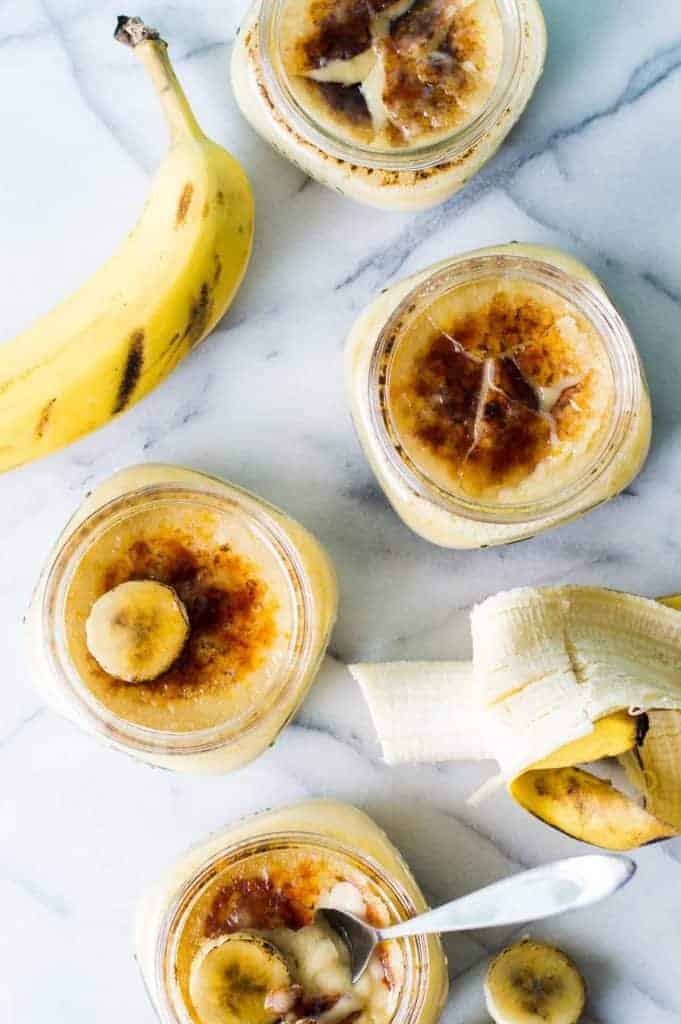 Need some more dessert inspiration?!
I hope you enjoy the recipe!  You can follow along with me and never miss a recipe by signing up for my newsletter  And follow along on Bloglovin' ! 💜
Print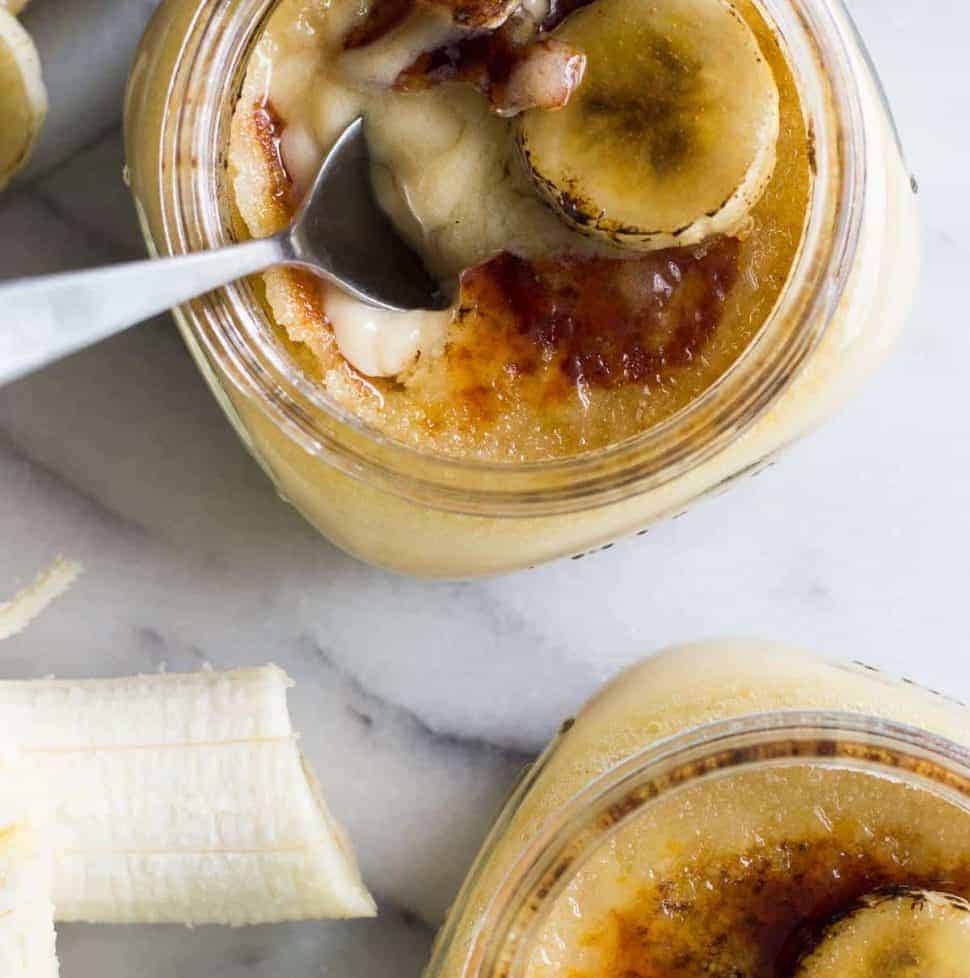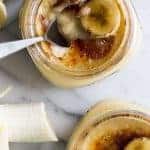 Banana Pudding Creme Brûlée
Author:

Prep Time:

4 hours 15 minutes

Cook Time:

55 minutes

Total Time:

5 hours 10 minutes

Yield:

4

ramekins

1

x
---
Scale
Ingredients
4

large egg yolks

3/4 cup

light brown sugar

2 cup

s heavy cream

1/2 cup

banana puree

1

pinch salt

1 teaspoon

vanilla extract

7 tablespoon

s butter (room temperature, cut into tablespoon size slices)
Topping
1/4 cup

white granulated sugar- divided

1

banana sliced
---
Instructions
Preheat oven to 275 degrees.
Set 4 ramekins on a large baking sheet/tray with high edges. Set aside.
In a medium size mixing bowl beat the egg yolks and brown sugar until combined.
In a small saucepan over medium heat add the heavy cream, banana puree, and salt. Cook while whisking until the mixture just begins to boil. Remove from heat and add the butter and vanilla extract.
Stir until butter is melted and mixture is combined.
Slowly add one cup of the hot mixture to the egg yolk mixture while whisking. Then pour the egg mixture into the hot cream mixture. (this tempers the eggs to prevent getting scrambled eggs).
Strain the entire mixture through a fine mesh strainer to get rid of any lumps of banana.
Divide the mixture into the four ramekins. Place the baking sheet in the oven and carefully pour hot water into the baking tray until the water comes up halfway up the sides of the ramekins.
Bake for about 55-60 minutes when the creme brûlée is set but still wobbles slightly in the center.
Remove the ramekins from the baking tray and allow to cool to room temperature about 20 minutes. Then place in the refrigerator to chill for another 3 hours.
Once chilled remove the ramekins from the refrigerator. Allow them to warm slightly for about 20 minutes then sprinkle with white sugar, tilt the ramekins to coat the entire top with sugar, and carefully using a kitchen torch, torch the sugar until browned. Continue with the other ramekins. Once the sugar has cooled slightly do another layer of sugar and torching.
Sprinkle the banana slices with white sugar and carefully torch the banana slices until browned. Once cooled, place the caramelized banana slices on to the top of the banana pudding creme brûlées.
Serve immediately and enjoy!
---
Notes
***If you don't have a torch you can use the oven broiler.
***Times include chilling time.
Recipe adapted from Pies publication from Hoffman Media
Products I Recommend for this Recipe:
**This post may contain affiliate links, but I only recommend products that I actually use and <3. Thanks for supporting House of Yumm!
38