These light and fluffy waffles are flavored to taste like banana cream pudding and are drenched with a decadent homemade vanilla syrup.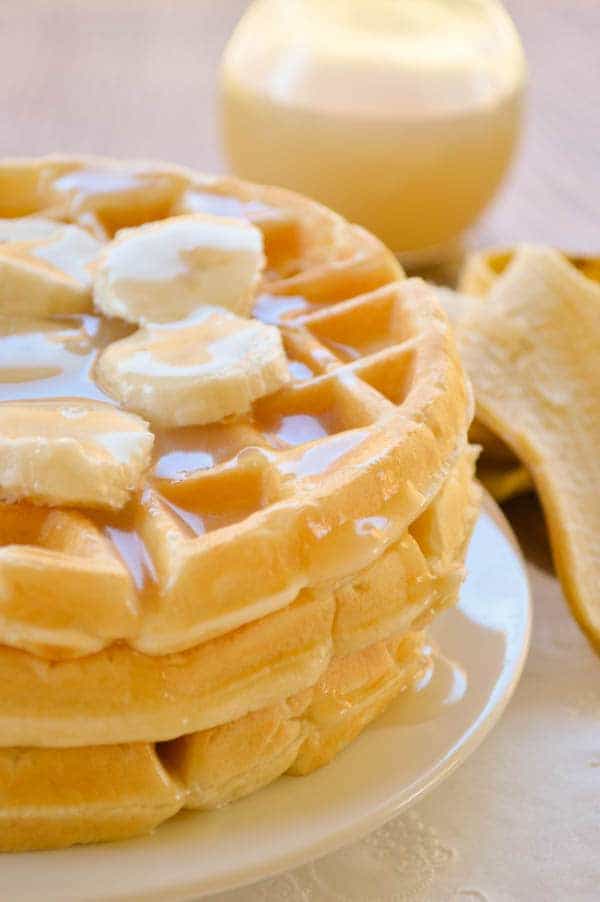 Breakfast is the most important meal of the day right? So it's the perfect time to go all out. These pancakes are flavored with one of the new McCormick Baking Flavors in Banana Cream. I came across this stuff in the market and couldn't resist. Who wouldn't want Banana Cream flavored anything?
This stuff is amazing, it smells just like banana pudding, and it definitely gave the same flavor to these waffles. And before you ask, no this is not a sponsored post. This is just me gushing over how amazing this stuff is. It's basically like adding vanilla to things, but better!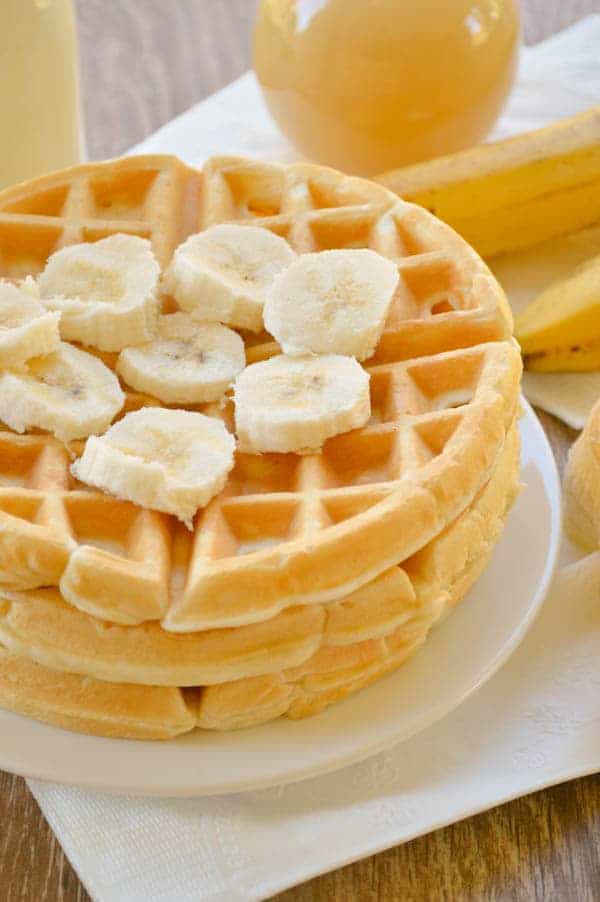 Speaking of vanilla…did I tell you these waffles are drenched in some amaze-balls homemade vanilla syrup. Yeee-uuuhhhh. And it's possibly one of the best things I've ever made. Not just any syrup would do these waffles justice. I wanted something that would complement the banana cream flavor, and regular syrup just wouldn't have done it.
Don't be intimidated by making your own syrup, I'm sure you have all the ingredients in your pantry, and it only takes a few minutes! Trust me, it's super simple, and will completely astound and amaze people.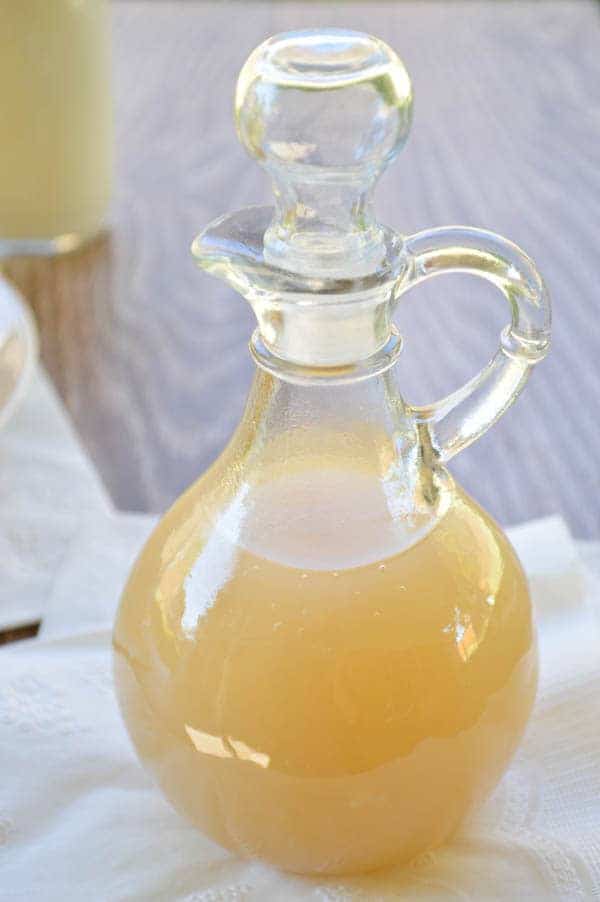 Just look at that delightful-ness in there. It's soooooo good. There are no words.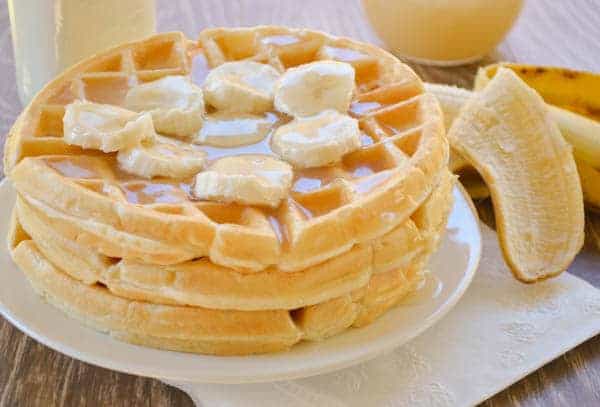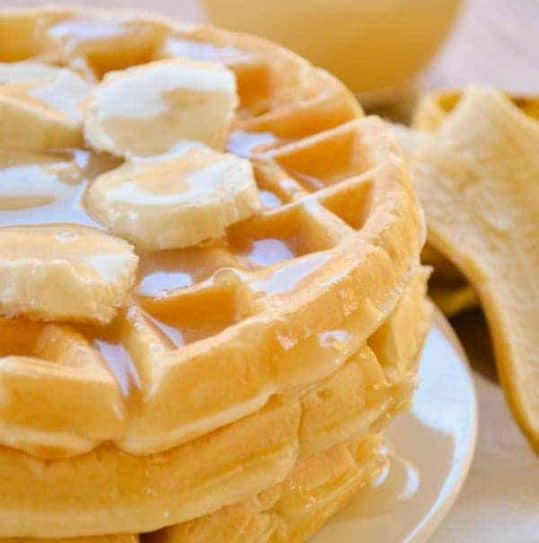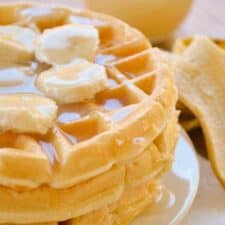 Banana Cream Waffles with Homemade Vanilla Syrup
Banana Cream Waffles drenched in homemade vanilla syrup.
Ingredients
Waffles
2 cups all purpose flour
3 tsp baking powder
1 tsp salt
2 large eggs
2 cups milk
⅓ cup vegetable oil
2½ tsp McCormick Banana Cream Baking Flavor
Instructions
Vanilla Syrup
In medium size pot bring water to a boil. Once boiling add in the sugar and cornstarch. Stir constantly for 3-5 minutes.

Remove from heat. Add in butter, salt, and vanilla. Stir until butter is completely melted. Allow to cool prior to using.
Waffles
In medium size mixing bowl combine the flour, salt, and baking powder. Set aside.

In another medium size bowl beat the eggs. Add in the milk, vegetable oil, and Banana Cream flavoring. Stir to combine.

Add in the flour mixture. Stir to completely combine.

Cook in waffle maker until golden brown.
Nutrition
Calories: 541kcal, Carbohydrates: 72g, Protein: 9g, Fat: 24g, Saturated Fat: 17g, Cholesterol: 83mg, Sodium: 857mg, Potassium: 172mg, Fiber: 1g, Sugar: 38g, Vitamin A: 447IU, Calcium: 246mg, Iron: 2mg
More Breakfast Ideas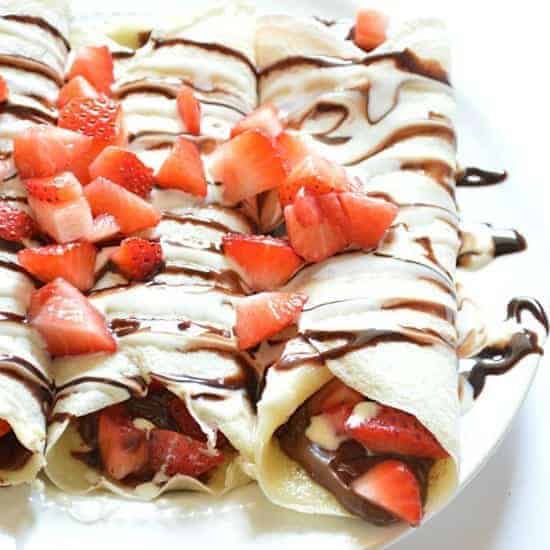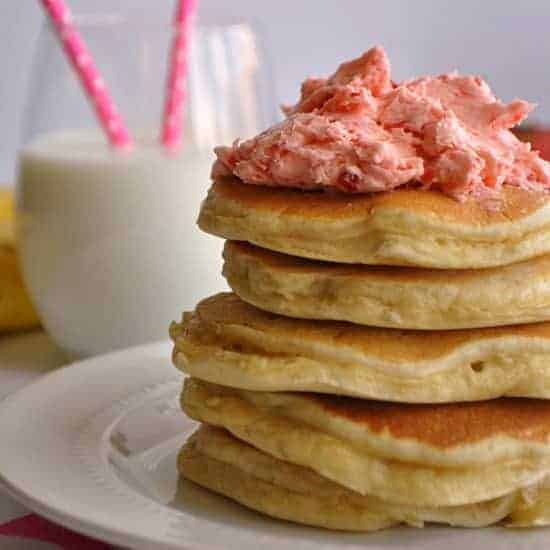 Banana Pancakes with Strawberry Butter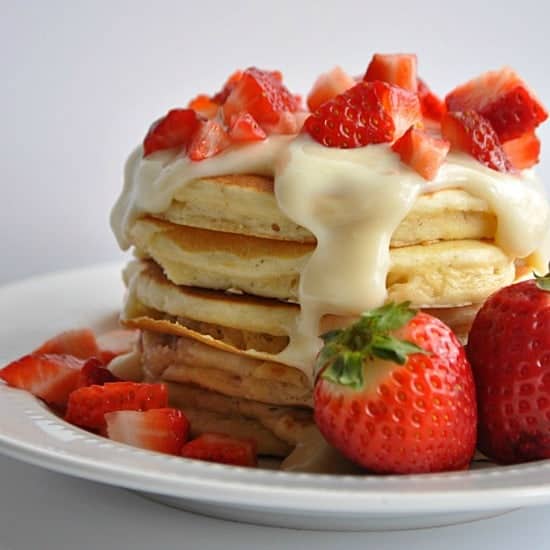 House of Yumm is a participant in the Amazon Services LLC Associates Program, an affiliate advertising program designed to provide a means for us to earn fees by linking to Amazon.com and affiliated sites.