Print
Apple Cookies with Butterscotch Frosting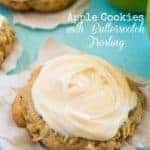 Author:
Prep Time:

10 minutes

Cook Time:

24 minutes

Total Time:

34 minutes

Yield:

20
Ingredients
1/2 cup butter (room temperature)
1 and 1/4 cup light brown sugar
1 teaspoon baking soda
3/4 teaspoon ground cinnamon
1/8 teaspoon nutmeg
1/8 teaspoon cloves
1/4 teaspoon salt
1 large egg
1/2 cup milk
2 and 1/2 cups all purpose flour
1 cup peeled and shredded apple (tart is better. I used Granny Smith)
Butterscotch Frosting
6 ounces cream cheese (softened)
1/2 cup butter (room temperature)
1/2 tablespoon vanilla extract
1/3 cup butterscotch ice cream topping
4 cups powdered sugar
Instructions
Preheat oven to 350 degrees, line a cookie sheet with parchment paper or grease it with baking spray, set aside.
In large mixing bowl beat the room temperature butter for about 30 seconds until creamy. Add in the brown sugar, baking soda, cinnamon, nutmeg, cloves and salt. Mix on medium for another minute or two until fully combined. Stop and scrape the bowl as needed. Add the egg and beat together for about 10-15 seconds. Pour in the milk and beat on low until fully combined.
Slowly add the flour while mixing on low speed. Then stir in the apple. The dough will be light and soft.
Using a cookie scoop, scoop the dough onto the prepared cookie sheet.
Bake at 350 degrees for approximately 12 minutes, until the edges are a light golden brown. Remove from oven and allow to cool on the cookie sheet for about 5 minutes, then remove to continue cooling on a wire rack.
Recipe will make about 20 cookies.
Butterscotch Frosting
In large mixing bowl beat the cream cheese and butter together until light and fluffy. Add in the vanilla extract.
Slowly add in the powdered sugar, beat on low speed until fully combined. Pour in the butterscotch topping and mix until fully combined.
Spread frosting on top of cooled cookies. Serve immediately and enjoy!