Welcome to a sneak peek into my everyday life.  If you were even curious.  If not…then I'm sorry!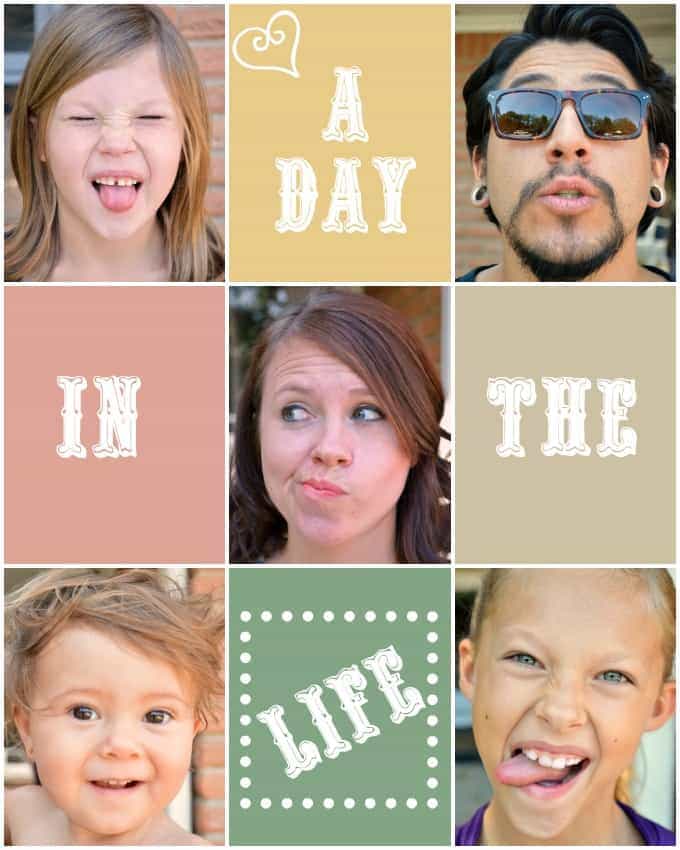 Do you ever find yourself wondering about the people you follow on the internet?  What are their lives really like?  Usually the pictures that are put up are of course, perfection.  Where is this clean, perfect house filter that everyone uses?!?  If you notice you will typically NOT see pictures of my house online.  The reason?  I have children.  And a dog.  Enough said right?
So here it is.  A day in my life.  Are you ready for this?
My day starts as soon as I am woken up by that littlest cutie there with the wild and crazy bedhead in the picture.  Her name: Lily.  She is my alarm clock.  7 o'clock, on the dot!  Not a bad time, I can appreciate that.  Prior to pregnancy I was actually dragging myself out of bed at 6 to get in some extra work time, but lately..that's just not been possible.
So yes, I sleep in until 7..and it's wonderful!  Don't tell the hubs.  He has to be at work by 7 am.  He has a fancy shmancy corporate job with some Fortune 500 company.  Nothin' big.  I love when he tells me about his work and then I get to tell him about the worst diaper change of the day.  I'm sure he loves those stories too.
Don't you love starting your day with some laundry??  I know I do!! You may not be able to tell it from the leaning tower of clothes, but I do a lot of laundry, daily.  It just shows up faster than I can get it done.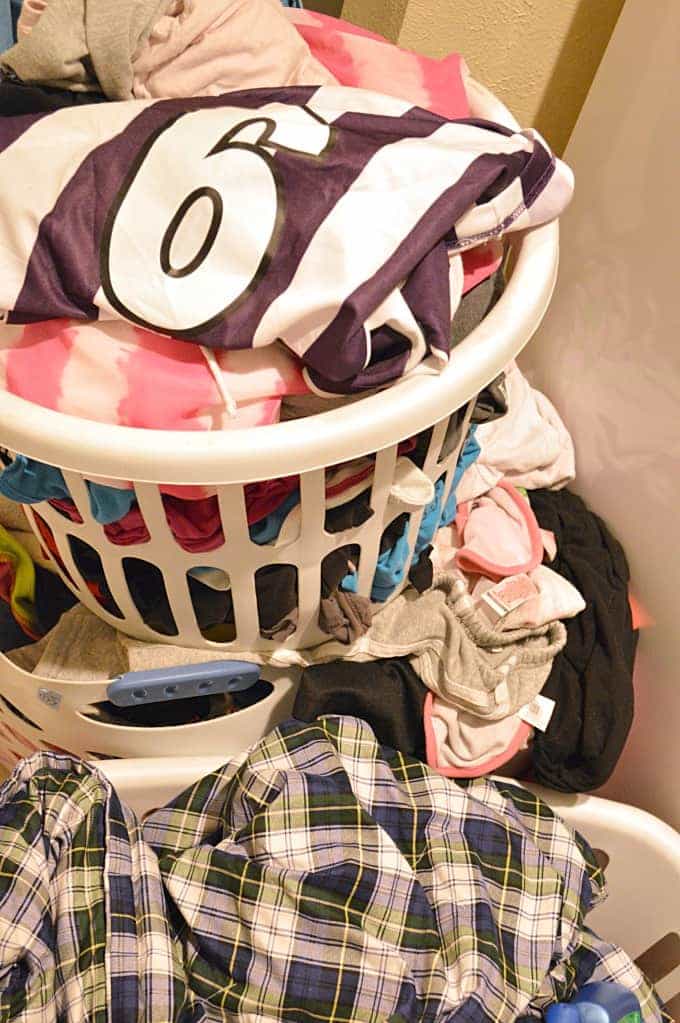 Something you may not know about me, I homeschool our children.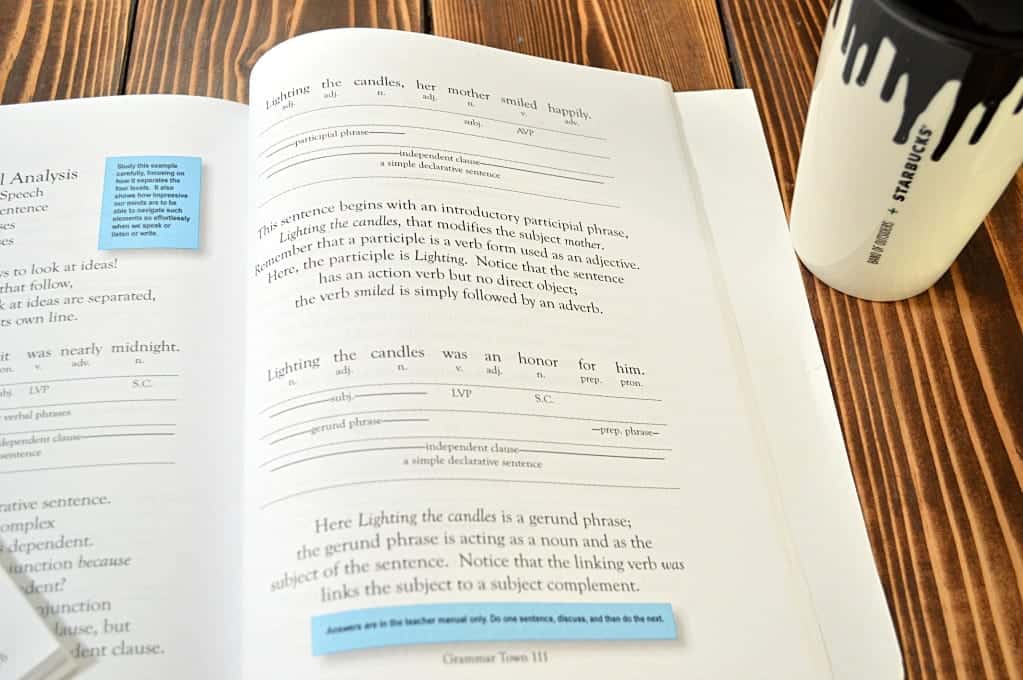 Can you get a sneak peek at that grammar book?  That's for the 5th grader.  And that's my Starbuck's cup holding my decaf coffee with Peppermint Mocha creamer.   That's right..I teach a 5th grader how to tell the difference between a gerund phrase and a participial phrase on no caffeine.  I consider this to be an accomplishment.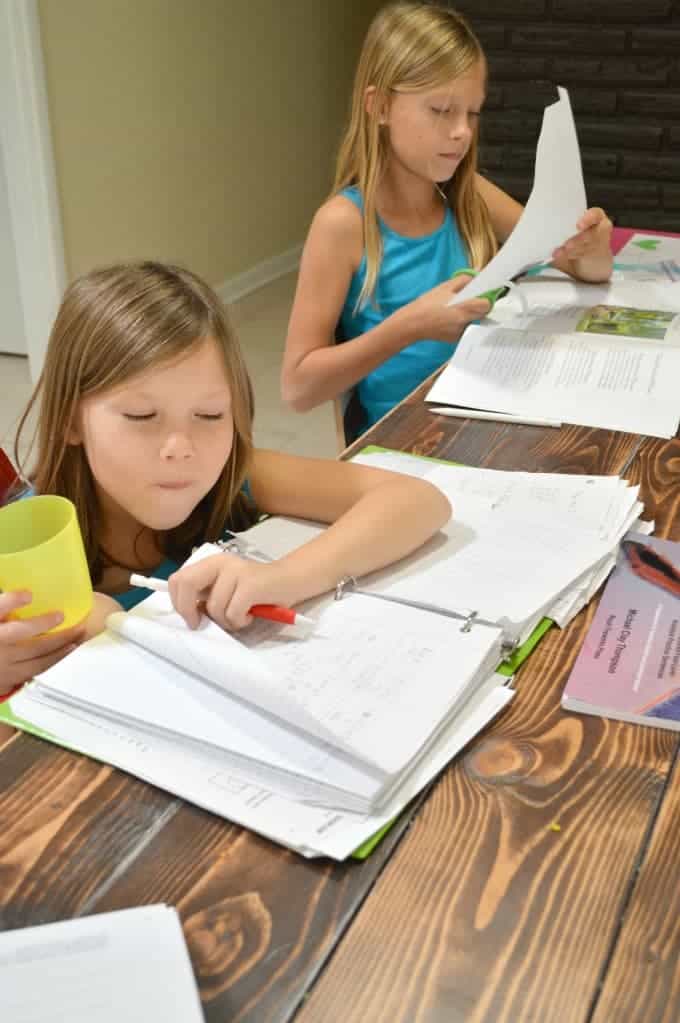 My little hard workers here.  By the way..do you notice that table?  The size of it?  The craftsmanship?  The hubs built that.  That's right!  Not only is he good to look at..he builds things *swoon*.  I should clarify, he built this one thing.  Apparently it's so much work and so difficult he will never build anything ever again.  Luckily this table is so sturdy and beautiful I don't think we'll need another one.
So how do I homeschool with a little baby terrorist in the house?  Let's just say, the schedule gets modified a lot during the course of the day.
At this point in time you may be wondering what it is the dog does during the day?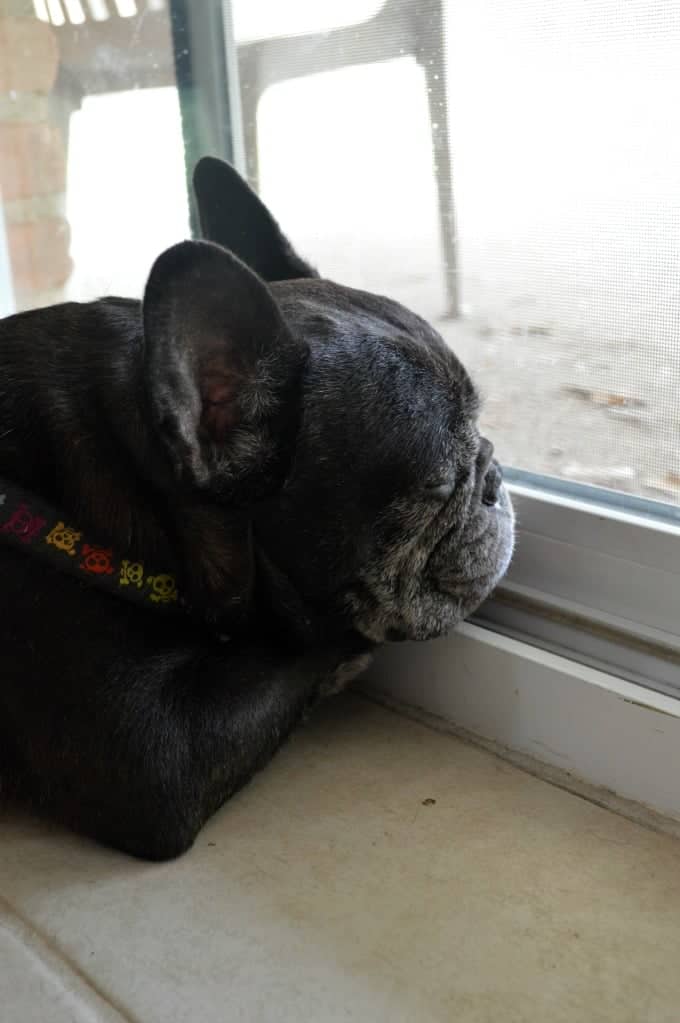 And that's pretty much it…
Back to my day!  Schoolwork.  Schoolwork.  I sneak in a bit of blog work in there while the kids are doing some of their work and the baby is being entertained with a snack or two. There's no pictures of this because, well, when the opportunity presents itself I gotsta hustle.
There's also no pics of me doing food prep and photos because I do try to get all of that stuff done on the weekends, and then finish the posts up during the week.  Which is always for the best because I tend to destroy the kitchen.  And a destroyed kitchen during the week stresses me out!
Here's a sneak peek at the kitchen though.  I always love seeing what other people's kitchens look like.  I love our kitchen, we just moved into this house not too long ago.  We came from a super small apartment in CA that barely held one person, to this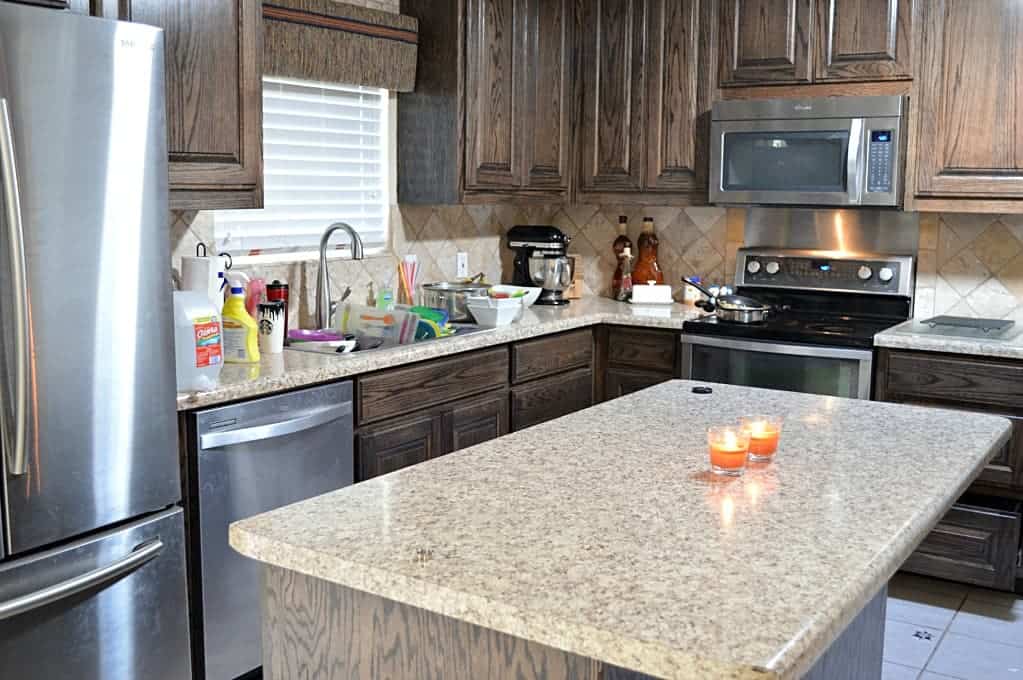 And that's just part of it.  There's a whole other counter on the other side of the island.  Notice my need for the clean house filter?  Dishes are totally real.  The handprints all over the stainless steel.  Also totally real.  Stainless steel and kids are a bad combo in case you were wondering.
After lunchtime the baby naps, the girls run off energy and practice soccer outside, and I have a few moments to sneak in some work on the site.  Again no pics!  I'm hustlin' here peeps!  Give me a break!
Schoolwork, schoolwork, and more schoolwork.  This is my day.
The best part of my day..well I actually have two.  One is after the baby wakes up from her nap, the girls have an hour of reading that they do.  Which gives me an hour of just me and Lily time.  I spend so much time during the day focusing on school with the others and she humors us as best she can.  So we take our hour of time, sit on the couch with her juice cup and her snack of Fruit Cheerios, turn on a movie featuring her favorite Golden Retrievers (the Buddies) and watch it together.  Her newest addition to this time together.  She hands me a bottle of lotion and sticks her foot out to ensure I massage her feet with lotion too.  I don't know where this girl gets this from.
The other best part of my day..when the hubs comes home!  Yay!
This day was an extra special day because we had a crazy thunderstorm and torrential downpour, so soccer practice was canceled.  I was secretly excited, my daughter not so much.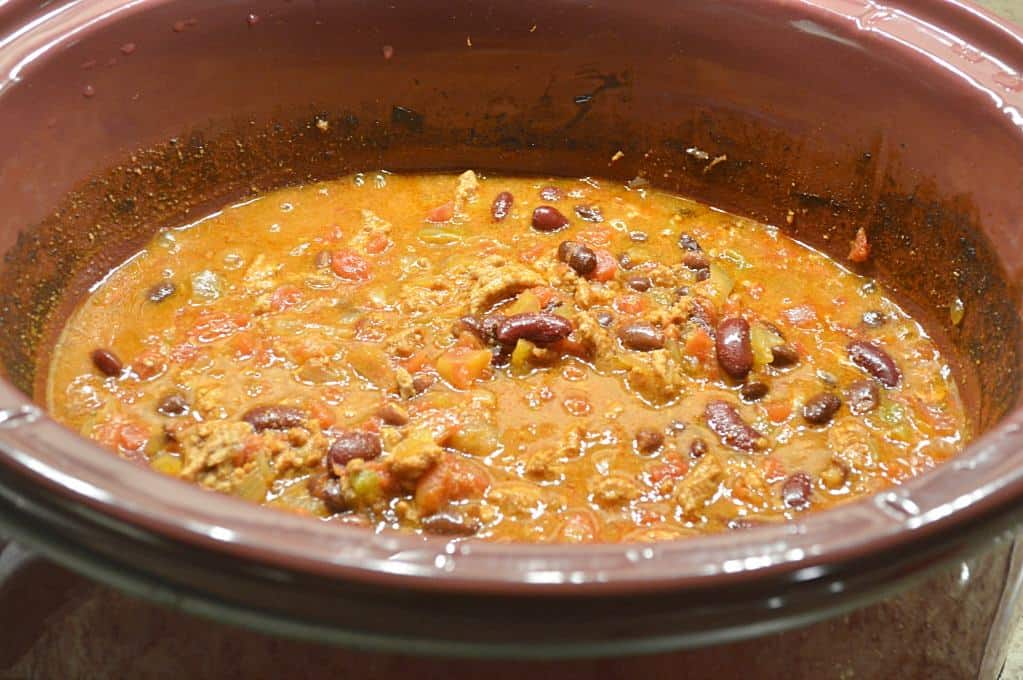 But it was the perfect day for this crockpot of Turkey Chili.  Yummmm.  Notice that food photography doesn't look as appealing when not staged and taken with bad indoor lighting (it was super dark out from the storm).  But the food was deeeelicious.  Recipe in progress, and possibly coming soon!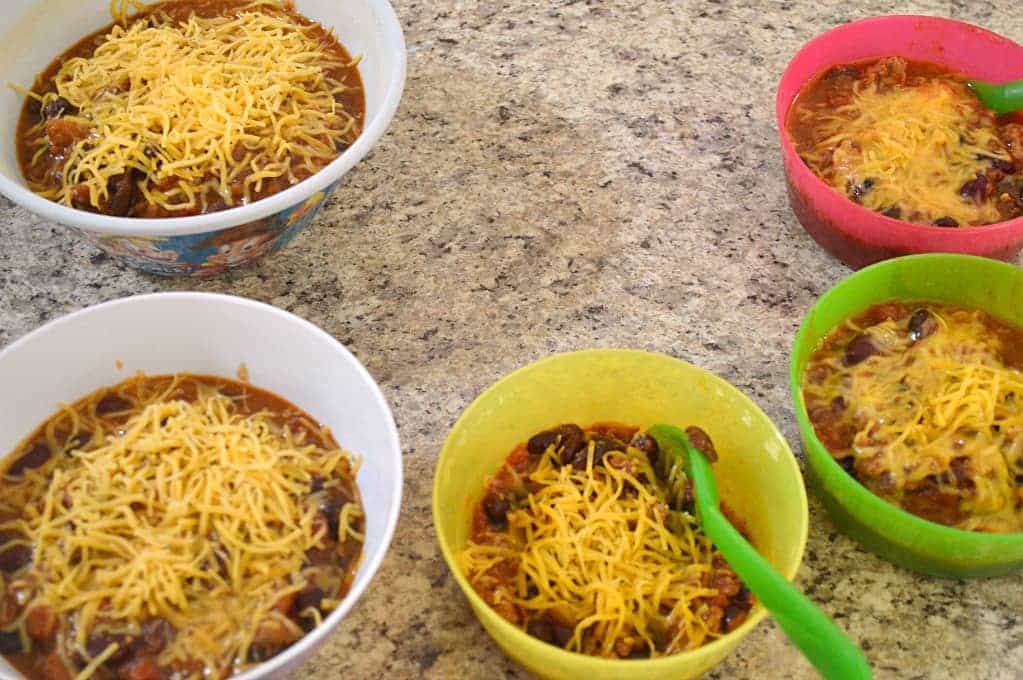 That's a lot of bowls and plastic right?  You don't eat your chili in a Rice Krispie bowl?  You're really missing out.  We do have actual grown up dishes though.  Just in case you were wondering.
After dinner, the hubs usually will let the children have a supervised destruction party in the older girl's room (this is the baby's favorite activity) while I sneak in a little more work.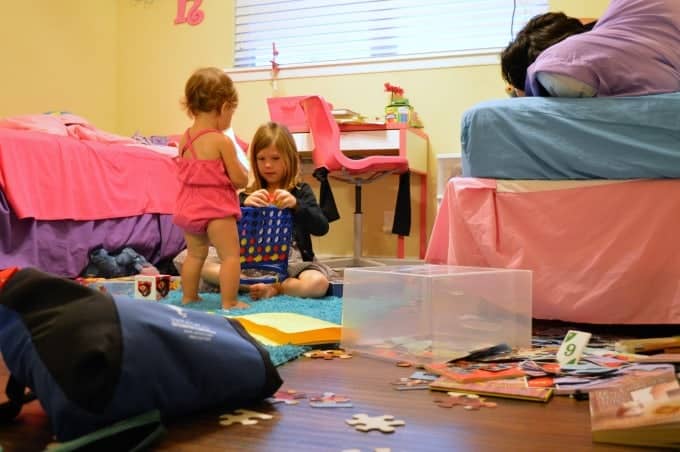 Then of course the older girls have the joy of cleaning it up also.  Buuuummmer!
Another favorite part of the day: bedtime!
I love my children, and I love spending time with them.  But there is something very soothing and calming at the end of the day when it's quiet.
I try to get all of my work done before the kids go to bed and the hubs and I will snuggle on the couch and watch a show before we head off to bed.  Current show: Prison Break.  Never watched it before.  And we're all caught up on everything else.  If anyone has a recommendation on another show when this one is over I would love it!
There's plenty of things not photographed during the day of course.  Every day has those random moments that you always wish you had captured.  And there's always the moments that I just don't have a hand free to hold the camera.
For the most part, this is a typical day for us.  It's not glamorous.  It's not exciting.  But I also wouldn't trade it for anything.  I love staying at home with my girls and taking care of them and our house.
Now you have an idea of how I spend an ordinary day in my life.
Make sure you check out these other blogger friends of mine who are sharing a day in their lives also!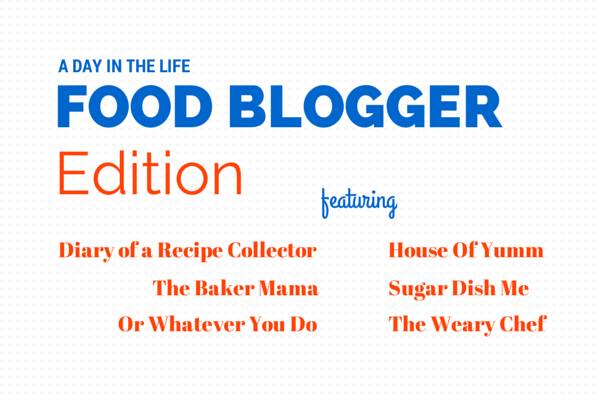 Or Whatever You Do
Sugar Dish Me
Check out some recipes while you're here!