This lighter version of a classic is sure to please everyone who gathers around your family table! This creamy, cheesy, King Ranch Chicken Casserole is bursting with chunks of chicken, tomatoes, green chiles, and bell peppers.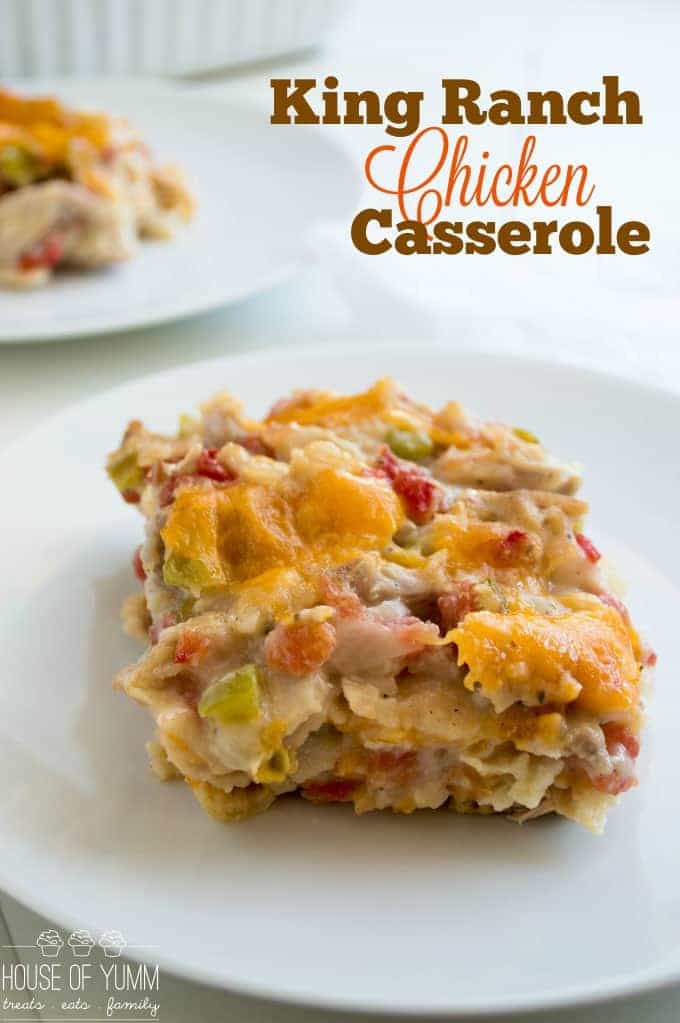 I didn't have to live in Texas long before I was introduced to King Ranch Casserole.  One bite of this creamy, cheesy, comfort food had me asking one question: Where has this been all my life?
Why was I not introduced to this dish earlier?  I feel that it is my duty to share this casserole dish with all of you.  This is the perfect family dinner, the perfect dish to prepare when friends come over, the perfect plate of food to enjoy any day of the week for all occasions.
The best part?  It's super simple.
Another best part?  Even picky eaters love it.
A third best part?  The adults love it too.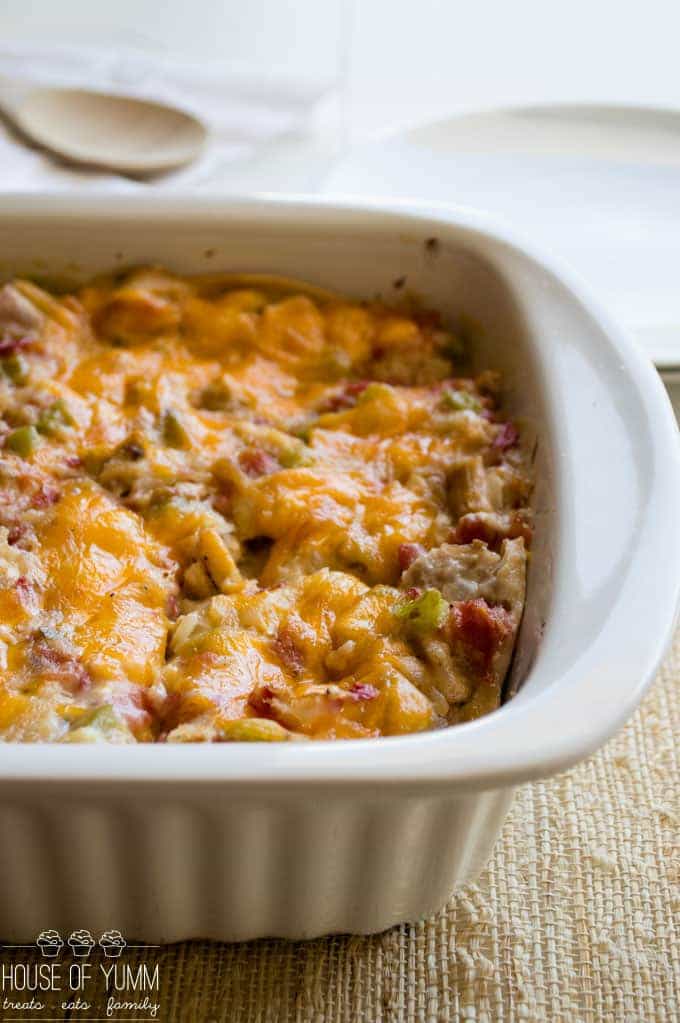 Traditionally this is made using canned soups.  Which while I love the ease, I don't always love the preservatives.  So I knew right away the easy changes I would be making to this dish.
One tip I have for you to make family dinners easier through the week is to prepare chicken ahead of time.  We always meal plan, we have to!  We have too many kids for me to be dragging along  to the grocery store daily to determine what to make for dinner.  So every Sunday we do our groceries for the coming week.  And for us to know what we need, we need to have a plan!  If I know I have several dishes that require cooked chicken it's so easy for me to cook it all up at once, store it in the refrigerator for the week and use it up as I need it.  I don't do anything fancy, just toss the chicken in a pan and cook it until it's done (165 degrees if using a meat thermometer).
Having cooked chicken on hand makes preparing this casserole dish a breeze!  It just becomes a matter of making the sauce, which we are making our own cream of chicken sauce for it!  Just making simple switches like that can improve the quality of the family meal.  Making our own cream of chicken soup is super easy.  Pun intended.  Chicken stock, flour, and milk!  I used Horizon Organic 2% milk and white whole wheat flour.  Other types of flour would work just as well.
Once the chicken mixture is completed it's only a matter of layering it up.  Like a lasagna!  Corn tortillas, chicken mixture, cheese.  Oh the cheese.  Again I used Horizon Organic Shredded Mexican Cheese, but Cheddar would be good too.  Bake it all up to get the cheese all melted and gooey.  Top it with some restaurant style salsa for some extra fun.  Family dinner achieved!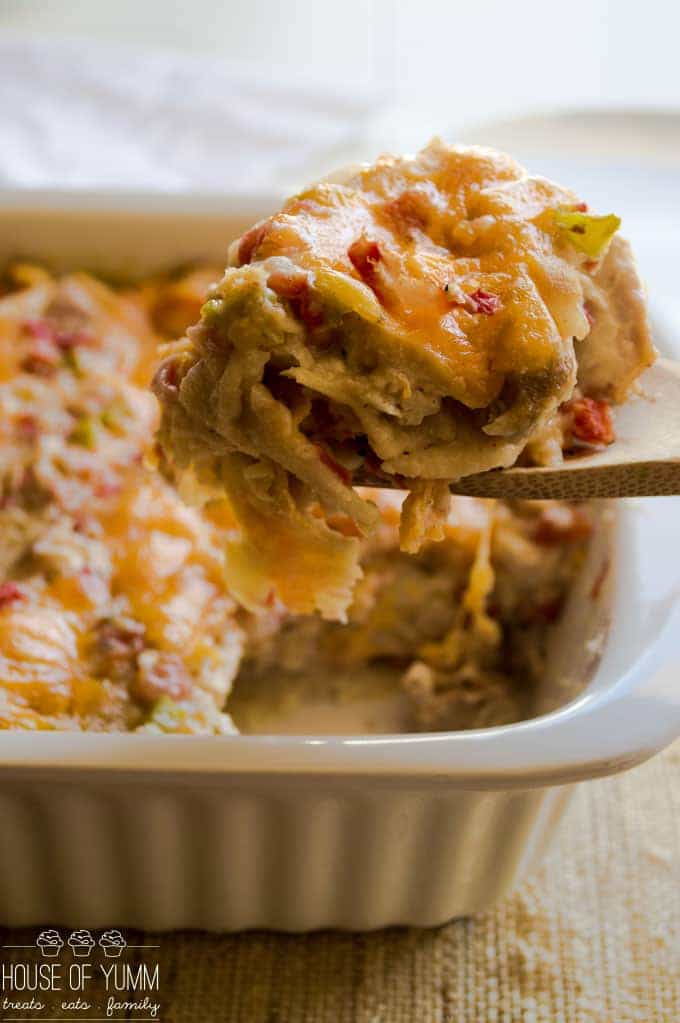 Now that we have dinner make sure you check out some cookies for dessert!
Follow me on Instagram and tag #houseofyumm so I can see all the recipes you make. And if you want to follow along in my everyday life, find me on snapchat: houseofyumm 💜
Serene
Serves 6-8
King Ranch Chicken Casserole
This lighter version of a classic is sure to please everyone who gathers around your family table! This creamy, cheesy, King Ranch Chicken Casserole is bursting with chunks of chicken, tomatoes, green chiles, and bell peppers.
30 minPrep Time
40 minCook Time
1 hr, 10 Total Time
Ingredients
2 pounds cooked chicken diced
1 tablespoon olive oil
1 green bell pepper diced
1/2 large yellow onion diced
1 and 1/2 cup chicken stock (I used low sodium)
3/4 cup Horizon Organic 2% Reduced Fat Milk
1/2 cup white whole wheat flour
1/2 teaspoon salt
1/4 teaspoon garlic powder
1/4 teaspoon onion powder
1/4 teaspoon ground black pepper
1 -10 ounce can diced tomatoes and green chiles
2 cups Horizon Organic Shredded Cheese in Mexican or Cheddar Cheese
12 corn tortillas
Instructions
In large saucepan heat the olive oil over low to medium heat. Add the diced green pepper and onion. Heat until the onion is translucent and peppers are soft.
Pour in the chicken stock and flour. Stir using a whisk or fork until combined, this will be thick. Add in the milk and whisk until mixture is smooth. You can add more of either stock or flour to get the right consistency.
Stir in the salt, pepper, onion powder, and garlic powder.
Add in chicken and stir to combine.
Grease a 2 quart casserole dish and lay down 4 corn tortillas to cover the bottom of the dish. Top with one third of the chicken mixture, then one third of the cheese.
Repeat this two more times until all chicken mixture is completely used. (tortillas, chicken, cheese)
Bake at 325 degrees for approximately 40 minutes uncovered.
http://houseofyumm.com/king-ranch-chicken-casserole/
Make sure you follow Horizon for more Smart Meal Ideas!
Twitter | Facebook | Pinterest | Instagram
This is a sponsored conversation written by me on behalf of Horizon Organics. The opinions and text are all mine.